A milkman's Christmas memories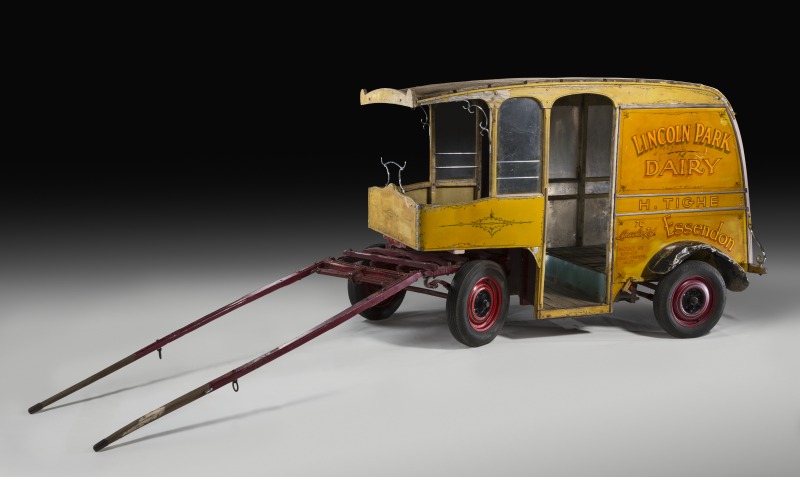 Christmas Day – before the daylight saving – it would be daylight at half past four in the morning and there'd be kids out on bikes and scooters and they'd all come to show the milkman what they'd got for Christmas …
Conway Tighe, owner of the Lincoln Park Dairy until 1987, remembers the excitement of the children early on Christmas morning, as he went about his daily business of delivering milk to homes in the Melbourne suburb of Essendon. The milkman and his horse and cart were a familiar sight in the suburb, at one stage delivering milk to over a thousand households. The Essendon milk cart is on display in the Spirited exhibition at the National Museum of Australia, accompanied by an engaging video documenting Conway's memories of his family's business.
Conway's father, Hugh, established the Lincoln Park Dairy in the mid-1920s. Conway and his brother, Patrick, continued to run the business after their father's retirement. Around 1947, the brothers commissioned Bill Knight, a coachbuilder in Bendigo, to build this patented milk cart, designed to accommodate the increased weight of glass bottles and crates, which were starting to replace churns. The Tighes bred their own Clydesdale horses, which pulled the heavy cart for close to 20 kilometres a day. The horses were as much a part of the community as the milkman himself, with residents awakening to the clip-clop sound of the horse rather than relying on alarm clocks. The dairy closed in 1987 when it became financially unviable.
I have no childhood memories of horsedrawn milk carts, although I grew up in a rural village surrounded by dairy farms in Scotland. In the 1970s, milk was still delivered to our door every morning, albeit on small trucks – or lorries as they are known in Scotland. The challenge was to get the milk bottles off the doorstep before the birds pecked through the foil caps. My memories would have been completely different had I lived in Essendon, on the other side of the world.
The Essendon milk cart is an object with a rich story all of its own, but it is also one which can stimulate conversations between generations. My parents remember milk being delivered in churns direct from the farmer to the dairy, whereas my children know only of milk in plastic bottles purchased from a supermarket fridge. Conway reflects that kids today miss out in many ways, and the loss of the suburban milkman and his horse is a prime example of the connections to local community that are sadly no longer a part of our daily lives.
Visit the Collection Highlight on our website for more information about the Essendon milk cart or to watch the video. You may also like to read an earlier blog post 'A classic in the making' by Laura Breen.