A visit with the ancestors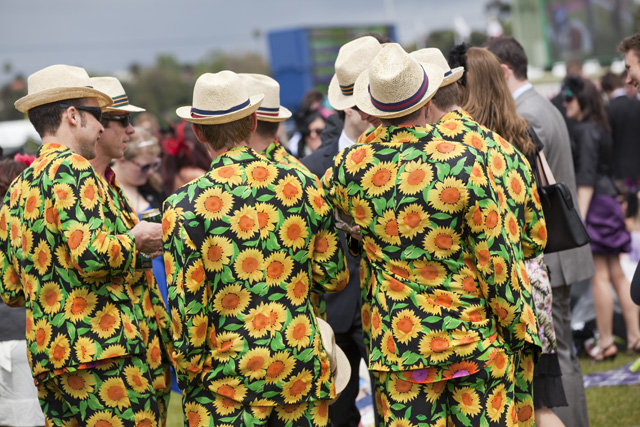 This afternoon, Australians around the country have once again take a few minutes to join in our nation's annual bout of horseracing hijinks, known as the Melbourne Cup, and the winning owners have just happily taken possession of the elegant gold trophy. Here at the National Museum, Cup season has already been in full swing for a few weeks, kicked off in September when this year's trophy stopped in for a brief visit with the 1866 and 1867 Melbourne Cups.
Each year, for the last ten years, the Victoria Racing Club (VRC) has travelled the  Melbourne Cup trophy around Australia and New Zealand in advance of the big race. The tour gives thousands of people the opportunity to get up close to the sporting icon, while also helping attract contributors to events raising funds for local causes and charities. The 2013 cup was in Canberra for a gathering at Thoroughbred Park, Parliament House and the Queanbeyan Racing Club and managed to squeeze in a stop-over at the Museum.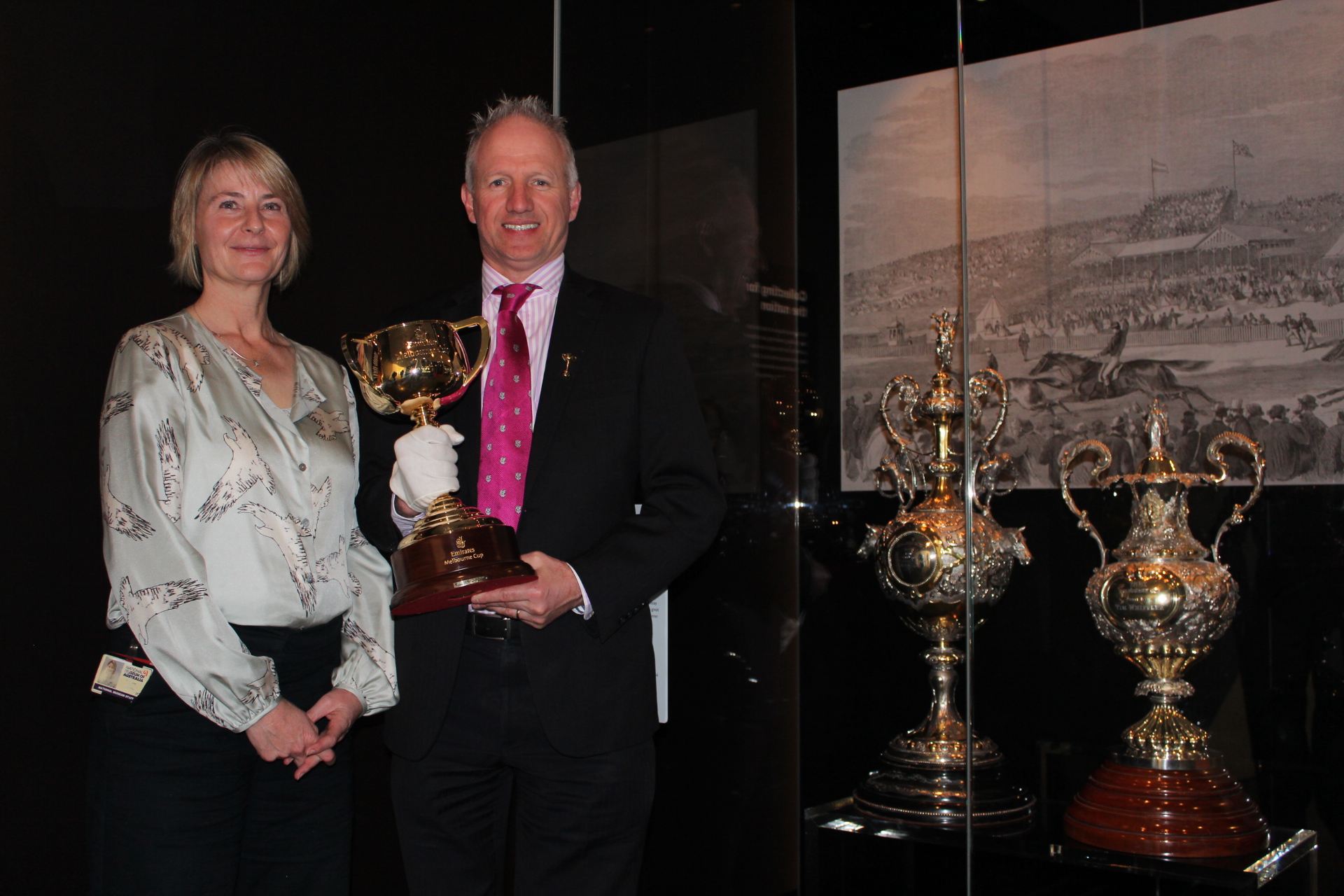 As VRC International Relations Manager Joe McGrath held the 2013 trophy in front of the 1866 and 1867 cups, currently on display in our New Acquisitions case, it was hard not to notice how the style of the cup has changed over the years. Today's trophy is all elegant, smooth lines, a three-handled loving-cup of burnished gold. The VRC adopted this style in 1919, and a new trophy is made each year, hand-beaten from 34 gold pieces and taking about 200 hours to complete.
1866 Melbourne Cup. National Museum of Australia. Photo by George Serras.
In contrast, the 1866 and 1867 cups are tall silver chalices, each decorated with ornate swirls and loops, horse's heads, angels and floral embellishments. The first winner of the Melbourne Cup, in 1861, received a gold watch and for the next two years a cash prize was awarded. The first trophy was presented in 1865 but the triumphant owner reputedly thought it a monstrosity and sold it on to the Flemington Hunt Club, which re-branded it as its annual cup. I'm always relieved that John Tait, who won in 1866 with The Barb, and his arch rival Etienne de Mestre, who won the following year with 'Sydney' Tim Whiffler, found their cups more pleasing and preserved them so that we can marvel today at their fabulous Victorian extravagance (as in the period, not the state!).
Drop in to the Museum before December 8th to see the 1866 and 1867 Melbourne Cups, or read more about them on their Collection Highlights pages. You can also discover more about the history of the Melbourne Cup through our collection interactive, Flemington on Cup Day.
Feature image: Racegoers at Flemington on Melbourne Cup day, 2010. Photo by George Serras, National Museum of Australia.