Working horses showcased at Rushworth Heritage Easter Festival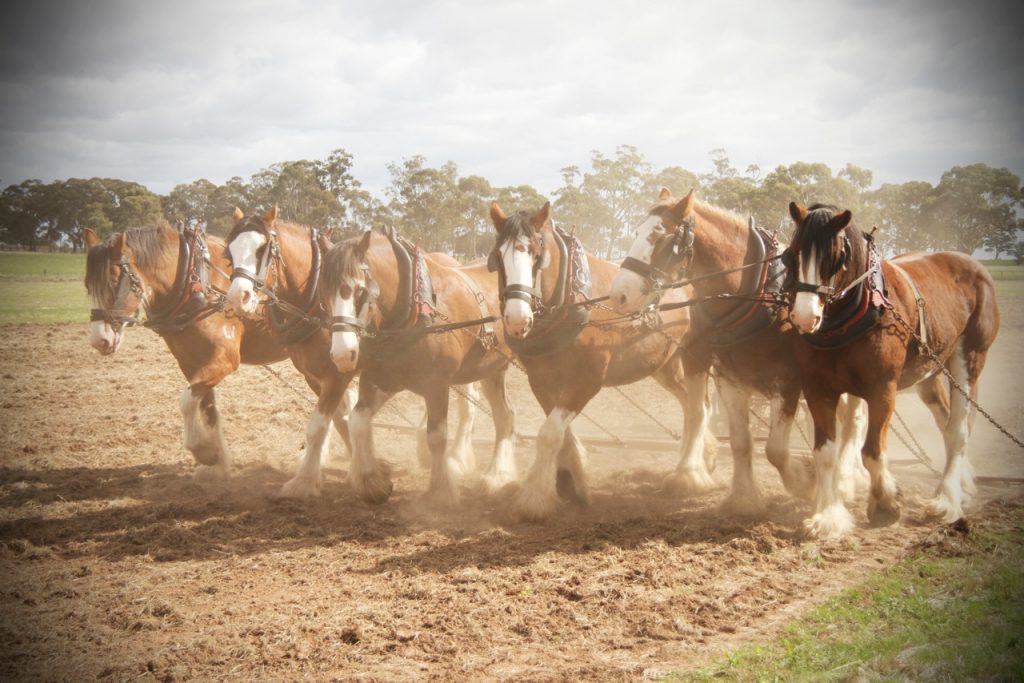 Within the last two decades, the fortunes of Australia's working draught horses have undergone something of a revival. Once the nineteenth and early twentieth century's most abundant source of haulage muscle, the use of larger breeds declined during the 1950s as Australians embraced motorised power. However, as our team found out during a recent jaunt to Woo back, held in Yass, NSW, Australian heavy horse owners have been quietly nurturing a growing public interest in these magnificent animals. Every season, many community events featuring draught horses take place across the country.
After hearing about our Spirited: Australia's Horse Story exhibition from a friend, Blake Rosenberg, the official photographer for the Rushworth Heritage Easter Festival got in touch to let us know about one such example, the Moora Working Draught Horse Muster. This event was held during the festival in Rushworth, Vic., on 19th and 20th April this year. In this guest post, Blake shares some of his beautiful photographs, as well as his thoughts on documenting the significant relationships between people, animals and localities despite the accelerated pace of our twenty-first century lives.
My name is Blake Rosenberg and I am a Year 10 student with a passion for photography. In my capacity as the official photographer for this event over the past three years, it has been my privilege to be invited to share in people's relationships with each other, with their animals and with their environment, from behind my camera lens. It is important for me to tell a story with my images – and hopefully I will be able to share some of that story with you today.
Rushworth is a fantastic place to be at Easter. This early gold-mining town in north-central Victoria really comes alive as crowds of people flock to the Rushworth Heritage Easter Festival. The festival has been growing every year, since it began 20 years ago. Some of the highlights are a whole-town street market and parade on Saturday, with various entertainers, a petting zoo, snake handler and food galore! On Sunday, the Moora Working Draught Horses Inc., organise a special part of the festival, out at Moora Reserve, donating a large portion of the proceeds to children's charities.
Originally run by the Arabian Horse Club as a fundraiser six years ago, this event is now designed to showcase these noble animals working side-by-side with men and women, as they would have done prior to the mechanised age. It was the realisation of a dream of 11 horse lovers – the 'founding fathers' (and mothers): Max Seamer, Ian Boal, Rick Talbot, Noel Wiltshire, Peter Halley, Peter & Sherry Horgan, John & Cheryle Hayman, Richard Prentice and Max McElhinney. Organiser, Maz Thomas stressed that the whole emphasis is on keeping the era of the draught horses alive.
Many exhibitors attend each year to support the event at Moora, bringing alive many skills and crafts of a bygone era, such as the ropemaker, cooper, blacksmith, saddler and farrier. Many traditional crafts are demonstrated, and a number of local entertainers really add to the atmosphere. The camp oven Devonshire Teas (accompanied by real billy tea) were extremely popular.
In 2014, there were 66 working horses doing what they love best – demonstrating how farming used to be. On hand, were many traditional farm implements, which could be hitched up and pulled, including ploughs, scarifiers, harrowers, the hay grab, and a multitude of wagons, lorries, carts and gigs. The team of eight Clydesdale horses owned by Rick Talbot from Kotupna is the only registered team of working Clydesdales in Australia. He has brought his team and eight-ton wagon to every annual event.
The children were thrilled for the second year in a row, to take a ride on a horse-powered Carousel. The wooden horses were hand-made in Belgium over 100 years ago. Originally operated in Mansfield, this carousel was powered by a blind horse. This horse knew that when his feedbag was on, he needed to stand still. And when it was taken off, he could start walking again. This is a beautiful story about a special relationship between a man and his horse. It's relationships like this that I try to capture.
In a society where many people are out of touch with the old-fashioned values and hospitality of country life, it is great that the opportunity to interact with horses is offered. Modern tractors may have replaced these working horses in terms of efficiency, but maybe we have lost something of our souls in the process.
Feature image: Moora Working Draught Horse Muster participants. Courtesy Blake Rosenberg.