World Oceans Day, 8 June 2016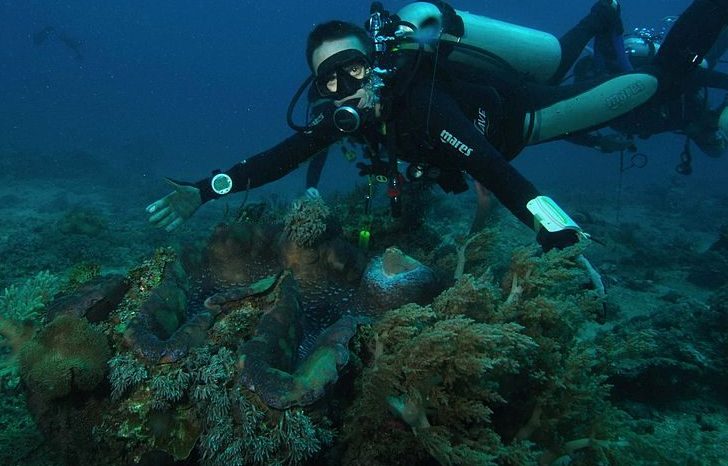 It is hard not to be impressed by giant clams. In the wild, their size and unique color patterns make them one of the most captivating of sea creatures. Even the shells from dead clams have a powerful impact, one that speaks to their prominent place in the popular imagination about our oceans and the place of humans in them. Sadly, the beauty and cultural power inherent in these animals has helped bring them close to extinction from their natural habitat.
Last year, the National Museum acquired three giant clam shells recovered from fishers operating illegally in the Timor Sea. These extraordinary specimens are reminder that humans have historically looked to the sea and the creatures that live in it with a complex mixture of ignorance, wonder and fear. On World Oceans Day it is worth reflecting on those relationship and the role museums might play in enlarging our capacity to re-imagine the marine environment in more ecologically sensitive and sustainable ways.
Early in 2014 the Australian Fisheries Management Authority (AFMA) apprehended two Vietnamese fishing vessels carrying 198 giant clams illegally harvested from Australian waters near Evans Shoal in the Timor Sea. This species of giant clam (Tridacna gigas) is extinct from much of its natural habitat. Australia and the Solomon Islands are considered to be the only countries to have relatively intact populations of these rare animals. The larger clams are estimated to be over 100 years old, having first settled on Evans Shoal before the First World War.
Clam flesh has been an important source of food for coastal dwelling people in Australia for thousands of years. Early European explorers also harvested and ate this species of clam. More recently, giant clams have become endangered due to intensive exploitation by commercial or illegal fishing vessels. The giant clam is considered a delicacy in parts of Asia, South-East Asia and many Pacific Islands. Like all bivalves, giant clams are rich in amino acids and zinc, which aid the production of testosterone. The clam's adductor muscle, which some believe has aphrodisiac powers when eaten, is particularly valuable.
Tales of giant clams trapping (and sometimes swallowing) unsuspecting divers are a staple element in ancient legends, popular fiction and films about sea exploration. Since Moby Dick (1851), they have formed part of a literary genre dealing with predatory sea creatures and the destructive power of oceans and the plants and animals that live in them. The exotic reputation of giant clams continues to make them attractive and vulnerable to exploitation as a source of food, decoration and for display in private aquariums.
Australian authorities prosecuted the Vietnamese fishing crew for offences under the Fisheries Management Act (1991) and the Environment Protection and Biodiversity Conservation Act (1999). They received substantial fines and their vessels were destroyed at the AFMA disposal site in Darwin. AFMA then donated the recovered shells to the Museum and other collecting institutions around the country. These specimens help us understand our complex and changing relationship with the marine environment as well as the legal and ethical role of governmental authorities charged with managing the oceans in our region.
Feature image: Giant Clam Tridacna Gigas. Photographed by Rick Hankinson. Wikimedia Commons.