"An outbreak of civility": Freewheeling exhibition opens in Brisbane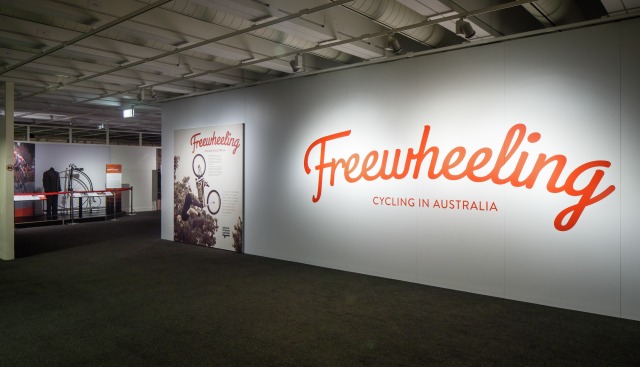 Last week, while we were installing the NMA's Freewheeling cycling exhibition at the Queensland Museum in Brisbane, a massive hailstorm struck the city. Hitting just before 5pm, the city stopped moving. The roads became car parks, the train stations flooded and the buses were caught in traffic gridlock. The only people who made it home on time that day were those on two wheels, or two legs. Although they did have to jump a few fallen trees!
But it was a pertinent reminder on the eve of the opening of a major exhibition about bicycles that, aside from shanks' pony, cycling remains one of the most the most reliable means of getting about. Afterwards, even the city's much-maligned City Cycle network got a boost as people looked for better ways to avoid the traffic. Come Armageddon, expect to see many people wishing they hadn't been quite so dismissive of those little yellow hire bikes.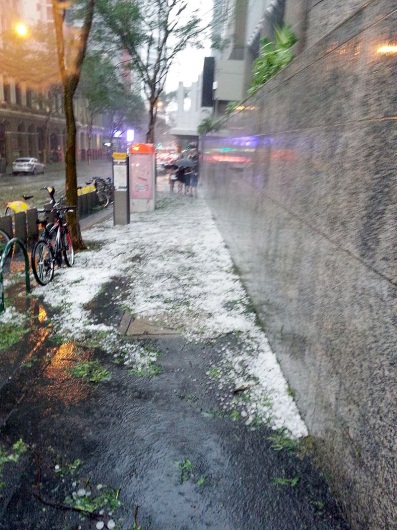 Hailstorm in Brisbane, 27 November 2014. Wikimedia Commons: Craig Franklin
Friday came and after a last flourish with the vacuum, the install was complete. The first members of the public to see the show had come to the Museum to participate in a Radio National public debate about the future of cycling. I took them on a brief tour. They seemed to enjoy it, but one panellist remained curiously silent for the entire tour. Not a word. I thought little of it. I've taken many tours and not everyone is instantly effusive about what they are experiencing.
During the debate I learned that my silent guest was none other than Jai Christensen, poster boy for the 'Drivers for Registration of Bicycles' group. Despite his protestations, he's no friend of anyone using his roads on anything that doesn't burn fossil fuel. No wonder he didn't say boo during the tour! He might have been struck silent with anger at this display of all things bike. He is most famous for his Facebook page, which he naively sees as a healthy outlet for frustrated motorists. Well, he's right on one front, but it sure ain't healthy. It's become a forum for the barely contained rage of some of Brisbane's angriest drivers. I'm sure (hope) it's not a representative sample.
To be blunt, Facebook shouldn't host it and the ABC shouldn't give this kind of thing oxygen. But the ABC cast the debate for conflict. Like a poor man's Big Brother, they perhaps thought that an adversarial panel would provoke interesting debate. It didn't. It produced a polemical airing of opinion without nuance, subtlety or vision.
The host speciously framed the debate as though cycling was somehow a declining faddish activity. In doing so, he played right into the hands of the car club executive on the panel and the aforementioned bike-hater. Needless to say, the host hadn't been through the exhibition and seemed to know little about the long history of cycling in this country. There were some lighter moments, provided by Edward Hore, President of the advocacy group Cycle.Org, and Professor Phil Hayward from the Urban Design Department at the Queensland University of Technology. But even they were constrained by the clumsy setup. There was no international perspective, no talk of how a productive transition to sustainable transport and urban living might actually be achieved, and, no talk of what role the cultural sector might play. At a time when inflammatory media representations and the search for 'opinion' has paralysed most cycling debates, Hayward's call for everyone to step back from the brink and unleash "an outbreak of civility" on our roads, was nicely done, however.
My mood lifted on Saturday. I loitered around the exhibition watching for the first wave of visitors. I was pleased to see people inspected the bikes closely, reading the panels. I saw one fellow howling with laughter at the 1980s poster of Molly Meldrum – resplendent in a stackhat and high-waisted denim jeans –advocating helmet usage.
Outside the Museum the Pedal Brisbane festival was in full swing. There were people painting bikes, selling bikes and bikes bits. Hell, there were even people just riding bikes, playing bike polo, trials riding and more. 'Speaker's corner' hosted a day-long program of talks and discussion on a wider range of cycling related matters. Speakers included plenty of fellow travellers, including Dr Steven Fleming, cycling and urban design scholar from the University of Tasmania. Incidentally, Steven and Professor Angelina Russo from the University of Canberra, gave a provocative talk at the National Museum of Australia a year ago about cycling culture and architecture, and have been strong supporter of the Museum's cycling projects ever since. You can listen to 'Australians Dream of Speed' here.
I left Brisbane in a good mood. Because beneath the din and bustle of the all the cycling debates, advocacy and "awareness raising", the political positioning, and general argy-bargy that characterises cycling discussions these days, I left knowing that thousands upon thousands of visitors will stroll through the Freewheeling exhibition. It will quietly do its work. If it does little else, Freewheeling will reminded visitors that cycling is not a recent phenomenon; it's not a fad, or a minority sport that will peter out and go away. Perhaps it will deepen the public perception of cycling and the heritage and traditions that every cyclist embodies. It could even help reinvigorate cycling as an truly Australian activity, deserving of the pre-eminent place it once held in our sporting culture and our national identity. And who knows, it might help foster the 'outbreak of civility' on our roads that Hayward so eloquently demanded during the Radio National debate.