Freewheelin' through Australia's cycling history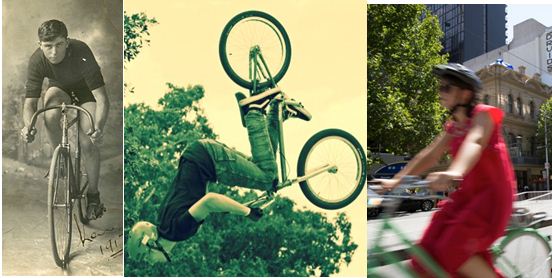 Cadel Evans, Anna Meares, Simon Gerrans, Nathan Hass, Caroline Buchanan, Kathy Watt, Sue Powell and Michael Milton are just a few of the cycling stars you will encounter in a new National Museum of Australia travelling  exhibition due to open at the Queensland Museum in Brisbane this weekend.
Freewheeling: Cycling in Australia explores the story of Australian cycling, from our elite champions through to the role bikes have played in all our lives.
Read more below about what's on display and how the show came about.
Perhaps it is just me, but the world seems to have gone bike mad. Bike sales have skyrocketed, more people are riding to work, going on cycling holidays, and elite racing cyclists seem to be more successful, and more visible, than ever. One could be forgiven for thinking that here in car-loving Australia all this passion for bikes was something new. But is it?
Here's a little test. Where is one of the oldest one-day classic cycle races held every year? If you're thinking France, Italy or the Netherlands, you're way off. It's Victoria. The Melbourne to Warrnambool race has been running since 1895, just 3 years younger than the oldest classic, Liège-Bastogne-Liège, in Belgium!
Over the last 18 months, I have curated a new travelling exhibition about the history and experience of cycling in Australia, called Freewheeling. As I worked – collecting objects and stories from around the country – I was overwhelmed at the depth and texture of Australia's cycle history. Even for a cycling enthusiast like me, the richness of our bike tales was surprising and inspiring. Like most people I had taken on board the story that Europe was the real centre of cycling and we here in the big brown land had rejected the bicycle in favour of cricket, football and, of course, cars.
In the end, the challenge was not how much to include, but what to leave out. Australia embraced the wheel in the form of the safety bicycle in the 1880s and the love affair hasn't dimmed. So, cramming over 140 years of cycling history into a relatively small show meant rethinking the best way to capture what cycling has meant to all Australians. Instead of a strictly chronological display or one that highlights the technical evolution of the bicycle, Freewheeling explores the different experiences and modes of cycling that have made their mark here. Ten themes each explore a different bicycle and style of cycling in a way that emphasises the experiential and visceral dimensions of riding. It looks at the thrilling danger of the early penny farthing, the revolution of the chain-driven 'safety' bicycle, the aerodynamic efficiency of a racing recumbent, the 1980s icon of the BMX, getting off-road on mountain bikes, long-distance touring, the joys of learning to ride a bike and, of course, racing. Australian racers have been scorching the tarmac at the highest levels, both here and overseas, since the 1890s, and this long history is an important feature of the exhibition.
As well as bikes, the exhibition is full of all manner of cycling related objects including medals, trophies, jerseys, helmets, posters and clothing. It also features fantastic images and films about every kind of cycling.
The show includes objects from Tour de France winner Cadel Evans, long distance legend Hubert Opperman, BMX racer Caroline Buchanan, cycling reporter Jim Trail, and para-cycling champions Sue Powell and Michael Milton. There's also stories and objects from lesser known, but no less inspiring, cyclists like long-distance recumbent rider, Peter Heal, and life-long bike touring enthusiast and Audax rider, Greg Cunningham.
The Freewheeling website is growing all the time and we'd love you to get involved, sign up to this blog and contribute to the project. The blog features regular articles and photographs on a great range of subjects – from what it's like to ride an endurance Audax event, road rage and the just plain kooky! And, in a few weeks, we'll be launching a new project where you can upload a picture of your very first bicycle (or bike ride) and see images of other riders who have contributed to the national photo album.
Australia has a fabulous and rich cycling history. We've just suffered a little amnesia. I hope that this exhibition will do its bit in reminding Australians that we are a bike loving people and always have been.
Freewheeling will be on display at the Queensland Museum in Brisbane until June 2015.