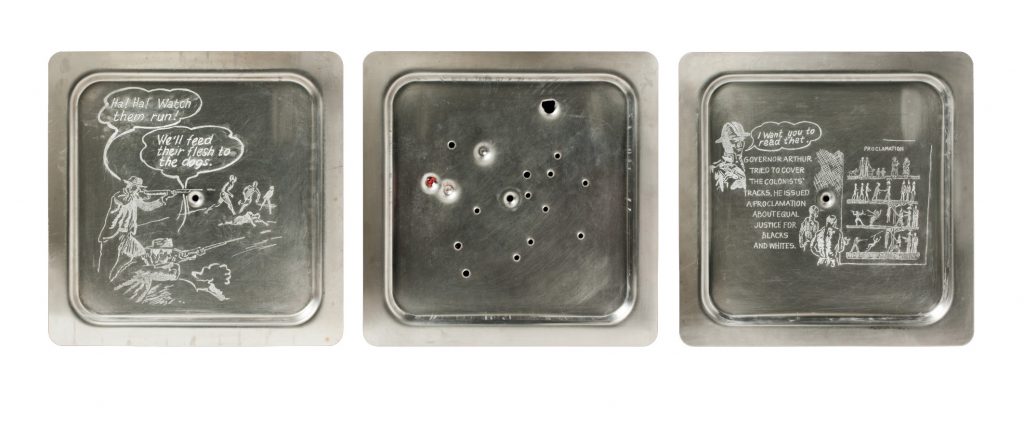 The Museum acquired this triptych, Hunting Party (Barbeque Area), by Julie Gough in late 2014. The artwork was purchased along with an accompanying short film titled Hunting Ground incorporating Barbeque Area. Contemporary artworks like these challenge visitors to understand history from a different point of view, that of the artist's perspective.
Recreational barbecue shelters, set in tranquil and picturesque locations, are common across the Tasmanian landscape. Today, visitors to these sites are focused on making connections to the Australian bush and enjoying an outdoor meal. However, these places hold a much deeper significance for Tasmanian artist, Julie Gough. Julie traces her Aboriginal heritage to Tebrikunna (Cape Portland) in far north-eastern Tasmania. To her these 'uneasy sites' represent the 'wilful dispossession of Aboriginal people from their country, language, customs, each other'. Her artwork challenges us to think about the historical events which have occurred in these places and their impact on the Aboriginal people of Tasmania.
Hunting Party (Barbeque Area) 2014 consists of three etched stainless steel barbecue plates. The artwork was part of a larger exhibition, Hunting Ground (incorporating Barbeque Area), which explored the potential of places to allude to frontier relationships between Aboriginal people and colonists. Gough's solo exhibition was held at the Gallery Gabriella Pizzi in Melbourne from 23 October – 15 November 2014. The short film Hunting Ground incorporating Barbeque Area presents images of barbecue shelters across Tasmania alongside images of stone tools held in museums that were removed from nearby locations by amateur collectors in the late 19th and early 20th century.
Hunting Party (Barbeque Area) 2014, No. 1, 2 & 3, by Julie Gough
Julie's artwork integrates historic images with the clinical harshness of stainless steel barbecue plates. This unusual choice of medium combined with engraved images and bullet holes demands the viewer's attention. My initial response to the imagery on the plates, especially plate No. 1, was one of extreme shock. This emotional response increased when learning that the pictures were not the creation of the artist but were in fact exact reproductions of illustrations from The History of Tasmania, a children's educational history book published in 1958.
The History of Tasmania was one of 25 volumes in the Australian Children's Pictorial Social Studies series that were used to teach history to Australian children in the late 1950s and 60s. The books took a revolutionary approach by presenting history in the form of a graphic novel. The comic-style illustrations, whilst designed to appeal to the young reader, subdued the horrific reality of colonial history in Tasmania.
'The History of Tasmania' published in 1958
One part of Julie's triptych, Hunting Party (Barbeque area) 2014 (No 3), is now on display in the Hobart exhibit in our Landmarks gallery. On this plate, Julie combines graphic scenes from Governor Arthur's proclamation boards with comic-style illustrations and wording which questions the motivation behind the governor's intent – GOVERNOR ARTHUR TRIED TO COVER THE COLONISTS' TRACKS. HE ISSUED A PROCLAMATION ABOUT EQUAL JUSTICE FOR BLACKS AND WHITES. The idea of using pictorial images to communicate the proclamation to Aboriginal people in the 1830s has a disturbing irony when compared to the similar approach used to teach history to children in the 1960s.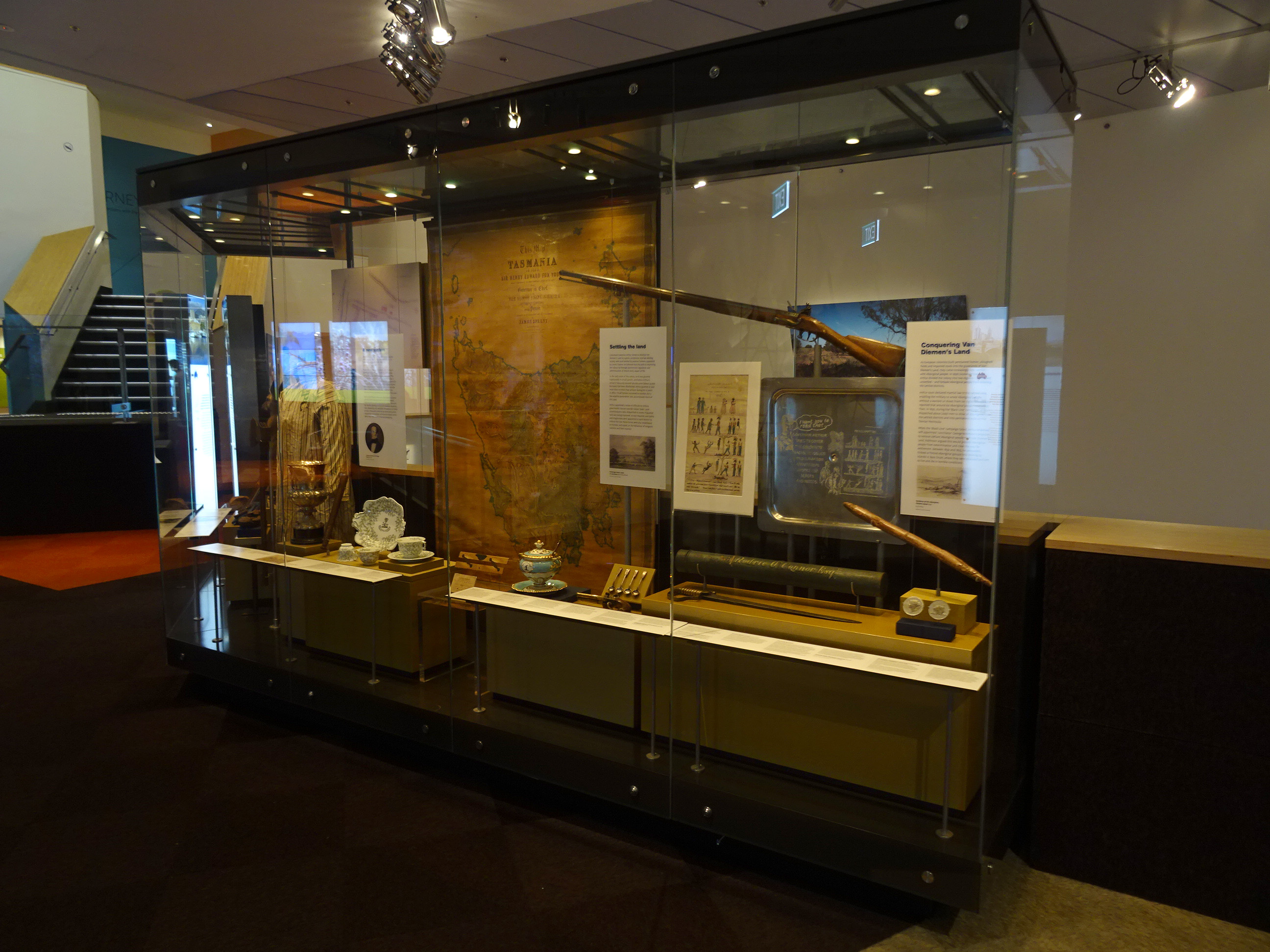 The barbecue plate sits adjacent to a souvenir poster depicting imagery of Governor Arthur's proclamation and is surrounded by other objects which have connections to people or events which affected the lives of Julie's ancestors. Her artwork connects the past with the present.  Below is Julie's artist's statement from her solo exhibition Hunting Ground incorporating Barbeque Area.
Artist's statement
HUNTING GROUND incorporating Barbeque Area morphs contemporary Tasmanian public Barbeque Areas with references to colonial Van Diemen's Land – in particular the willful dispossession of Aboriginal people from their country, language, customs, each other. The exhibition consists of video, photographs, painting on vellum, and works in wood, fabric and stainless steel.
The tenacious colonial land grab in the first decades of the 1800s reduced Van Diemen's Land to pastoral places with perimeters; agricultural success apparently required the eradication of the original inhabitants. Meanwhile, today, dotted across the island are small pseudo cottage BBQ areas. These architecturally reflect in scale and sometimes location, the original sod or slab huts populated by shepherds and stockmen who kept the roving savages, my ancestors, at bay and extended the expanse of the 'settled districts'.
For the love of country, Aboriginal Tasmanians fought to the death at places such as these. BBQ areas retain an uncanny independence from other built environments. They offer free fuel at the push of a button, welcoming everyone to cook anything on a stainless steel plate whose central drainage hole seems simultaneously medical and military.  These sites might appear innocuous, democratic, nurturing. For me, however, they express loss of original people from country. Rarely occupied, they appear a cruel recreational, amnesiac joke. For what reason did wholesale slaughter occur across my island – for this – designated BBQ areas ?  
Julie Gough, 2014
---
The inclusion of contemporary artwork in a museum gallery creates opportunities to discuss and initiate conversations about the interpretation of historical events. How does Julie's artwork enrich our exhibit about the colonial history of Tasmania?
Feature image: Hunting Party (Barbeque Area) 2014 by Julie Gough. Photo: Nathan Dukes