The scandalous Mr Wakefield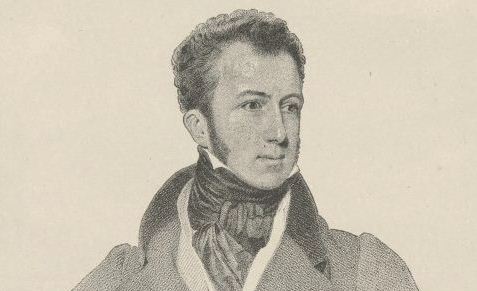 Imagine yourself, for a minute, as a 15-year-old girl at boarding school in England in 1826. An urgent message arrives to inform you that your mother has taken ill and you must come to her at once. The concern for your mother's condition weighs heavily on your mind as you rush off in an awaiting carriage. When your carriage stops to change horses, you are informed by a charming gentleman that your mother is not actually ill at all, but you are to travel with him to meet your father in Kendal. You agree to travel with this man, who you had never met prior to this evening, and on arrival in Kendal there
is no sign of your father. The charming gentleman explains to you that your father is
on the verge of financial ruin and convinces you to marry him in order to save your family's fortune. What choice do you have? It is a proposal you cannot refuse. Your journey continues to Gretna Green, Scotland where you are married by the blacksmith and become the wife of Edward Gibbon Wakefield.
Despite what you may think, these events are not a fictitious tale. On 7 March 1826, Edward Gibbon Wakefield abducted Ellen Turner from 'Misses Daulby's Seminary for the Daughters of Gentlefolk' school near Liverpool. Wakefield was an aspiring English politician whose marriage to Ellen, the daughter of a wealthy Cheshire mill owner, would secure his financial future and hopefully open a pathway into the British Parliament. The abduction was planned with the assistance of his brother, William, stepmother, Frances, and the family butler, William Thevenot.
Following their marriage, Edward and Ellen fled to France, but it was not long before the alarm was raised and Ellen's uncle pursued the couple to expose the lies. Ellen realised the extent of Wakefield's deception and returned to her family in England.
In 2012, the National Museum of Australia acquired the arrest warrant issued for Edward Gibbon Wakefield and his servant, Thevenot. Wakefield's trial was held at the Assizes in the Shire Hall at Lancaster Castle on 23 March 1827. Wakefield and his brother were each convicted to three years imprisonment. Frances Wakefield was also found guilty but no sentence was imposed. The trial was a very public affair and the scandal spread across Britain. Edward would serve his time at Newgate prison in London and his brother was incarcerated at Lancaster Castle.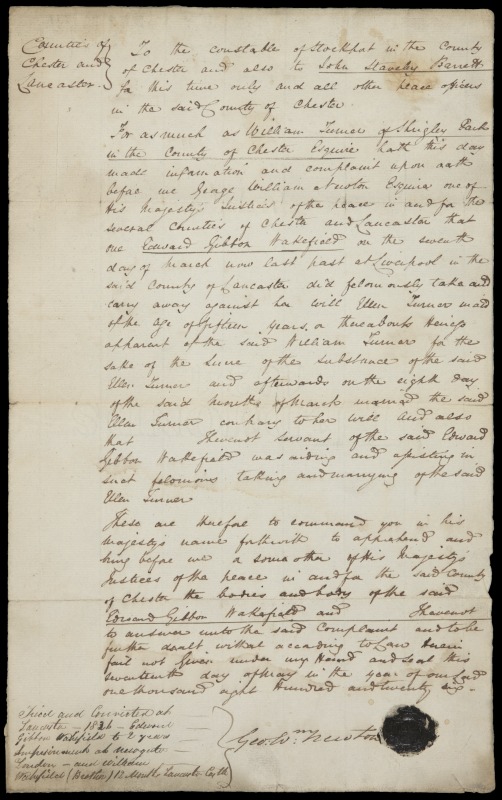 Wakefield's political aspirations were dashed by his conviction but it was during his time in Newgate Prison that his future legacy would be determined. Wakefield acquired first hand knowledge of the convict system and while in prison he published Sketch of a proposal for colonizing Australasia and A Letter from Sydney, the Principal Town of Australasia. Wakefield was highly critical of the convict settlement of New South Wales and the chaotic allocation of free land grants. Wakefield never set foot in Australia, but his ideas for a new system of colonisation would form the basis of the British settlement of South Australia, and later New Zealand.
Wakefield's scheme proposed a system of controlled land sales with the proceeds used to fund an emigration scheme to bring labourers to the colony. The population would be formed by equal numbers of each sex, preferably young married couples. This utopian vision would take the best of British society, leaving behind problems associated with overcrowding, crime and unemployment.
The settlement of South Australia was based on idealistic theories that Wakefield envisaged whilst in prison. The colony used a completely different model of colonial settlement compared to the earlier penal settlements of New South Wales and Van Diemen's Land. In reality, life in the early days of the settlement was far from the utopian vision portrayed by Wakefield. As with many theories, the practical application of the ideas did not live up to expectations.
The town of Port Wakefield and the Wakefield River are named after Edward Gibbon Wakefield in recognition of his contribution to the settlement of South Australia. Wakefield Street in the city of Adelaide is named after his equally notorious brother, Daniel Bell Wakefield.
Ellen Turner's story ends on a sad note. Her marriage to Edward Gibbon Wakefield was annulled by a special act of Parliament the day after his conviction. Two years later, at the age of 17, she married Thomas Legh of Lyme Park, Cheshire. Ellen died in childbirth at the age of 19.
x
Transcript of arrest warrant
Counties of Chester and Lancaster
To the constable of Stockport in the County of Chester and also to John Stanley Barrett for this time only and all other peace officers in the county of Chester.
For as much as William Turner of Shrigley Park in the County of Chester Esquire hath this day made information and complaint upon oath before me George William Newton Esquire one of His Majesty's Justices of the Peace in and for tho —– —– of Chester and Lancaster that one Edward Gibbon Wakefield on the seventh day of March now last past at Liverpool in the said County of Lancaster did feloniously take and carry away against her will Ellen Turner maid of the age of fifteen years or thereabouts Heir apparant of the said William Turner and afterwards on the eight day of the said month of March married the said Ellen Turner contrary to her will. And also that ______ Thevenot Servant of the said Edward Gibbon Wakefield was aiding and assisting in such felonious taking and marrying of the said Ellen Turner.
These are therefore to command you in his Majesty's name forthwith to apprehend and bring before me or some other of his majesty's Justices of the Peace in and for the said County of Chester the —– and —– of the said Edward Gibbon Wakefield and ______ Thevenot to answer unto the said complaint and to be further dealt with according to Law —– fail not given under my —– and seal this seventeenth day of May in the year of our Lord one thousand eight hundred and twenty six.
Tried and convicted at Lancaster – 1826 – Edward Gibbon Wakefield to 2 years – Imprisonment at Newgate, London – and William Wakefield (Brother) 12 Months Lancaster Castle.
Geo: W: Newton
Feature image: Edward Gibbon Wakefield by Benjamin Holl, 1826.
National Library of Australia.