'For the relief of horses': a gift from Annis and George Bills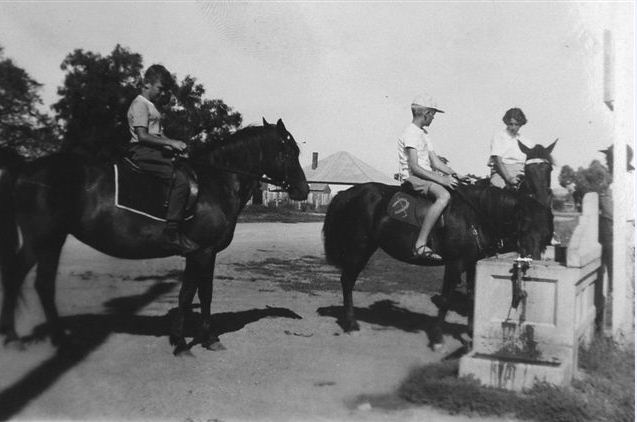 'I empower my said Trustees…to construct and erect and pay for Horse-Troughs wherever they may be of opinion that such horse troughs are necessary or desirable for the relief of horses or other dumb animals either in Australasia in the British Islands or in any other part of the World'.
George Bills' last Will, 1925
If Melbourne wire mattress manufacturer George 'Joe' Bills had his posthumous way, no horse would ever again go short of a drink.
Joe died without children in 1927. After providing for some personal bequests and annuities, he directed that the remaining income from his £80,000 estate be put towards alleviating the suffering of animals across the world. He asked that his trustees arrange for the provision of inscribed watering troughs for horses, and that funds be allocated to groups such as the NSW and London branches of the Society for the Protection of Cruelty to Animals (now the R.S.P.C.A.) and the British Union for the Abolition of Vivisection.
Joe's generous gesture was the result of a lifelong passion for animals. Born in England in 1859, he migrated with his family first to New Zealand and then to Australia, settling in Victoria in 1873. Joe was especially taken with the beauty of Australian native animals. From the mid 1880s, he and his brothers managed the family bird exportation business, which grew to manufacture a range of wire products such as bird cages, door mats and mattresses. In 1885 Joe married Annis Swann, a woman who shared his sympathetic attitude toward animal rights.
Horses in colonial Australia did not always receive humane treatment in exchange for their hard labour. In his book An Appeal for the Horse, published in 1866, South Australian settler George Hamilton had been one of the first to lobby against the plight of the working horses he saw in the colony around him. A copy of this publication will be included in the forthcoming Spirited: Australia's Horse Story exhibition.
By 1871, the establishment of Australia's first Society for the Prevention of Cruelty to Animals in Victoria marked the beginnings of a wider conciousness of animals' spiritual welfare. By 1890, Societies for the Prevention of Cruelty to Animals (later the R.S.P.C.A.) were established in most states. As Australia entered a mechanised age, a range of professional organisations, charities and individuals such as the Bills lobbied for the welfare of the millions of horses sharing everyday life.
The Bills' wire mattress-making business proved a great success and Joe and Annis moved to Sydney to oversee its expansion. After Joe retired in 1908, the couple embarked on a series of overseas holidays to Britain and Europe, living some of the time at their home in Melbourne. In retirement they maintained their support of Australia's S.P.C.A. and fondness for horses. In 1909, the couple installed a small number of horse troughs around Melbourne. Grateful locals arranged to have this gesture commemorated with an adjacent hitching post inscribed 'In appreciation G and A Bills from the citizens of Melbourne 1909'.
These quirky horse-head designs were constructed at the Ballarat iron foundry. Every year between 1875 and 1909, the company also presented a commemorative hitching post to the owners of the Melbourne Cup-winning horse. Look out for the 1898 example awarded to William Forrester and The Grafter included in the Spirited exhibition.
According to unpublished family recollections kindly supplied to me by Bills horse trough researcher Mr George Gemmill, Joe's generosity also extended to human hardship. He reportedly arranged for the construction of a shelter for waiting rail passengers at Kilmore, Vic., and a shelter for hansom cab drivers in Melbourne's Russell St to keep the rain off while they waited for theatre patrons.
Sadly, Annis died during a visit to England in 1910. Joe continued living in Melbourne and maintained his interest in animals. The family also recall how every day he would pay a visit to some horses kept in a paddock near to his home, always with some sort of treat. He died in 1927 aged 68.
Under the direction of his family and trustees, over 500 horse troughs were constructed in Australia and overseas. These heavyset concrete troughs were precast by Rocla Concrete Pipes Ltd and simply inscribed 'Donated by Annis & George Bills Australia' on the pediment. The cost was £13 each. Some troughs were installed with a low reservoir at either end for dogs and other smaller animals.
Municipalities able to provide foundations and a water supply wrote to Joe's family trust to apply for a trough. Within a few short years, Bills' troughs could be seen at intersections, markets and urban and rural centres across the country. The majority were installed in Victoria and NSW during the 1930s, although some were constructed much further afield in the United States and Britain. As the Broadford Courier remarked in 1937, the trough installed in front of Broadford's municipal offices had 'proved a boon to many a tired and thirsty horse passing by.'
Production ceased with the advent of the Second World War when materials were scarce and motor cars began to vie for the horse's position on Australia's roads. Over the remainder of the twentieth century, many troughs were repositioned or given to local historical societies or museums when roads were widened to allow for the passage of greater numbers of cars. Some remain in their original positions.
The hardy construction of these troughs has allowed significant numbers to survive in towns and cities across Australia, albeit few that are fully functional. Towards the end of the twentieth century, local interest in the troughs was revived and a small body of enthusiasts have undertaken extensive research into surviving examples. Mr George Gemmill maintains an extensive photographic register of around 320 troughs in situ across the country, and has undertaken a great deal of research into the Bills story. You can find out more by visiting his blog.
Do you have a Bills horse trough in your community?
Feature image: Children and ponies making use of a Bills horse trough, around 1947. Courtesy George Gemmill.