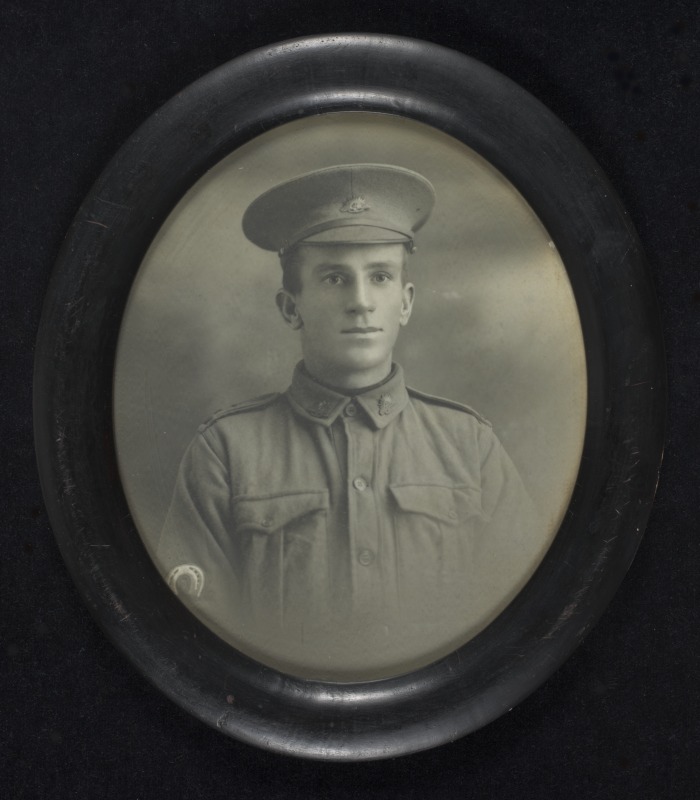 One of the joys of working at a museum is the variety of stories you uncover when researching objects. Another is the pleasure of meeting people who can illuminate and elaborate on those stories and objects.
Recently, when developing a display for our Journeys gallery, I was fortunate enough to work with both a wonderful collection and an engaged and very connected individual. The story relates to the experiences of James Taylor, a farrier with the 9th Light Horse stationed in the Middle East during World War One. The collection of material includes Taylor's 'coming home' tunic, slouch hat, kit bag and pay book. The individual is Fran Kirby, Taylor's grand daughter.
The National Museum had acquired Taylor's uniform when developing the Spirited exhibition in 2014. At the time it was acquired as an excellent example of a World War One light horse uniform. The fact that Taylor was a farrier, working with and caring for horses was a bonus. Not much was known about Taylor himself but that all changed when Fran made contact with the Museum.
Fran had not known her grandfather's uniform had been offered for sale, let alone bought by the Museum until her daughter saw it on the Museum's website. From the first point of contact Fran has shared her family's story and her feelings about the objects. Her willingness to engage with the Museum has led to an even stronger collection of objects now being on display to tell Taylor's story including his service medals, a photographic portrait and personal letters. One of the most wonderful objects is a clothes brush that Taylor made while in the Middle East and gave to his sister Eva. Her initials, E.T. are formed out of white horse hair on a dark horse hair background.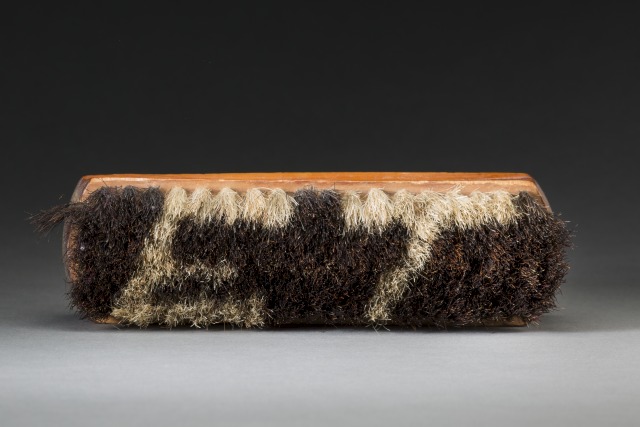 Connections between people, places and objects are at the core of the histories our museum tells. When those connections are made between the past and the present they resonate with a special clarity.
Fran has been kind enough to share her feelings about discovering her grandfather's uniform and reflect on working with the Museum:
My grandfather, James Samuel Taylor, as I knew him, was a simple man. A man of few words, limited by his deafness, expert with his hands, and whilst not given to any effusive displays always engaged with me as a small child. I spent hours as his shadow, watching. I have many relics of Taylor history, and his life – photographs, his war medals, artefacts, and his letters to Margaret Dicker, later his wife and my grandmother, while he was at war in 1914-1919, tools from his smithy.
I lived with my grandparents for more than a year as a small child, and visited at Christmas holidays for some years thereafter. He died when I was 10 and I remember visiting him in hospital just before he died combing his hair and hearing his words saying I should never be a nurse. As an only child, I was used to silence and was happy to follow him around, rarely speaking, as he tended his garden, fed the chooks, hulled almonds, tended the fruit trees, repaired things in the shed. I remember hot Adelaide summer days sitting at his feet as he listened to the cricket on the radio. He always loved horses, as did I, and I had my own from 1963 (sadly, after his death) to 1968 and was a member of Barwon Valley Pony Club, and participating in Geelong and Lismore Shows.
I'd never thought about what happened to his uniform, and was stunned to discover through my daughter, Sarah, who, seeking Anzac information for her children, simply searched his name on the internet and discovered it was held by the National Museum, and had been part of an exhibition, "Spirited: Australia's Horse Story". I was travelling in a camper trailer in WA, but immediately emailed the name on the website, alas no longer working for the museum, then another… and the reply came from Martha Sear on Anzac Day 2015!
Some months later, I met with the NMA team at the Mitchell Repository and gave them all I had – the letters, some describing the "disposal" of the Waler horses in 1919, some souvenirs, his medals, photographs including one of him with his Farrier Sergeant brass stripe, an inscribed shell case, his Discharge Certificate, and a clothes brush made from wood from the Sinai and black and white mane hair from horses in his care, with ET outlined for his sister Eva, family history photos.  And they then showed me his uniform – jodhpurs, boots, spurs, tunic, bandolier, knapsack, paybook (with the achingly sad photograph from Gaza annotated "empty saddles"), and his hat with the Light Horse emu plume. Whenever I drive to my son's house in the Blue Mountains, or to visit family in Melbourne, I pass the Light Horse Interchange on the M7 freeway, always significant.
War was never part of all the stories my grandparents told me, though later there were stories from my Aunt Hazel who was an early enlistee in the WRAAF and served in Woomera and on various publicity campaigns flying around the country in a Lancaster – she thought it was G for George, but it wasn't. My father, born in 1924, was too young to serve and as a lithographic printer for the government was in a reserved occupation as a mapmaker throughout the war. My mother was a nurse and her first fiancé was a Lancaster pilot who died in 1942.
To see my grandfather's uniform, pay book, kitbag, and other accouterments, possessions of someone I'd known and loved, was very moving.  To think they were important for the historical record too was very poignant. That they were there, laid out so respectfully, white gloves all round, part of the national collection, was unimaginable, and very emotionally significant. Such a tribute to yet another ordinary, typically unheroic, commonplace man. But my grandfather, my grandfather.
He and Margaret had three children, Hazel (27/12/21) and James Russell (31/7/24- 27/12/2000) and Claire (31/7/24-3/8/24), and two grandchildren – Frances Rowe Taylor (9/10/1951) daughter of Russell, and Andrew John Glencross, son of Hazel (22/9/1962). There are six grandchildren – Patrick James Peet Kirby 12/11/74), Sarah Elizabeth Kirby (30/12/75), Bridget Helen Kirby (14/2/80), Edward Michael Taylor Kirby (9/11/81) (my children with Michael Paul Kirby), and Susan Elizabeth Glencross (14/1/90) and Stephanie Jane Glencross (24/2/90), daughters of Andrew and Jenny (nee Matthews) Glencross. Further, there are six greatgrandchildren, Isabella Ruth Kirby Van Deursen, William James Kirby Van Deursen, Jonathon Lucas Kirby Van Deursen, (children of Sarah nee Kirby and Richard Van Deursen); Tessa Lok Ga Kirby (daughter of Patrick Kirby and Karen Sau Kuen Wong), Loki James Taylor Kirby and Ziggy Scarlet Mae Kirby (children of Edward Kirby and Bree Hinchey-Holley).
I am so very proud that the NMA has valued the ordinary man, my grandfather, in these exhibitions, and in the permanent collection. I am very reassured that something so valuable to me and my family is in safe hands. Thank you.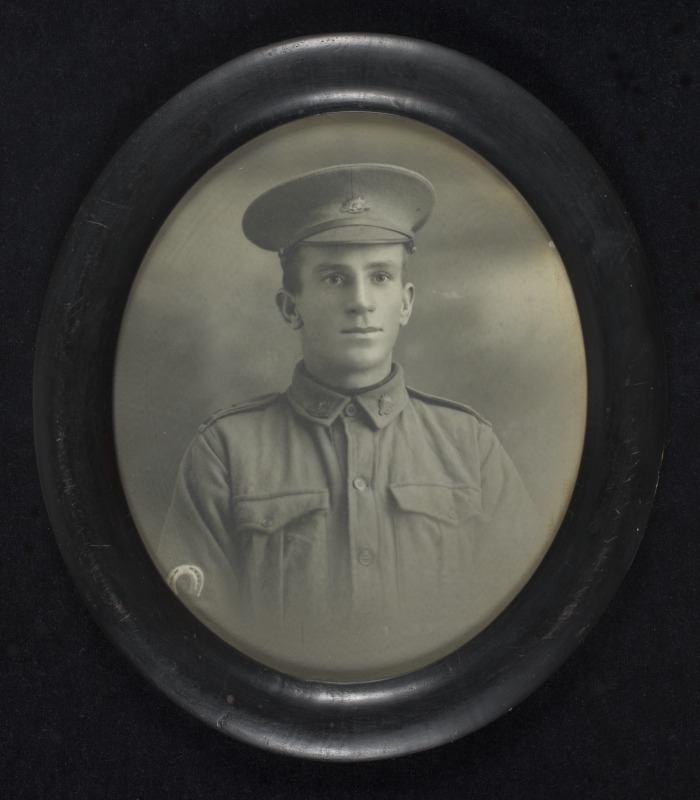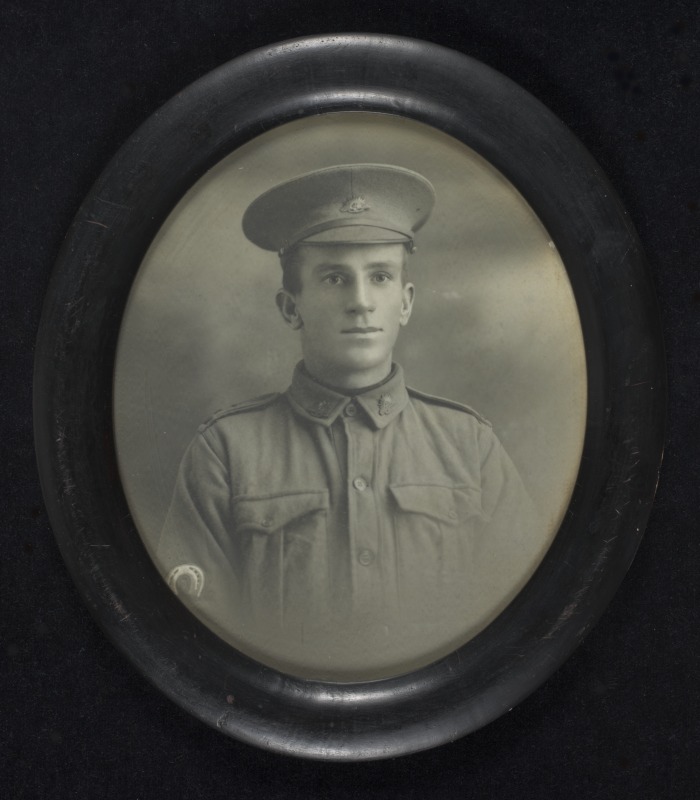 For more information:
James Taylor's uniform collection highlight
James Taylor's story and objects are on display in the Journeys gallery
---
Feature image: James Taylor, wearing his farrier apron and lifting his daughter Hazel in the air, about 1923. Courtesy Fran Kirby.