Riding with 'Hernia': Biking Rottnest Island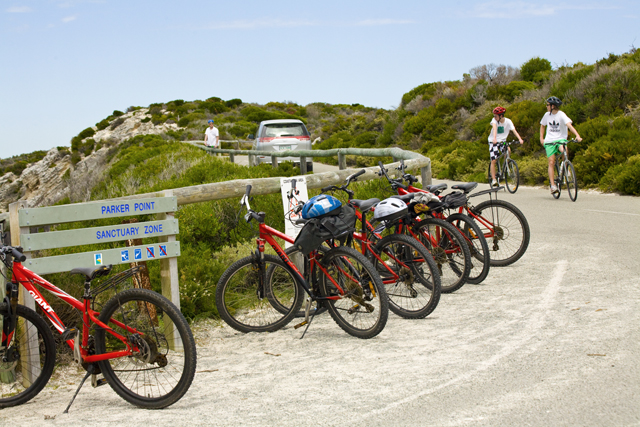 I first met Darrell Hick on Rottnest Island in 2007 while I was doing some research with the island's heritage officer, Patsy Vizents, for the National Museum of Australia's Landmarks gallery. Darrell had just undertaken some conservation work on an historic firearm that had been on display in the Oliver Hill WWII gun battery. I was enjoying a pie from the ever-popular bakery. He asked me what kind of objects the Museum was hoping to display as part of a planned exhibit about Rottnest. The most obvious and important symbol of the Island, I said, was a bicycle: "Do you happen to have one that you used on the Island", I asked hopefully.
Over lunch, Darrell revealed an extraordinary connection to the Island, a relationship that had evolved since his childhood. His gentle enthusiasm for the place became obvious. Fabulously, he still had a bicycle that he had used since the 1970s to transport himself (and his children) around the island while on summer holidays. In fact, the bike had fairly recently been on another trip to the Island. But he felt that it might be time to farewell the 1940s Perth-made Swansea, in favour of a more modern device. A spot in the National Historical Collection seemed like a perfect retirement plan after decades of important service.
Darrell grew up in a house overlooking the ocean with Rottnest Island on the horizon. He made his first trip to the island when he was four-years old. Darrell used many bikes on the island over the years, most modified with holiday necessities, extra seats, fishing rod holders and tackle box attachments.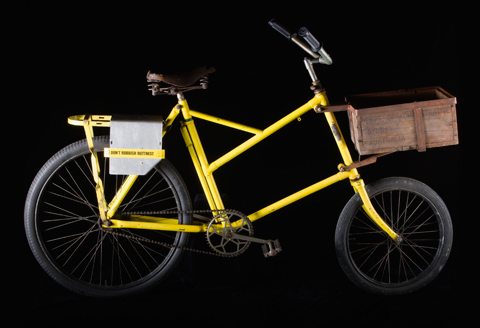 The Swansea was purchased at a garage sale in the 1970s. With no gears, the heavy yellow cruiser soon earned the nickname 'Hernia'. Anyone who has experienced Rotto's rolling terrain will understand how apt this name is. His children also had fond memories of their journeys across the island on 'hernia', although his eldest child remembers regularly swallowing sandflies during fast descents. Darrell recalled a particular trip when a quokka (the marsupial residents of Rottnest) got caught under his pedals causing him to crash!
The image above, which shows Darrell riding barefoot and with all passengers without helmets, not only speaks to the carefree atmosphere of a holiday on Rottnest Island, but also of a time when bicycle use remained almost entirely unregulated. (In the early 1990s Australia became the first country in the world to impose uniform national mandatory bicycle helmet legislation.)
Darrell worked for the Western Australian Museum between 1973 and 1985, first as a 'display production officer' and then as an 'exhibits designer' and 'exhibitions officer'. He set up the Island's first museum displays in the Old Salt Store in 1975.
From 1985 Darrell worked as lecturer in industrial, exhibit and furniture design for the Western Australia School of Art. Darrell also took students to the island in the late 1980s to install displays in the Oliver Hill gun battery complex. Outside of work, he visited Rottnest nearly every year on holiday for much of his life.
Recently, I learned that Darrell died in late 2013 after a long illness.
Curators often meet people nearing the end of their lives. It goes with the job of collecting often deeply personal and meaningful objects from people who perhaps might have no further use for the object they wish to donate, or they might be starting to think about how to leaving a material legacy of their own lives for others to enjoy. Nevertheless I was shocked that the jaunty fellow I had met was now gone.
It occurred to me that often once an object passes into the Museum's hands we become disconnected from the original owner. With the documentation done and stories recorded, the object and its previous owner move on very different trajectories. The donor continues their lives while the object becomes part of a large public collection. It might even go on public display, become part of a school education program or feature in a book. In other cases, of course, the acquisition of an object leads to deep and enduring connections with the Museum.
For a donor to see an object either on display or being cared for as part of the collection is immensely satisfying for a curator. Equally, donors will often express a great joy — and sometimes relief — that a prized and meaningful possession has gone on to inspire, inform or entertain others.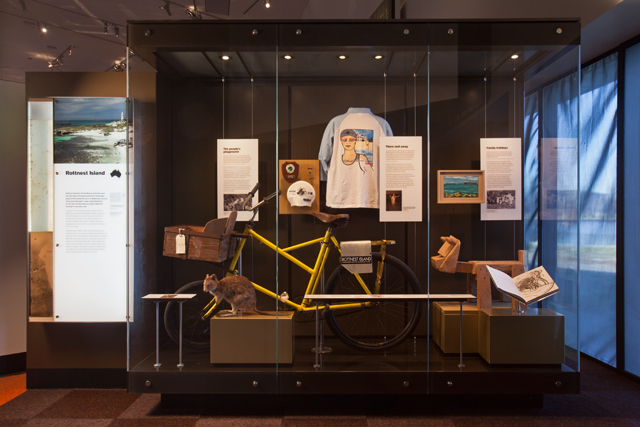 Sadly, Darrell didn't get to see his old bike in the Landmark's gallery. But 'Hernia' is on permanent display in all its yellow glory, ready for us to imagine Darrell careering down one of Rotto's many hills, without shoes or helmet and with two children on board, and hopefully avoiding another collision with a quokka!
The People and the Environment team would like to offer their condolences to Darrell's family.