Freewheeling spins into Canberra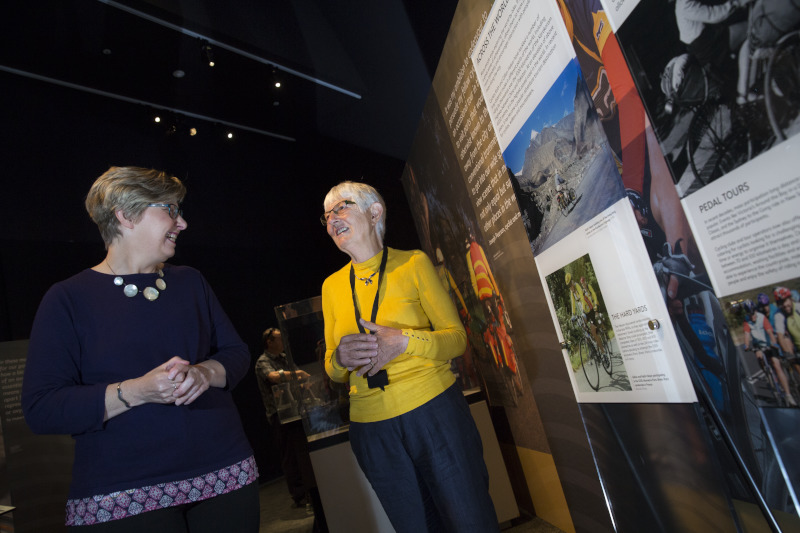 The National Museum of Australia celebrated the history of cycling in Australia with the official launch on the 13th April of its exhibition Freewheeling: Cycling in Australia. The exhibition has been travelling around Australia since November 2014 and this is the final venue of the tour.
It was a privilege to host Michael Milton, paralympic cyclist, and Gillian Helyar from Pedal Power ACT as the guest speakers at the launch. Michael and Gillian enjoyed a preview of the exhibition, along with NMA Director Dr. Mathew Trinca and Curator Catriona Donnelly.
Cycling has shaped Australian life for more than 140 years. We ride bicycles to school, work and to visit friends; pedal them across the continent and race them around the world. This exhibition tells the story of cycling in Australia and invites you to reflect on how this simple, affordable machine has shaped our lives, and the possibilities it still offers for the future.
Ten themes explore different bicycles and styles of riding, and introduce some of the people whose lives have been shaped by cycling. The exhibition looks at the thrilling danger of the early penny farthing, the revolution of the chain-driven 'safety' bicycle, the aerodynamic efficiency of a racing recumbent, the 1980s icon of the BMX, getting off-road on mountain bikes, long-distance touring, the joys of learning to ride a bike, and, of course, racing. Australia racers have been scorching the tarmac at the highest levels, both here and overseas, since the 1890s, and this long history is an important feature of the exhibition.
As well as bikes, the exhibition is full of all manner of cycling related objects including medals, trophies, jerseys, helmets, posters and clothing. It also has fantastic images and films about every kind of cycling.
The exhibition includes objects from Tour de France winner Cadel Evans, long distance legend Hubert Opperman, BMX racer Caroline Buchanan, cycling reporter Jim Trail, and para-cycling champions Sue Powell and Michael Milton. There are also stories and objects from lesser known, but no less inspiring, cyclists like Canberra's own long-distance recumbent rider, Peter Heal, and former Pedal Power ride organiser, Greg Cunningham.
Freewheeling: Cycling in Australia is on display at the National Museum of Australia from 13 April 2017 to 9 July 2017. Entry is by donation.
Feature image: Curator Catriona Donnelly talking to Gillian Helyar about her experiences cycling in the Paris-Brest-Paris randonnée. Photo: George Serras