The 'Magnetic Crusade'. An international scientific endeavour represented in Australia's National Historical Collection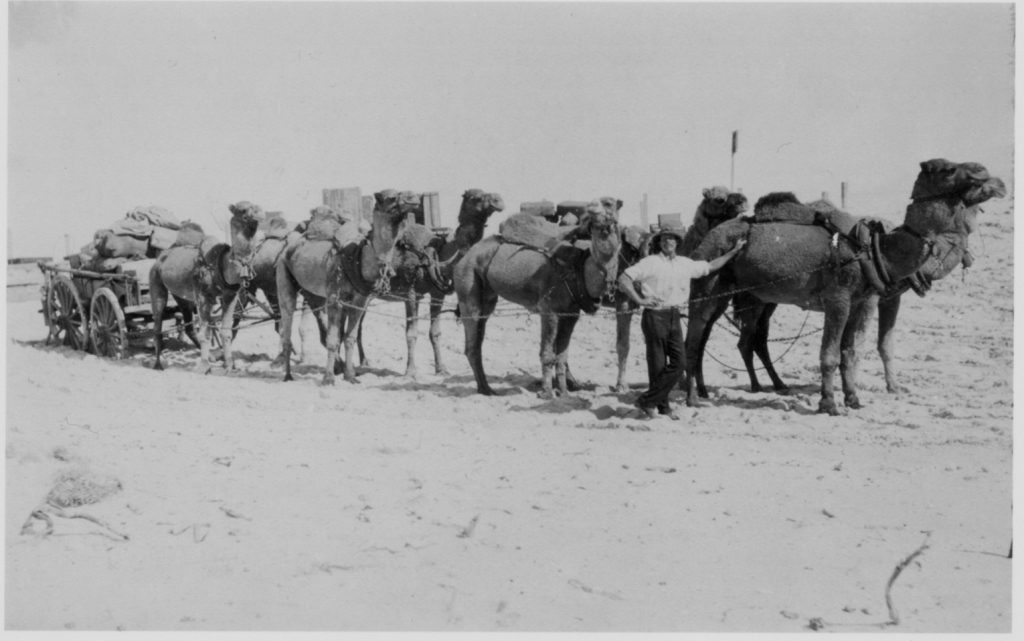 Introduction
Almost 100 years ago, at the height of the First World War, a small party of scientists from the Department of Terrestrial Magnetism (DTM) in Washington, led by Wilfred Charles Parkinson and William Fisher Wallis, travelled across south-west Australia seeking a suitable location for a magnetic observatory. They finally settled on a site at Watheroo, about 225 kilometres north of Perth. The instrument they used in their search – theodolite-magnetometer CIW-18 – is now in Australia's National Historical Collection (NHC), where it represents a significant part of Australia's, and the world's, scientific heritage.
Their search was part of a long-run investigation of Earth's magnetic field seeking to understand how the field functioned. For example, why did it vary from place to place and over time? The development of laws explaining the phenomenon would have immediate practical benefit for navigators using magnetic compasses as one of their main instruments.
The Department of Terrestrial Magnetism
Established by the Carnegie Institution of Washington in April 1904, the DTM embarked on a four-decade 'crusade' to investigate 'the magnetic and electric condition of the Earth and its atmosphere' with a focus on those parts of the globe that had not been studied before. From its headquarters in Washington the DTM sponsored hundreds of land expeditions in some of the world's most remote places; sent two vessels – the Galilee and the Carnegie – around the world's oceans; and, established and operated two geophysical observatories, at Watheroo in 1919 and at Huancayo in Peru in 1922.
The land expeditions followed carefully selected routes through Africa, Asia, South America and China, establishing a co-ordinated system of stations at which the three elements of Earth's magnetic field – declination, inclination and intensity – were measured and then regularly re-observed on subsequent expeditions. The research included a general magnetic survey of Australia conducted by Edward Kidson assisted by Wilfred Charles Parkinson, Frederick Brown and an Australian, Alexander Lorimer Kennedy, from 1911 to 1914. The purpose of all this work was to establish a co-ordinated set of data about the magnetic field that could be mathematically analysed.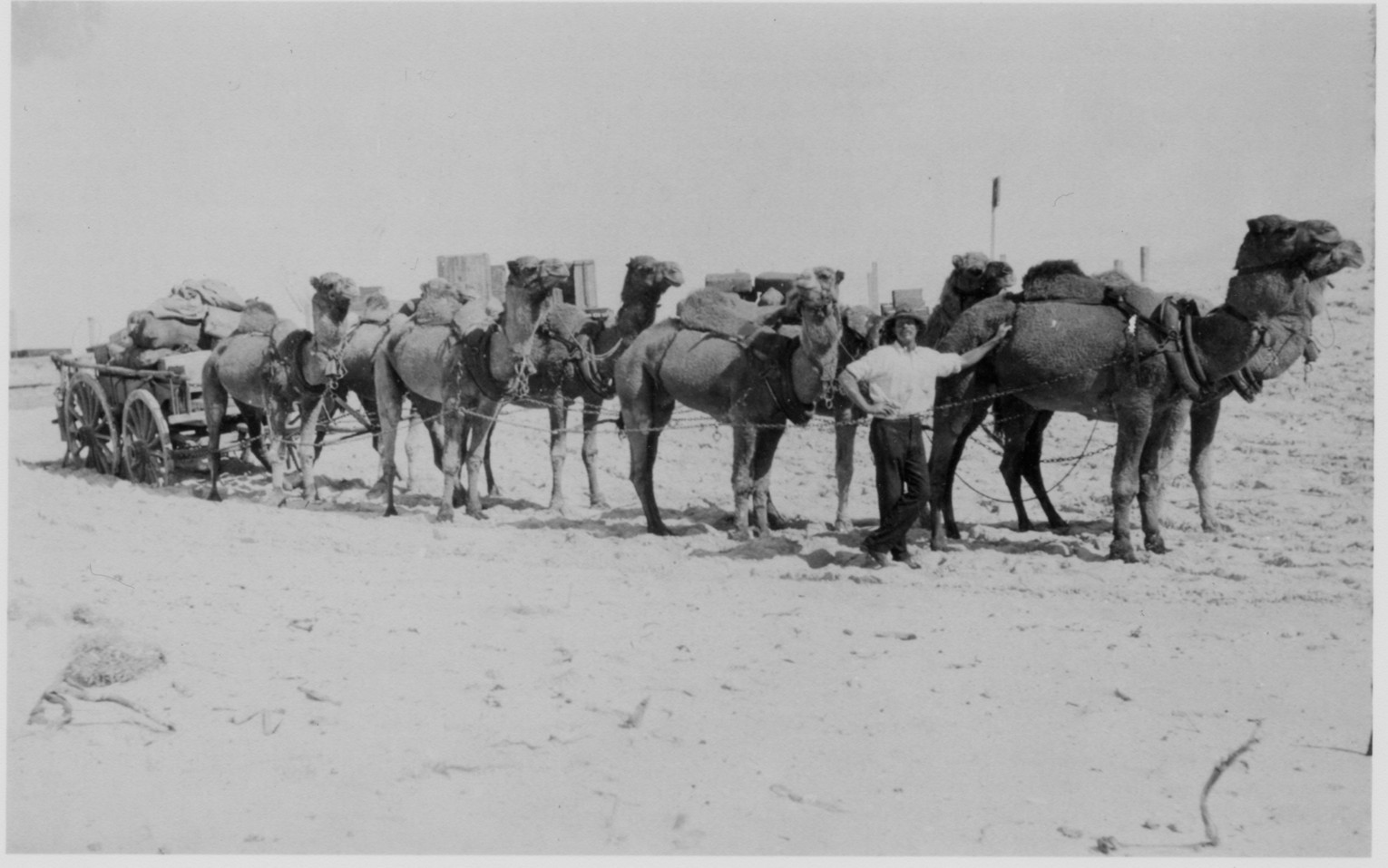 The key instrument in this work was a 'light portable type' of magnetometer that was enclosed in a timber case measuring about 600 mm. x 400 mm. x 200 mm. high and weighing about 13 kilograms when fully packed. Each individual component had its specific place in the case so that it was immediately obvious if any components were missing.
Three of these instruments are now in the NHC – magnetometer-theodolites numbers CIW-7, CIW-16 and CIW-18. What follows is the story of these three instruments.
Theodolite-magnetometer CIW-7. William Sligh in Central America, the Middle East and Africa; and, Watheroo Magnetic Observatory.
Theodolite-magnetometer CIW-7, one of nine DTM designed instruments assembled in the Bausch, Lomb and Saegmuller workshop in New York, was acquired by DTM in 1908. It was used briefly in Canada before being assigned to William Sligh for work in Central America in 1908-09 then in the Middle East and Africa in 1909-13.
In Central America, Sligh travelled by motor launch up the Belize River and by mule through the dense Guatemalan forest where progress was hampered by a lack of roads, swampy country, a scarcity of drinking water and inadequate shelter at night. In the Middle East, he travelled a total of 22,300 miles by steamship, rail and pack animal through the Taurus Mountains and by raft down the Tigris River. Sligh suffered illness, including a bout of malaria at Damascus, and was placed in quarantine on three occasions – at Tebbok, Mush and Ramadieh.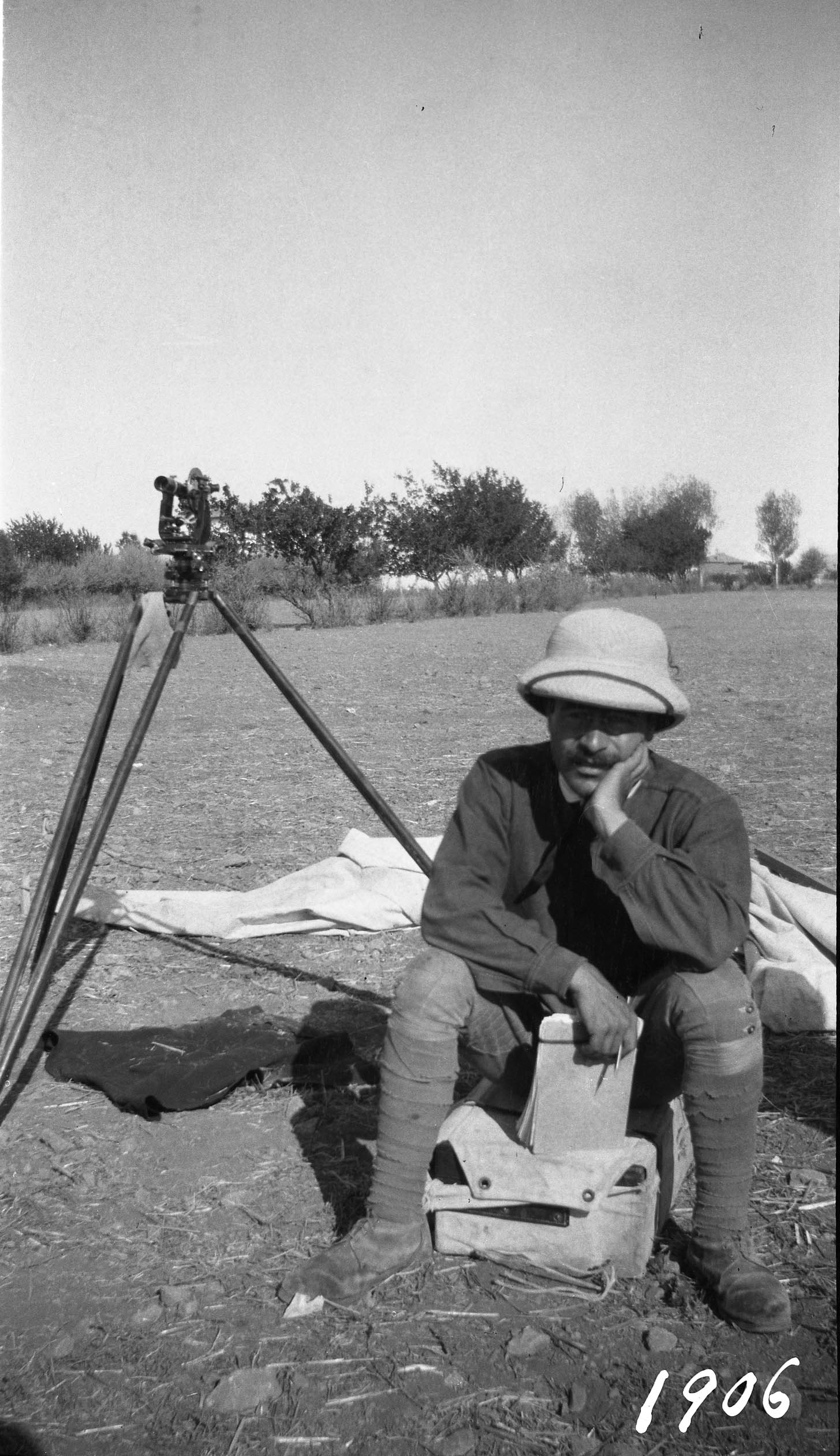 In Africa, Sligh travelled 13,600 miles by steamship, rail and sloop, observing in North Africa, the Canary Islands and along the west coast of Africa. This stage of his work brought problems with climatic conditions, particularly with the wind, and with personal security. At Algiers, the observing tent was ripped to pieces by strong wind and had to be replaced by a locally made one. Wind was also an issue at Fuerteventura Island in the Canary Islands where, shortly before completing his work, the tent, equipment and observer were blown over by a violent gust. More serious, however, was the threat of attack from local gangs along the West African coast. At Melilla, for example, a guard of four gendarmes and six soldiers was posted while observations were being made. In the event the party was not molested at any stage but the threat of civil unrest was always in the back of Sligh's mind – a concern shared by other DTM observers working in most remote areas.
On return to Washington CIW-7 remained in store for six years, after which it was transferred to Watheroo Magnetic Observatory where it was installed as a standard instrument in the absolute hut of the Watheroo Magnetic Observatory. The instruments in this hut made absolute measurements of magnetic declination, inclination and intensity. At different times they were also used to standardise field instruments, including the Carnegie's magnetometer in 1920 and CIW-18 in 1935.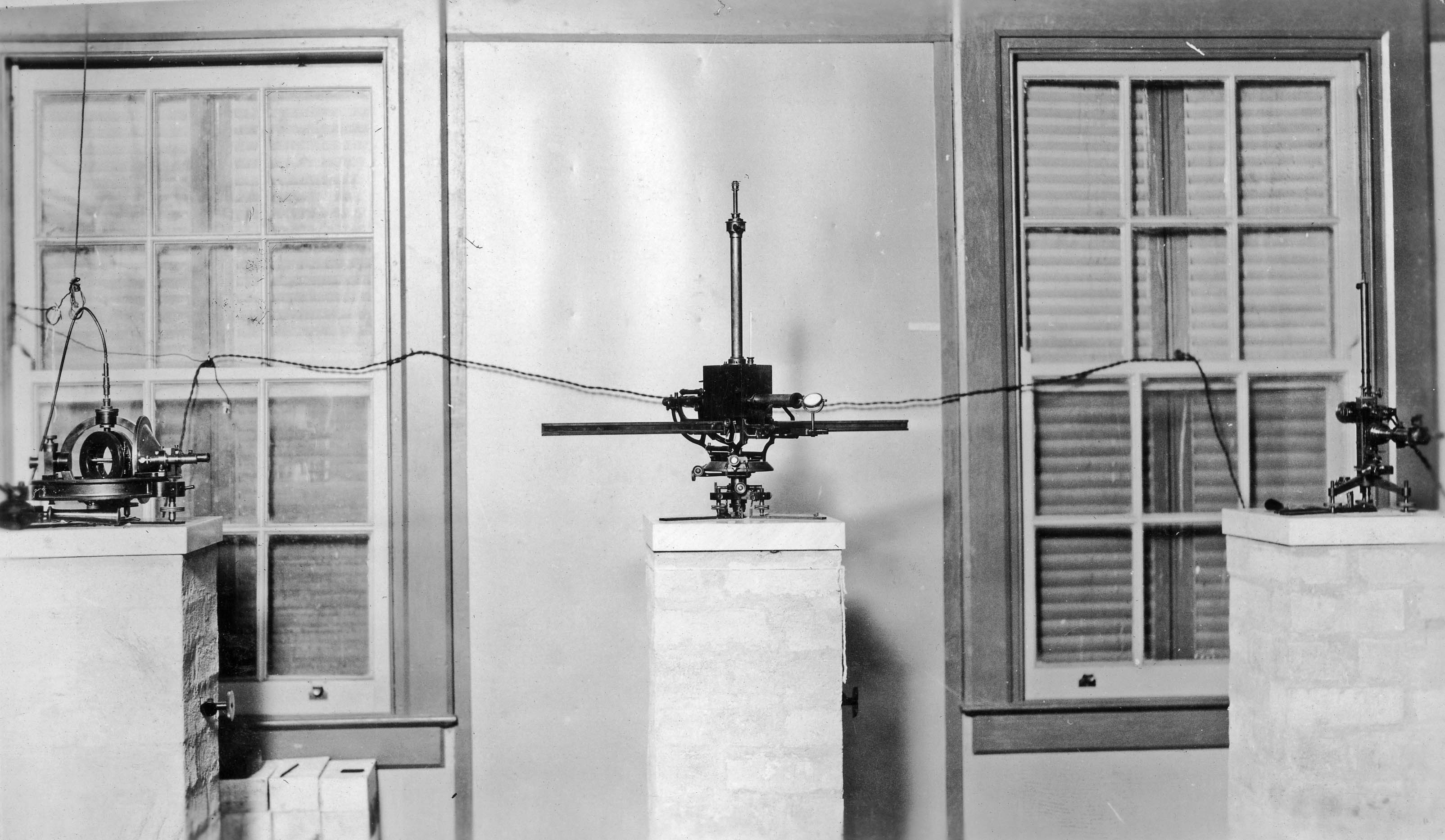 In July 1947, the Carnegie Institution gifted Watheroo Magnetic Observatory to the Australian Government and its operation was taken over by the Bureau of Mineral Resources, Geology and Geophysics (BMR). Closed in March 1959 it was replaced by a new establishment at Mundaring about 40 kilometres east of Perth.
Theodolite-magnetometer CIW-16. Earl Hanson in South America.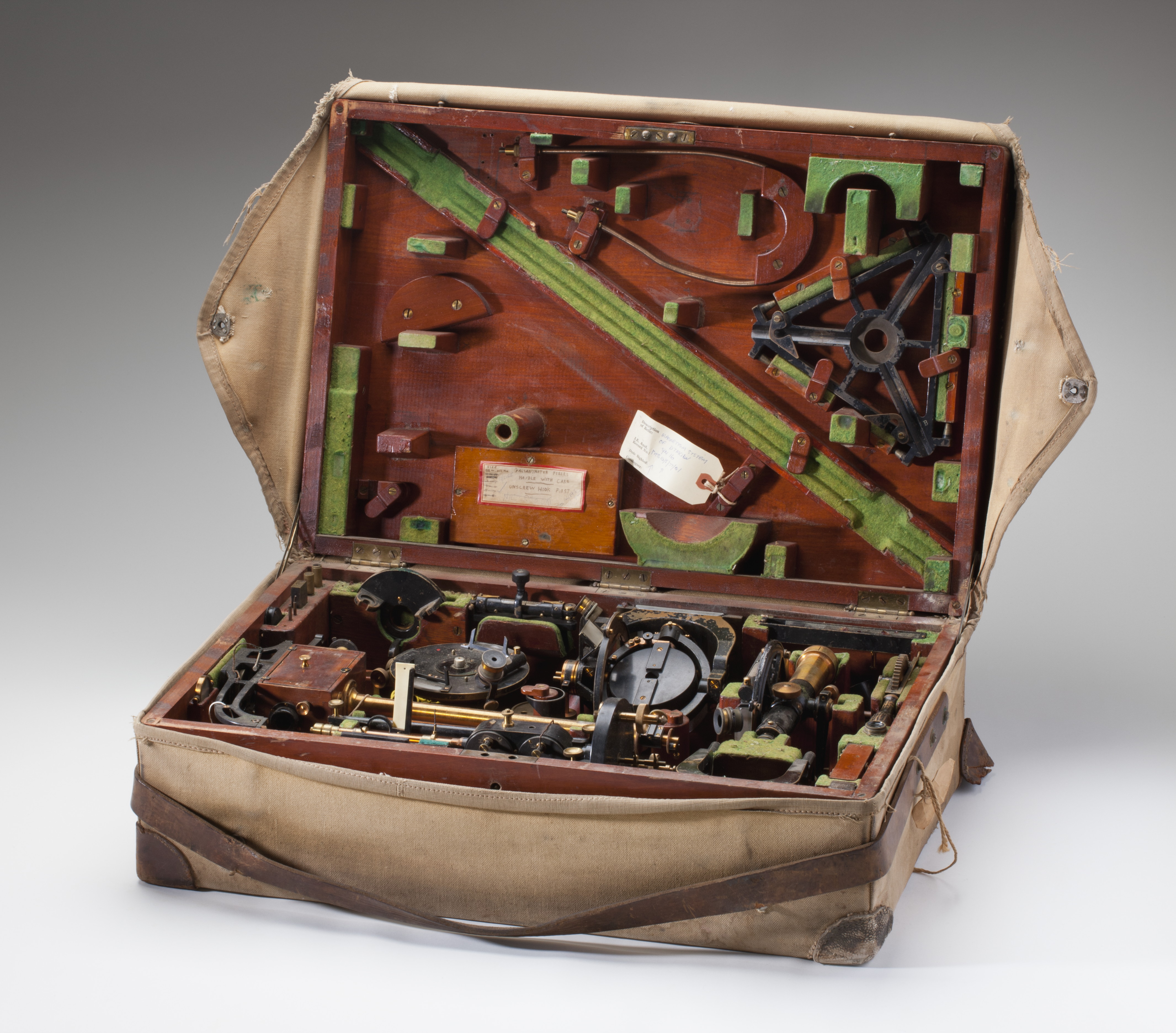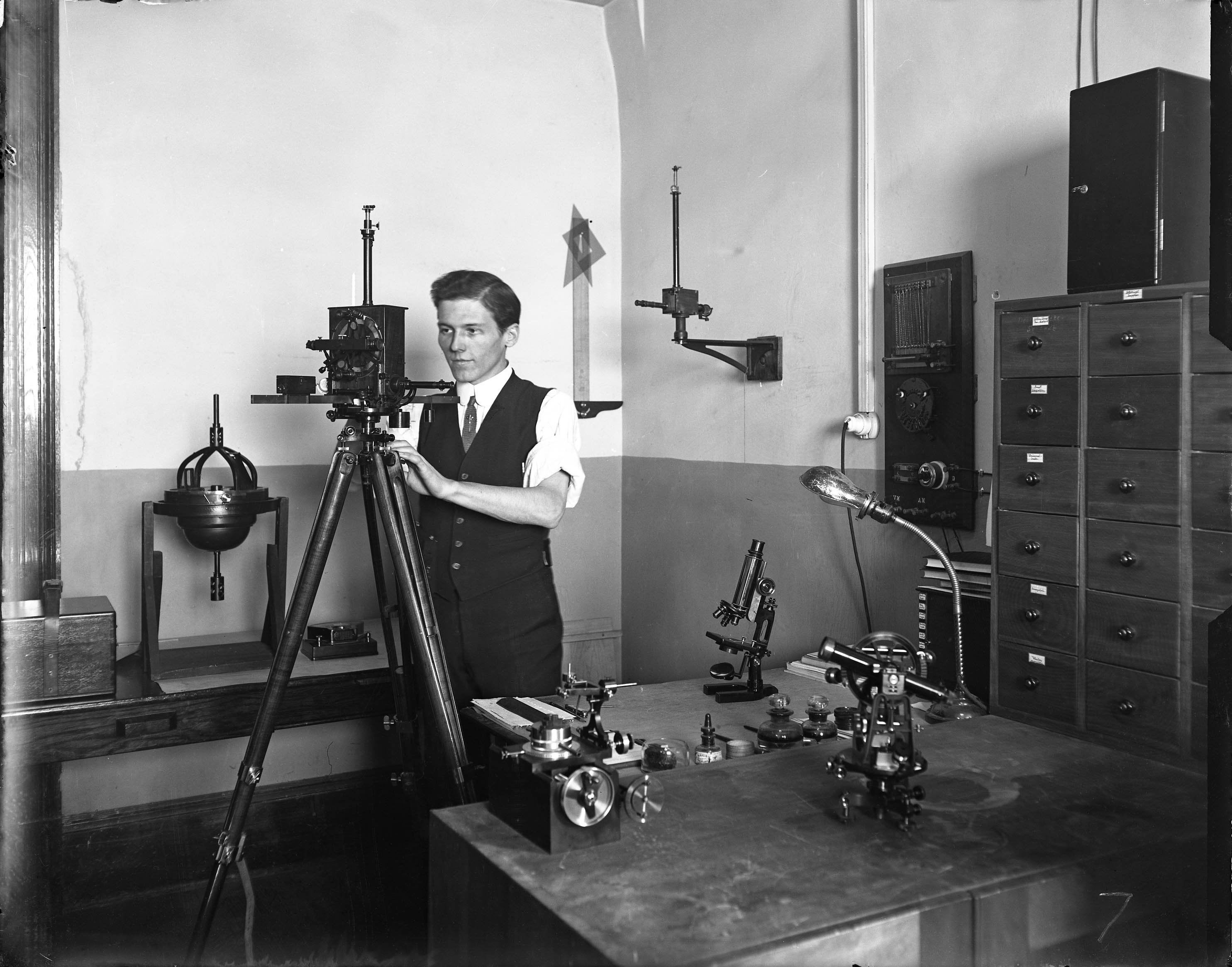 Theodolite-magnetometer CIW-16 was assembled in the DTM workshop in May 1911 at a cost of US$650. It was used in Central America, South America by Earl Hanson, Canada, West Africa,on the Donald MacMillan Baffin Island Expedition of 1921–22, East Africa, on the Louise Boyd Arctic Expedition of 1941 and at Huancayo Magnetic Observatory before being written off the books in May 1949. When, how and why it came to Australia and where it was used here is still being investigated.
Earl Hanson departed New York in August 1931 and after some training in Cuba moved to Venezuela in late September. From Caracas he travelled up the Orinoco River, crossed from its headwaters to the Rio Negro in the Amazon Basin and then, after observing at stations along the Amazon, moved to Bolivia and finally to Peru. Having travelled over 20,000 miles using launches, canoes, mules, horses, railroads, automobiles and trucks Hanson returned to Washington in January 1932. He seems to have enjoyed the challenges and hardships of travelling and observing in the jungle regions of South America, commenting 'I thought that a magnetic expedition would have been a lot of fun but for the need for observing the Earth's magnetism'.
Hanson found that many of the sites originally proposed as observation stations proved unsuitable when examined in the field. At La Ceiba in Venezuela, for example, the proposed site was found to be a deep jungle-covered swamp. The station was eventually established at Valera, an overnight stopping place for buses and trucks on the main trans-Andean highway.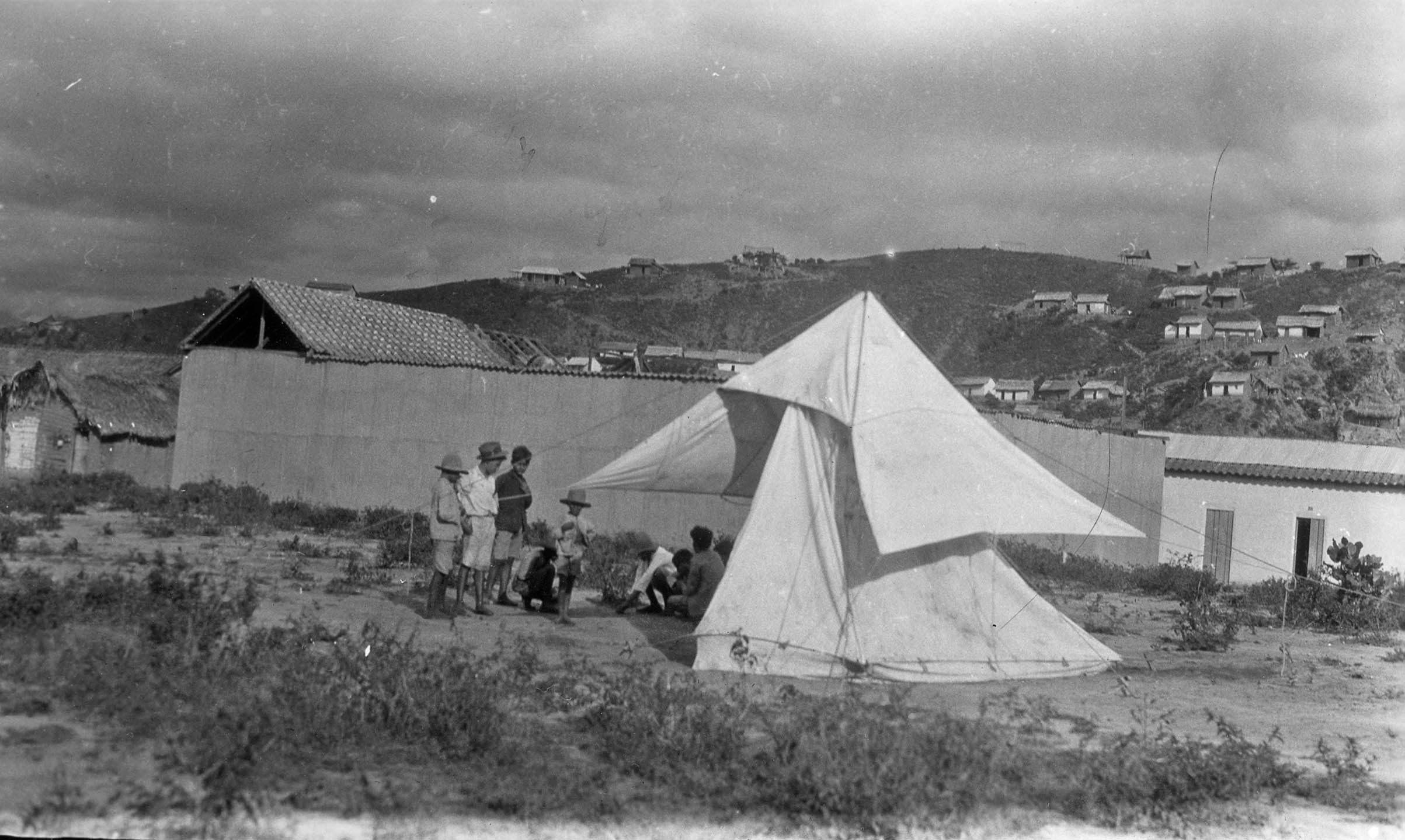 Illness and weather conditions also combined to hamper Hanson's work. At Caracas he suffered from a combination of a bad cold, indigestion and inflamed eyes. Malarial attacks were frequent and at Porto Velho in Brazil and at Tres Unidos in Peru his feet and legs were so infected from insect bites that he was unable to observe in the hot sun. The rugged country, heavy rain and flooded rives made travel difficult and on occasions damaged his instruments. Finally, like Sligh, he was concerned about civil unrest, including 'a bit of a revolution' in Cuba and the presence of a 200-strong gang of river pirates in Brazil.
Following its return to Washington, CIW-16 was issued to Robert Mansfield in 1934 for work in the Union of South Africa, Portuguese East Africa, Southern Rhodesia, Northern Rhodesia, Zanzibar, Tanganyika, Uganda, Kenya, Aden, Anglo-Egyptian Sudan, Egypt, Libya, Tunisia and Algeria.
Theodolite-magnetometer CIW-18. Lew Richardson in Australia.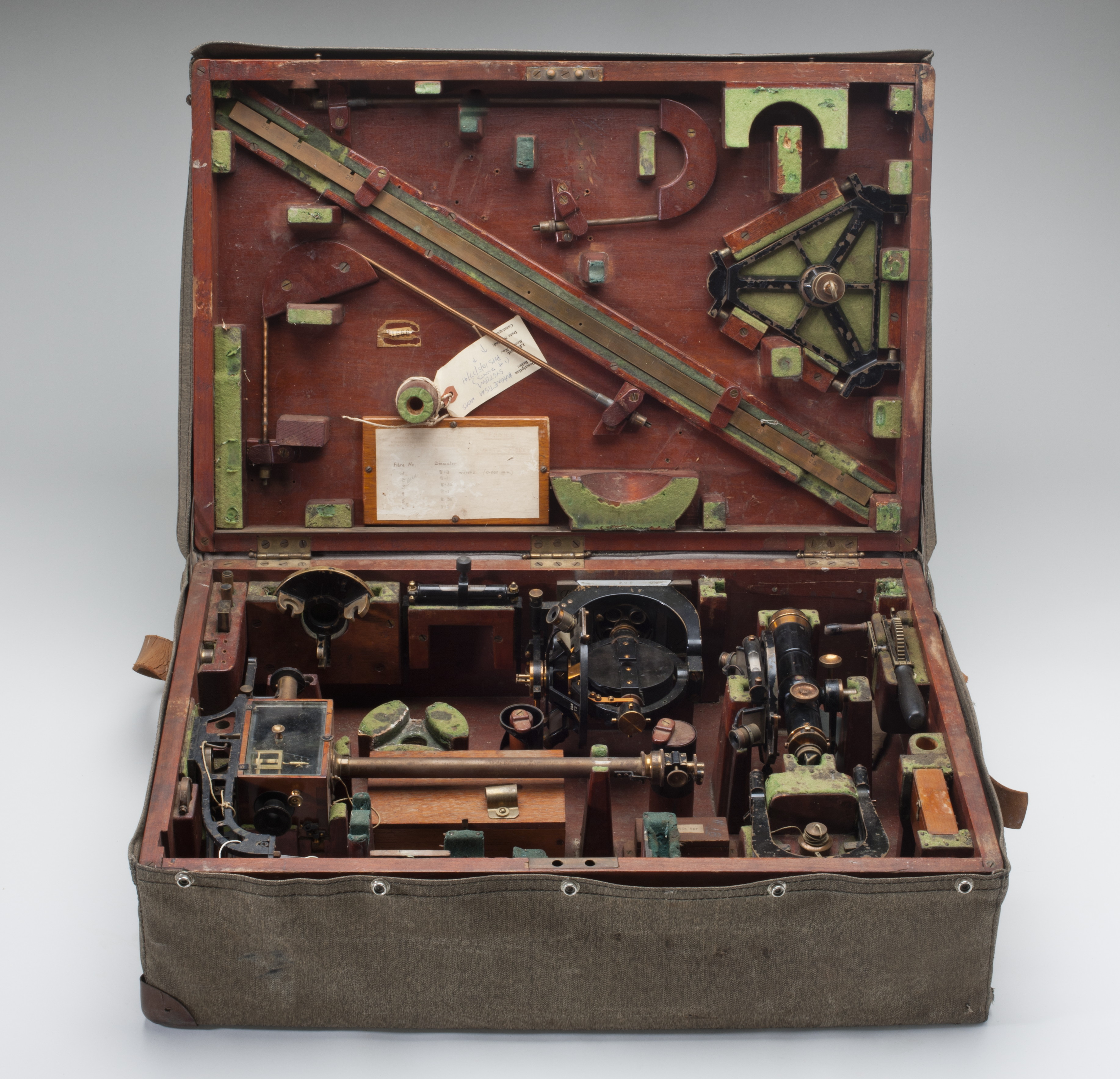 Theodolite-magnetometer CIW-18 was assembled in DTM's workshop in 1916 and was initially used in Australia to select the site of the Watheroo Magnetic Observatory.
Early in May 1930, it was issued to the British East African Meteorological Service, at Nairobi in Kenya, for use in a planned extensive observing program in East Africa. It was transferred to Robert Mansfield in September 1934, to complete his African work after his first instrument, theodolite-magnetometer CIW-16, was damaged.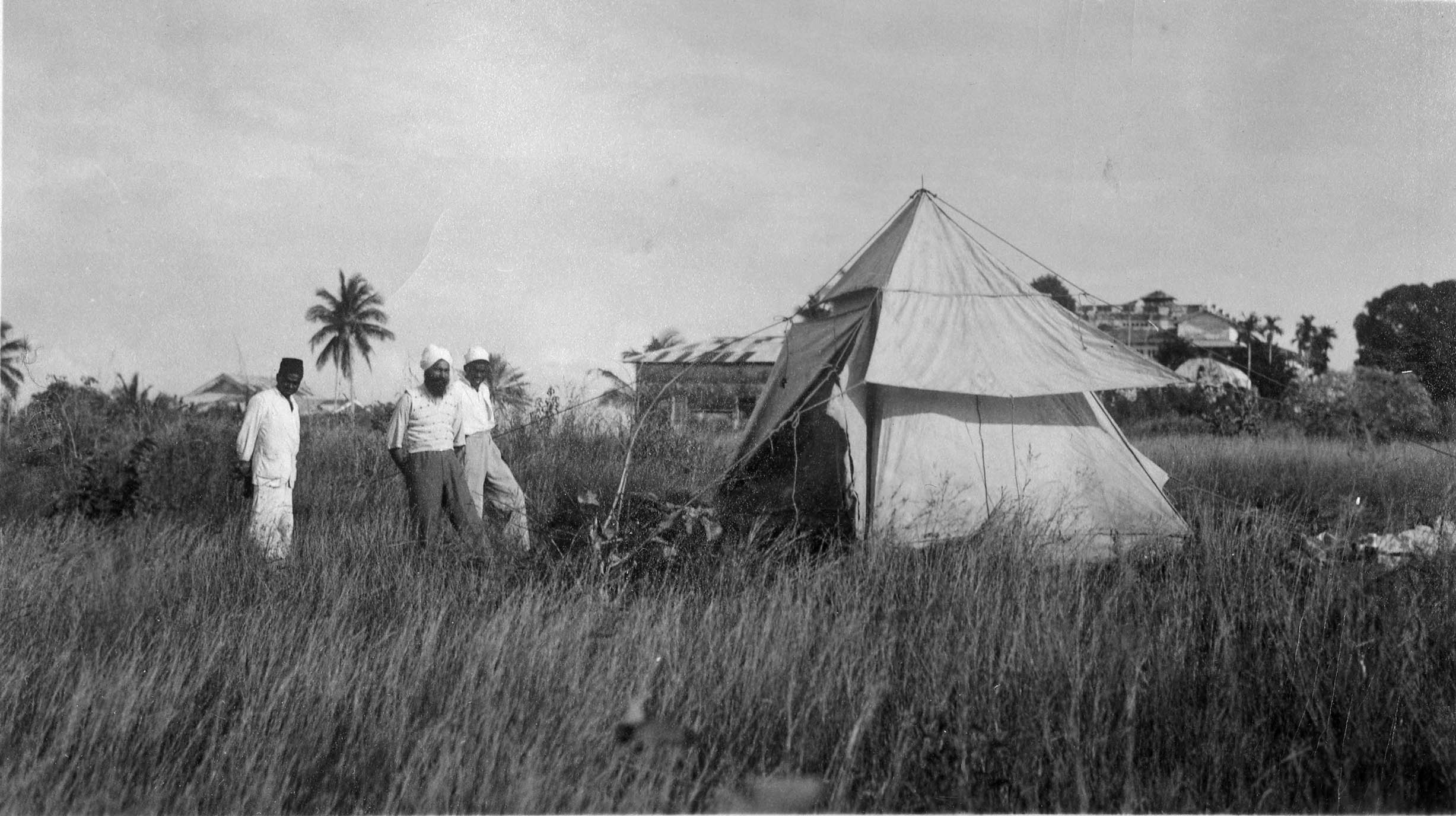 In 1935, CIW-18 was issued to Australian-born Lew Richardson for magnetic work on the Aerial, Geological, and Geophysical Survey of Northern Australia (AGGSNA). AGGSNA was established in 1935 to 'investigate the mineral possibilities of the less known and less accessible parts' of Western Australia, the Northern Territory and Queensland. It combined geological, geophysical and aerial survey work and operated from 1935 to 1940, although work in Western Australia ceased in 1938. Richardson worked mostly at Tennant Creek but also at Wiluna in Western Australia and at Herberton, Croydon and Blair Atholl in Queensland. He continued using CIW-18 after the end of AGGSNA, including investigations for the Royal Australian Air Force and Royal Australian Navy at Sydney, Brisbane, Fremantle and Darwin and on an expedition across southern Australia in 1944 for the Mineral Resources Survey. CIW-18 was subsequently used by BMR magnetic observers on the Cocos-Keeling Islands in 1946; on Heard and Macquarie islands and Iles de Kerguelen in 1948 & 1950; and in Papua New Guinea.
Conclusion
The information gathered by these three instruments over four decades contributed significantly to our knowledge of Earth's magnetic field. The Australian government's continuing role in furthering this knowledge is outlined on Geoscience Australia's website (http://www.ga.gov.au/scientific-topics/positioning-navigation/geomagnetism).