Getting the flying kangaroo off the ground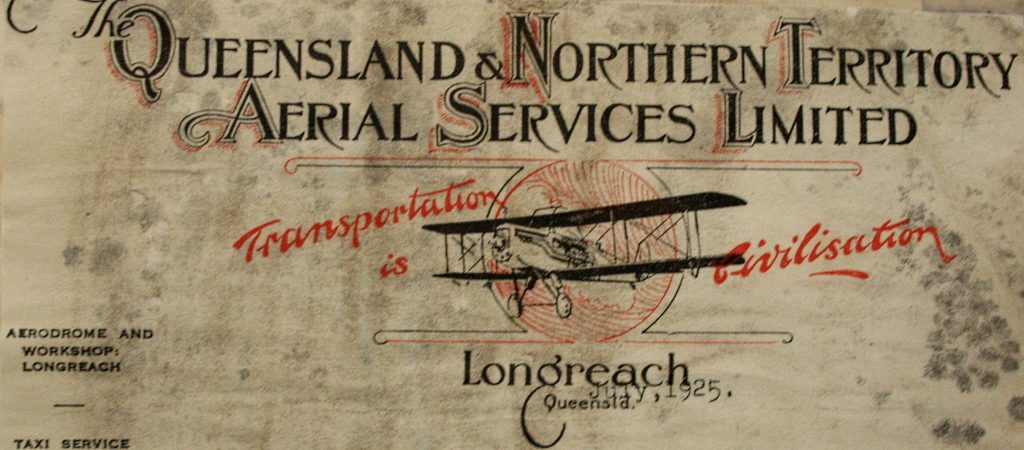 Amongst the National Museum's initial list of 100 Defining Moments in Australian history is 16 November 1920, the establishment of Qantas. This date was the culmination of a series of defining moments – years of trial and error that got Qantas in the air. From partnerships formed on the First World War battlefields, a long drive, chasing government subsidies and public support, and finding suitable aircraft, the Qantas story is focussed on responses to the social, environmental and economic possibilities and needs for an aerial service across western Queensland and the Northern Territory.
Today, 94 years after the company's inaugurating papers were signed in Brisbane, it seems appropriate to reflect on the circumstances, technologies, personalities, events and environments that gave rise to the flying kangaroo.
Credited as the young pilots who started Qantas, Paul McGinness and Hudson Fysh met while serving with the Australian Flying Corps (AFC) in Palestine during the First World War. Paul 'Ginty' McGinness enlisted in the Australian Infantry Forces (AIF) aged 18, serving with the 8th Light Horse at Gallipoli, before transferring to the AFC in January 1918. Hudson Fysh enlisted with the Light Horse in 1914, transferring to the AFC in 1916. In No.1 Squadron, Fysh flew as an observer for pilot McGinness on dozens of missions, and both men were awarded the Distinguished Flying Cross. The aviators also served with talented mechanic Arthur Baird, and as the three men became good friends, they discussed plans for future endeavours on their journey home to Australia. Like many members of the AFC, they dreamt of continuing to fly after the war, as McGinness wrote in a letter home: 'If a man had a great deal of experience in it here, after the war he might follow it up … if not in the military, perhaps as a profession'.
Following the end of the First World War, Prime Minister William 'Billy' Hughes declared his enthusiasm for the possibilities of aviation in Australia, and the Commonwealth Government announced a competition with a prize of £10,000 to 'the first successful flight to Australia from Great Britain, in a machine manned by Australians.'
There were many critics of the competition in Australia and England, and not as many entries as Hughes had hoped.
McGinness and Fysh looked to enter the Air Race, with Baird as their mechanic, and they secured the sponsorship of Sir Samuel McCaughey. They had used a BE2E aircraft gifted to No.1 Squadron by McCaughey in Palestine. Ready to secure their aircraft and passage to London, the crew received news that McCaughey had died suddenly. McGinness and Fysh were forced to withdraw their entry, and were instead commissioned by the Defence Department to survey suitable landing sites for the race participants through the Northern Territory and Queensland.
Their survey route stretched across northern Australia, from Longreach to Darwin and into the Gulf of Carpentaria, through areas that had not yet seen motor vehicles let alone aircraft. Fysh recalled the public response to their AFC uniforms on their arrival in Longreach: 'I can best describe the experience by comparing it to what would happen if two of our present-day spacemen walked along the street in full space rig-out.'
Their directions were to identify sites suitable for aerodromes and other grounds available for possible forced landings. The landing grounds were to be '350 to 450 miles apart', stocked with petrol and supplies, preferably close telegraph or telephone offices, with a hard and 'reasonably level surface free of all obstructions, 1,200 yards by 800 yards.'
After first selecting a site for an aerodrome in Longreach, Fysh and McGinness started their journey in a converted Model T Ford, with George Gorham as driver and handyman. As they struggled to complete their work across the isolated route and difficult terrain during a 51-day trip, McGinness and Fysh began to form ideas for an aerial service. In a region subject to seasonal flooding, there were few formed roads or bridges, and the flat, open country offered good visibility and areas for landing grounds.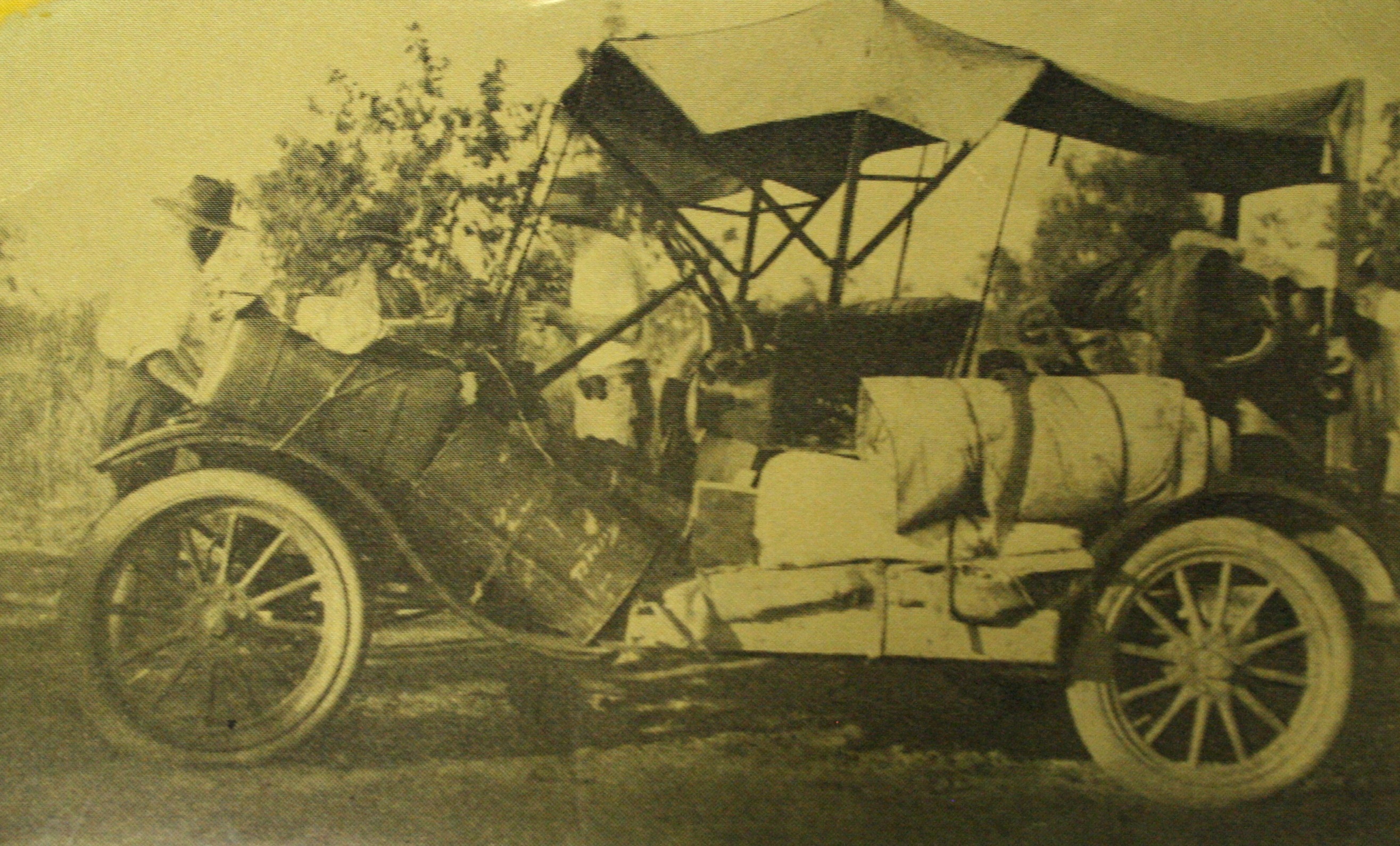 After reaching Katherine, McGinness and Gorham returned to Cloncurry to establish several landing grounds, and Fysh travelled on to Darwin by train to construct the landing ground there and await the arrival of race competitors.
On 12 November 1919, Ross Smith as pilot and Keith Smith co-pilot, took off from Hounslow in a Vickers Vimy with mechanics Wally Shiers and Jim Bennett. They arranged with the Shell Company to have fuel available en route, and carried spare parts for repairs during the journey. They experienced hazardous flying conditions, but successfully completed the journey to Darwin on 10 December in 28 days. Fysh greeted them in Darwin and examined the aircraft to certify that the Smith brothers and crew had won the prize.
Although their work for the 1919 Air Race had not made-up for the missed opportunity to compete, Fysh and McGinness' journey had a number of beneficial outcomes for the young aviators. Not only did Fysh and McGinness' journey across Queensland and the Northern Territory give them a strong indication of how valuable an aerial service would be to the region, they had in their work created many landing grounds for use in an aerial service and they had detailed knowledge of the environment and communities they would serve.
After bumpy beginnings, the government sought to regulate Australian aviation through the 1920 Air Navigation Act, which became law in 1921. The first work by Lieutenant-Colonel Horace Brinsmead as Controller of Civil Aviation was to designate airfields in major city areas as official landing grounds and to standardise the aircraft registration system. The Act also allowed for tenders to be called for the carriage of airmail under government subsidy, pending funding, with four initial routes identified that would complement and connect existing rail services: Geraldton to Derby in Western Australia, Adelaide to Sydney, Sydney to Brisbane, and Charleville to Cloncurry in western Queensland.
Fysh and McGinness were excited by the possibilities of government subsidies, but set out to prove their idea before receiving government assistance. A chance encounter in Cloncurry, gave them the start they needed. Fergus McMaster, a wealthy grazier was crossing the sandy bed of the Cloncurry River just outside of town when his car broke an axle. Paul McGinness helped repair the vehicle and the two started a conversation about aviation. As the two men formed a friendship, McGinness and Fysh began outlining their plans to McMaster, and he began to convince his business acquaintances to invest with them. With McMaster on board to provide strong business guidance, Fysh and McGinness also convinced Baird to sell his garage business and become an employee of the new company.
First registered as the Western Queensland Aero Services Ltd, early operations were aimed limited to joy and taxi flights. The possibilities of a more extensive service were, however, immediately apparent, and The Queensland and Northern Territory Aerial Services Ltd (Q.A.N.T.A.S.) was registered on 16 November 1920 to reflect the larger scope of the company. The papers formally establishing Qantas were signed at the Gresham Hotel in Brisbane, with McMaster as chairman and headquarters to be in Winton. The first company prospectus proposed aerial service centres in Longreach, Winton and Cloncurry to link a route 'from Port Darwin to Longreach in connection with the London to Australia flight.' Soon after, Qantas moved its headquarters to Longreach.
Qantas' first aircraft was an ex-military Avro 504K. The Australian Aircraft Engineering Company at Mascot replaced the original rotary engine with a water-cooled 100 horsepower vertical six-cylinder Sunbeam Dyak engine, more capable of handling the hot conditions of northern Australia. The company's second aircraft came via Longreach stock and station agent Charles Knight, who bought a BE2E and obtained the services of Hudson Fysh to fly he and the aircraft to Longreach from Sydney. After experiencing a turbulent delivery flight, Knight swore he would never fly again and sold the BE2E to Qantas. Although both aircraft struggled with the hot conditions of outback flying, Baird kept them in the air and together they logged tens of thousands of kilometres and carried hundreds of passengers.
In 1921, the company started its approaches to the government for a the identified subsidised aerial service in Western Queensland. When Western Australian Airways, formed by former AFC pilot Norman Brearley, won the tender for the Geraldton-Derby service, Qantas increased its petitions to the government with the assistance of residents living along the proposed Queensland route. The people of Cloncurry made this statement in support of a government subsidised airmail service: "In a country where the cry is for better communications, the aeroplane must be looked to, to play a big part in the future settlement and prosperity of this country." In October 1921, many of the company's 240 shareholders were pastoralists along the Qantas flight path.
Reflecting on this period in his autobiography Qantas Rising, Fysh made the following summary regarding the public support they received: "perhaps after all, the real reason why the Western Queensland people rallied round us and made possible the formation of Qantas was mud – sticky Western mud." As stated in the Sydney Morning Herald, "Only those who know Western Queensland can properly appreciate what the black soil is like when it is in a state of mud after a good down-pour of rain… a car attempting to negotiate the roads when in such as state becomes likened unto a fly on flypaper."
While McMaster worked to secure government and community support, and McGinness flew across northern Australia to sell shares in the company, Fysh looked to secure aircraft to increase the capacity of the Qantas fleet. Fysh submitted the Qantas tender for the Charleville-Cloncurry service with three Vickers Vulcan aircraft and one DH4. Although the Vulcans were ultimately deemed unsuitable for the work (mainly to the particular climatic conditions), Qantas won the tender and started Queensland's first regular airmail service on 2 November 1922 with an Armstrong Whitworth FK8.
During the 1920s, Qantas expanded its services and fleet. In a bold move, the company decided to build it's own aircraft in the Longreach hangar, importing components for de Havilland aircraft, DH50s, offering passengers an enclosed cabin flying experience. The new aircraft also offered sufficient space and safety to carry a stretcher and patient and so were leased to the Australian Aerial Medical Service (later the RFDS) after its formation in 1928. In 1930, Qantas moved its central operations to Brisbane, and in 1934 formed a partnership with Imperial Airways in order to secure the Australia-England airmail route.
Despite Ray's famous line in Rainman, "Qantas never crashed," the company suffered several fatal crashes during its formative years. Two crashes in 1934 put into question the company's safety record and its aircraft, the first a DH50 that crashed near Winton, and the second a DH86 that crashed near Longreach, both with no survivors.
Qantas recovered from these events and continued its expansion, again seeking new aircraft to meet the growing demand on its services. New Short C Class Empire flying boats flew the entire Australia-England route. A new mooring buoy, terminal building and fueling facilities, were built at Rose Bay in Sydney, and around the Australian coastline, as Qantas headquarters were moved to Sydney. From 1944, the 'long hop' of the Australia-England route, from Australia to India, became known as the 'Kangaroo Service'.
Sources and further reading
Hudson Fysh, Qantas Rising (1965)
Hudson Fysh collections at the Australian War Memorial and the State Library of New South Wales.
John Gunn, The Defeat of Distance: Qantas 1919-1939 (1985)
Macarthur Job, Air Crash: Volume 1, 1921-39 (1991)
Bruce Leonard, A Tradition of Integrity: the story of Qantas Engineering & Maintenance (1994)
Qantas Founders Museum, Longreach.
Qantas Heritage Collection, Sydney Domestic Terminal, Sydney Airport.
Feature image: Qantas letterhead, 1925. McMaster papers, Qantas Heritage Collection.