Strange Objects for Strange Times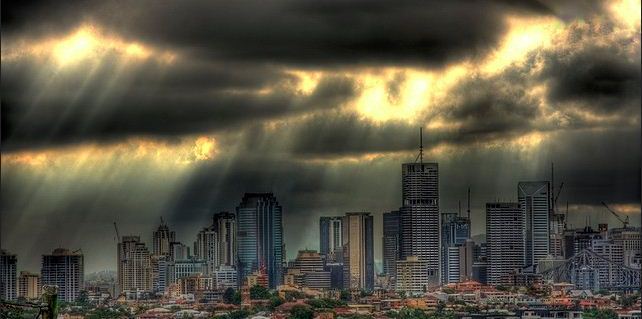 We live in strange times. Strange weather, strange financial markets, strange technologies are all about us, and anxiety is at high levels. The Great Acceleration of global change can leave humans stranded, feeling stressed and out of time. One of the ways we can respond to this is to slow down, rather than speed up, for survival.
Slow Media are increasingly important in strange and fast times. Museums are places where visitors physically spend slow time with special objects, perhaps with friends or grandchildren, perhaps in serendipitous conversation with other people whose curiosity has been stimulated by the same object in the cabinet. They are an important part of a growing slow media movement that is analogous to the slow food movement.
The idea of a Cabinet of Curiosities has its origins in another 'strange time' when the expansion of Europe was leading to the discovery of the rest of the world, a time when voyagers brought curiosities back from far-flung places, and wealthy people displayed their curiosities for the entertainment of their friends. Natural history specimens and portable objets-d'art, including ceramics and carvings all found new European homes, and the idea of the public Museum was born. New foods – tea, coffee, spices – enlivened the European diet. In some cases the new food and the new museum were closely linked. The Royal Physician, Sir Hans Sloan (1660-1753) mixed milk with exotic cacao and sugar from his travels in Jamaica and discovered a new and curiously delicious confection, milk chocolate. On his death, he gifted to the nation his extraordinary Cabinet of Curiosities, built up from his own and other important collections. This became the basis for the original British Museum in Bloomsbury in 1759.
At a time when ordinary families had very few objects of their own, and only practical ones, these exotic objects of aesthetic beauty and curiosities of nature were the focus of highly entertaining visits. In Germanic Europe they were Wunderkammer, cabinets of 'wonder'. The objects in them stimulated social meetings, talking and speculating about these strange things, imagining stories and lives where such objects might fit.
Stimulating the imagination with objects is much harder in the 21st century of excess objects. Historian Christof Mauch, commenting on the Great Acceleration of Objects, at the Anthropocene Slam at the University of Wisconsin, Madison observed that in the era of the Wunderkammer the average middle European household had approximately 30 objects.(1) In the 21st century this number has risen to 12,000. In an era where people live in bigger places with more and more stuff, how might returning to the older practice of looking carefully at 'curious' objects help with the anxiety of living in times of rapid environmental and social change?
The rapidly growing Climarte is an 'Art for a Safe Climate' movement that works to harness 'the creative power of the Arts to inform, engage and inspire action' through Arts events, forums and 'creating an alliance of Arts practitioners and organisations that advocate for immediate, effective and creative action on climate change'. In May 2015, one of its events was an Anthropocene Cabinet of Curiosities, held in Australian Galleries, a major private gallery in Collingwood, Melbourne, as part of the Art Show, The Warming.(2) The curator and artist, Mandy Martin, who was a presenter at the Anthropocene Slam in Wisconsin, called on her fellow artists to make 'Art for a Safe Climate' and included An Anthropocene Cabinet of Curiosities with a performance-based 'Slam' (#anthropSLAM) as part of the opening event on 3 May 2015.


The art show was performative too, particularly the work by Mandy Martin and Alexander Boynes, Blast which combined classic and digital art to blow up a coal-fired power station. This extraordinary work can be viewed on Vimeo, for those who are not able to see it live in Melbourne (until 24 May 2015). Dale Cox's powerful acrylic work, Tract 38 (Burning) exuded all the action of Australian bushfire, and its deep reach into the fissured stratosphere below. Sarah Tomasetti and Heather Hesterman, working as Peridam Projects, created an ephemeral installation Slow Melt, of suspended ice-rock sculptures melting steadily out onto the footpath, taking the warming into the street outside. (Such a work is very demanding of the gallery: Stuart Purves, Director of Australian Galleries, and a great supporter of Climarte, knocked a brick out of his wall to accommodate the work!) Tomasetti installed a new exhibit every day of The Warming – making the passing of time a feature, and brilliantly illustrating the idea of slow media. Echoing the cabinet concept, John Wolseley chose to work with Hobart cabinet maker Linda Fredheim to create an exquisite Reliquary Cabinet for Disappearing Species.
The Anthropocene Cabinet of Curiosities featured objets-d'art from seventeen established and emerging artists that spoke to questions of life on a changed planet. The great advantage of such artworks is that they can focus and make local major issues. Many of the artists were present to pitch their work at the Slam event. Many of the artists deployed plastic as the medium for objects of the future. Julie Collins and Derek John even covered a dead tree in polyurethane, giving it new, longer life as it hung from its roots in Evidence Based Research – Specimen #5. The stratigraphic committee considering what material layers will be the signature of the Anthropocene is considering using polymers (plastics), created in the 1950s, as one possible "marker" of human presence in the strata. Some are even suggesting the epoch could be called the Plasticene.
Striking among the plastic works were Barbie Kjar's Shrinking Reef jig-saw puzzle of reef specimens poised between the cool and the warmer waters, Jen Rae's Put a Bear on It plastic bean bag polar bear, and Jane Gilling's Mantis Shrimp created out of all the waste plastics that together create the Pacific Gyre of Garbage, and threaten animals, including this small crustacean. Plastic served subtle purposes in the powerful Will she feed the fish? art-science collaboration between Lisa Roberts and Marc Pascal. The fine plastic wires that hung the aesthetically beautiful recycled Biomesh pods, including a pod of dreaming the Anthropocene, are implicated in wildlife destruction.
Some created their own cabinet for abstractions: Alex Asch boxed his artwork, The Denial and Daniel Savage in Twinkie placed live cockroaches and a twinkie cake, the survivors of a post-human world, in a plastic museum case. Janet Laurence lit a natural history museum specimen taken out of its cabinet and made art of its shadow, in The Back of My Mind: The Dream Weaver (part of her Fugitive series). David Jensz's 440 sculpture in coal and steel of the critical tipping point for carbon emissions was a different, powerful way to make abstractions concrete.
The performance and stories of the objects enlivened their effectiveness as ambassadors for making conversations about climate change possible. In cases like David Buckland's Chalk Shard, it was very helpful to learn of the scientific context of the cocolithophores in his small object and his pioneering Cape Farewell Project of Art and Climate Science, which has become global since its inception in 2001.
The #anthropSLAM event was very stimulating. But it is also valuable to reflect on such art in a 'slow media' way and to simply view the show as a gallery hang. I now want to return without the buzz and see the different things when the art objects themselves do the talking. The Anthropocene is a big and complex idea, and art works like these offer a fresh way to interrogate it.
Top image: A storm hits Brisbane, 2009, by Nam Nguyen, Flikr Creative Commons.
1. Robin, Libby and Cameron Muir, 'Slamming the Anthropocene: Performing Climate Change in Museums' reCollections 10(1) 2015.
2. The Warming and An Anthropocene Cabinet of Curiosities, Australian Galleries and Climarte, 2015, http://issuu.com/australiangalleriespublications/docs/climart_online_cat_sr15_final/1?e=16844821/12472952