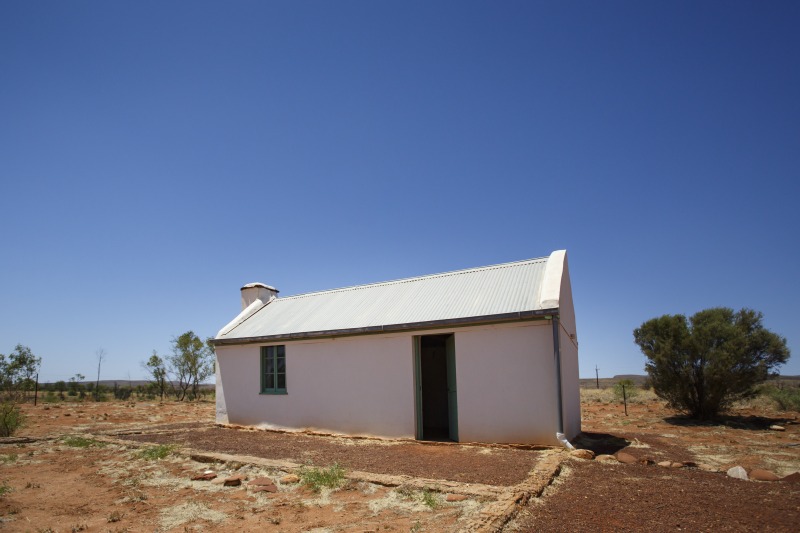 Today marks 114 years since the birth of famous Western Arrarnta artist Albert Namatjira. Born at Hermannsburg mission on 28 July 1902, Elea, later christened 'Albert', learnt to paint with watercolours during the early 1930s, and had his first solo exhibition in 1938. Within a decade, Namatjira had become famous and his sons and relatives also began painting watercolour landscapes, forming what became known as the Hermannsburg School of Art. He is now remembered as a grandfather, uncle, teacher, leader and founder of an art movement.
Warning: Readers should be aware that this article includes images and names of deceased people that may cause sadness or distress to Aboriginal and Torres Strait Islander peoples.
In 1932, amongst an increasing number of tourists, artists Rex Battarbee and John Gardner visited Hermannsburg. Already a talented artist, Albert Namatjira decided to try watercolour painting himself after seeing the work of Battarbee and Gardner, and during Battarbee's subsequent visits in 1934 and 1936, Albert was tutored and encouraged by Battarbee to paint landscapes in watercolour. In 1937, three of Namatjira's watercolours were included in an exhibition of Battarbee's paintings in Adelaide, and in 1938, Namatjira's first solo exhibition of watercolours was held in Melbourne's Fine Art Society Gallery. To meet European conventions, Albert took his father's name, Namatjira, as his surname when signing his work.
Albert Namatjira died in 1959, considered by some a tragic figure, having been a 'traveller between two worlds' after his journey to citizenship and acceptance. However, Namatjira's enduring legacy has been his art, and the connection it draws to the country he painted. His work and legacy are commemorated in a number of memorials in Central Australia, across his country west of Alice Springs.
"Albert Namatjira started us all off. We're all proud of him, out of our tribe along the Finke River there. So we've just got to carry on the good work". [1]
Albert Namatjira's descendants continue with their arts practices, having each developed their own styles and working in new mediums, but continuing to reference the 'heritage of Namatjira'.
The Hermannsburg Potters group was formed in 1990 following successful visits by Naomi Sharp, potter and teacher, to a number of Ntaria outstations to teach pottery at the request of the community. The Potters began exhibiting their work as a group, and occasionally individually, from 1991, quickly finding interest in the international market. The Potters studio is something of a landmark itself in Ntaria, decorated with a mosaic mural by the artists.
Senior artist Judith Pungarta Inkamala (b.1947) grew up at the Hermannsburg mission with her family. She received lessons in cooking, cleaning and typing, then worked as a cleaner and housekeeper for mission staff: "I grew up during imanka (mission days) watching Albert Namatjira and his kin painting on Country. After the mission finished we women started making pottery." Judith sings with the Ntaria Choir and joined Hermannsburg Potters Inc in 1993, continuing the traditions established by her family, "painting the country on the pots." [2]
Her work Namatjira and Battarbee Painting on Country (2016) depicts the story of Albert Namatjira and artist Rex Battarbee. At a camp near Ntaria, Battarbee looks at paintings, while Albert and his sons Enos and Oscar paint, and Rubina and the younger children cook and play. In Judith Inkamala's words, 'Namatjira learnt from Battarbee, who came to visit Hermannsburg and taught him landscape painting. I was good friends with his granddaughter, Gloria, and after school we used to go to the camp where the men painted'.
In 2015, I visited the Hermannsburg Potters studio with National Museum photographer Jason McCarthy, who captured some of the artists at work. This series of images shows artist Rahel Ungwanaka forming a pot, through the processes of coiling, pinching, and smoothing.
Ngurratjuta Iltja Ntjarra/Many Hands Art Centre was conceived by the Ngurratjuta Iltja Ntjarra Aboriginal Corporation to give long term support for artists from the Western Arrarnta region, including many descendants of Albert Namatjira and his fellow artists who still paint landscapes in watercolour today." [3] Established as an Aboriginal owned and operated not for profit organisation in 2004, Ngurratjuta Many Hands provides "a place for Arrernte Artists to come together to paint, share and learn new techniques and ideas", with a commitment "to improving economic participation of Aboriginal people and maintaining cultural heritage". [4] Ngurratjuta Many Hands Art Centre is a member of the Alice Springs Aboriginal Art Precinct, and became incorporated earlier this month.
A daughter of Albert and Rubina Namatjira's second son, Oscar, Lenie Namatjira and her nine brothers and sisters were all raised at Ntaria. Born in 1951, Lenie started painting at the mission school and learnt to paint watching her father, uncles and cousins. Lenie now paints with Ngurratjuta Many Hands Art Centre, passionately telling the story of her grandfather, and teaching the next generations to paint: "I tell them, when you grow up you can tell stories about this, your traditional land". [5]
Lenie Namatjira's work draws from childhood memories and her knowledge of country: 'We paint our way. We go to the countryside and then we come back and we do painting'. She describes this work, a landscape in Parta Tjurritja (West MacDonnell Ranges), west of Ntaria where she lives, as 'inspired by my father, Oscar Namatjira'.
These stories and others will be part of a new exhibit exploring the history of Ntaria (Hermannsburg) and the art of Albert Namatjira, in the Landmarks gallery. The exhibit includes objects from the National Museum's collections, representing 125 years of history from the Finke River Mission, the Hermannsburg settlement and the community of Ntaria today.
---
[1] Douglas Kwarlple Abbott (1954-2015), quoted in Alison French, Seeing the Centre: the art of Albert Namatjira, 1902-1959 (Canberra; National Gallery of Australia, c2002).
[2] Jennifer Isaacs, Hermannsburg Potters: Aranda artists of Central Australia (St Leonards, NSW; Craftsman House, c2000).
[3] Alison French, 'Introduction', The Legacy of Albert Namatjira Today: Contemporary Aboriginal watercolours from Central Australia (Alice Springs, NT; Ngurratjuta Iltja Ntjarra, Many Hands Art Centre, 2008).
[4] ngurart.com.au/about/the-art-centre/
[5] Hetti Perkins, Art + soul: a journey into the world of Aboriginal art (2010).
---
These stories are being remembered and shared in a new exhibit about Ntaria (Hermannsburg), as part of the Landmarks gallery at the National Museum of Australia, from today, 28 July 2016.
Feature image: Albert Namatjira memorial, Larapinta Drive, near Ntaria, 2015. Photo by Jason McCarthy, National Museum of Australia.