Introducing our new kangaroo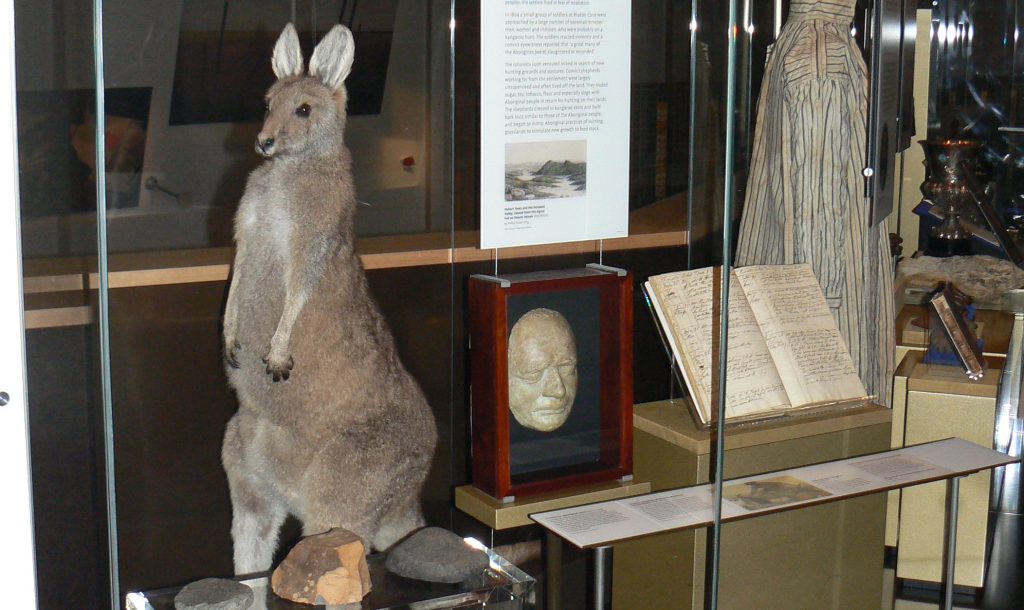 Our new kangaroo has taken pride of place in the Hobart exhibit of our Landmarks gallery, replacing a larger male kangaroo which was on loan from the Tasmanian Museum and
Art Gallery. The most rewarding step of the curatorial process is to finally see the installation of objects in the galleries and observe how visitors interact with the exhibits.
The kangaroo is one of those unique objects which captures the attention of visitors of all ages and nationalities. Children on school visits recognise it as a photo opportunity as they race around the Museum recording their visit on digital cameras, younger children are fascinated by seeing an animal up close and international tourists excite at the thrill of seeing a kangaroo for the first time. Connections with the kangaroo will of course continue at this level, but in the context of telling the history of the early settlement of Van Diemen's Land, the kangaroo's presence tells a much more serious story.
On arrival in Van Diemen's Land in 1803, the early settlers found an abundant supply of kangaroos. The introduction of hunting dogs to the island made them easy prey, and soon they had a supply of fresh meat to supplement food supplies sent from England. The exploitation of the traditional food resources of the Mouheneenner and Moomairremener people ultimately caused conflict between the Europeans and the Aboriginal people.
Photos: Catriona Donnelly, National Museum of Australia
The changeover of the kangaroo took place early on Thursday morning last week, before the doors of the Museum were opened to the public. Installation of objects is not as simple as it sounds. As the kangaroo is a large object, it was necessary to remove all the surrounding objects prior to its installation. Staff from registration, conservation, curatorial and exhibitions all have important roles in the installation process. Every object undergoes a mount assessment prior to installation which identifies the best way to support the object while it is on display. The kangaroo is mounted on two plinths, the feet are attached to one and the second supports the tail.
If you have the opportunity, drop into the Museum and have a look at our new kangaroo. You will find her on the mezzanine level of the Landmarks gallery in the Hobart exhibit. If you missed the previous blog posts about our kangaroo you might like to read A frosty reception and A crash course in taxidermy.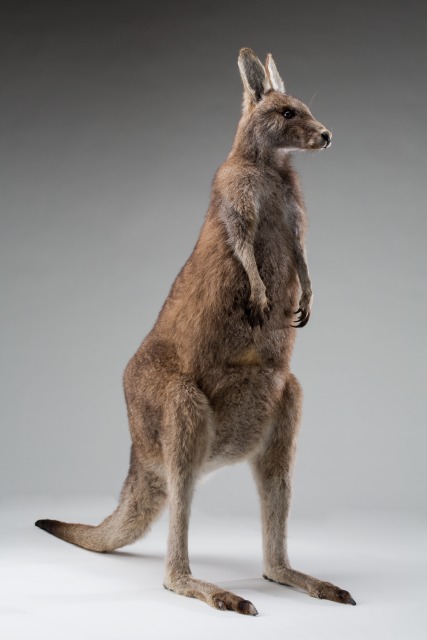 Feature image: Hobart exhibit in the Landmarks gallery
Photo: Catriona Donnelly