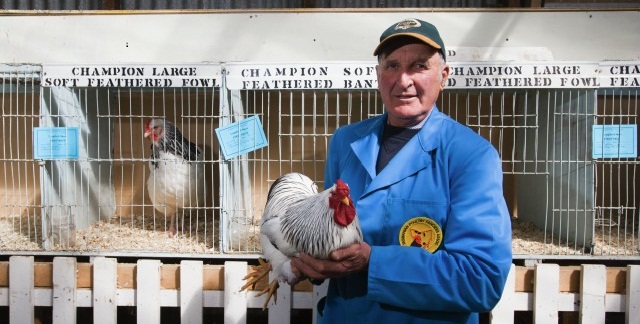 Australians seem to be falling in love with chooks. Poultry keeping and showing is booming around the country, and the Museum is building its own flock.
The Museum recently acquired an oil painting, believed to be by S.Thomson, of 'Robert', a striking black-red, hard feathered, Modern Game Bantam. This magnificent rooster won the Waugh Cup for 'best bird' at the Old Goulburn Poultry, Pigeon and Canary Club's annual show in 1921.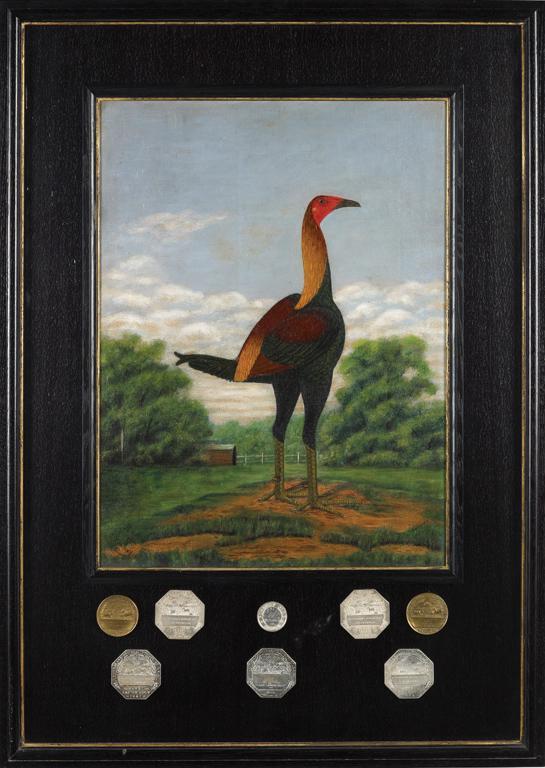 Image courtesy Mossgreen: mossgreen.com.au
Robert belonged to Mr Cecil Thompson, a highly successful Australian breeder, exhibitor, importer and judge of poultry who travelled widely to compete in agricultural shows through the 1920s, 30s and 40s. And it seems that the 1921 Goulburn show was a particularly good day out for Thompson, as in the Modern Game section, he took first place in the black red cock, hen, cockerel and pullet classes.  He won the A.O.C. cock or cockerel class and was awarded special prizes for the Modern Game cock or cockerel and the hen or pullet. For Robert, he was also presented the trophy for best game bird and the Champion Blue Ribbon.
Thompson went on to become known to today's poultry fanciers as 'Mr Modern Game'. He was a third generation poultry breeder, who used his astute judgement, knowledge of breeders in England and willingness to pay top dollar to source and import key birds to his poultry stud, Kilree, in Goulburn, New South Wales. He was particularly passionate about Modern Game Bantams and his effect on the breed has endured. The Modern Game Promotional Society recently noted that '[m]any of the bloodlines that are shown today still owe their heritage to the birds bred at 'Kilree''.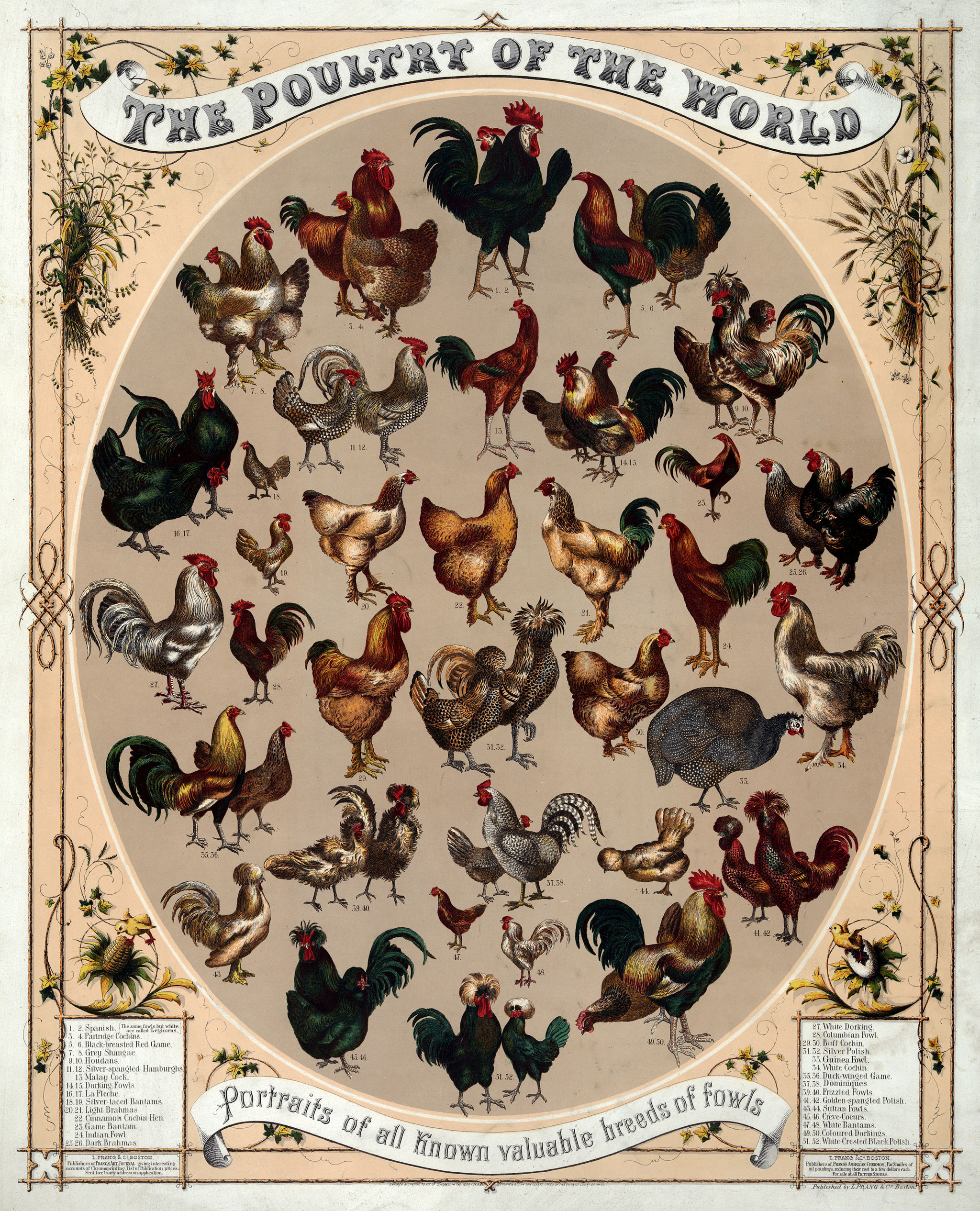 Game birds were originally bred for the sport of cockfighting, but after this violent entertainment was banned in 1849, the breed was developed for competitions judged on conformation, or how an animal adhered to a defined ideal type. The Modern Game Bird became one of many new varieties of poultry developed during the 19th and early 20th centuries, as European societies across the globe were gripped by a 'hen craze'. Agricultural shows emerged as important arenas for poultry competitions, standards of excellence were codified for each breed and thousands of people developed an interest in breeding and exhibiting poultry.
Poultry expert A. J. Compton recorded Australians' appreciation of the Modern Game breed at the turn of the 19th century. In his comprehensive Australasian Book of Poultry, published in 1899, Compton described the Modern British Game Fowl as the 'most noble looking birds, full of activity, gracefulness, and courage, and when in high condition have an extraordinary lustre on their plumage, unsurpassed, or even equalled, by any variety of domestic Poultry'.
And Thompson clearly echoed Compton's view of the breed, arguing that the Modern Game Bantam was, together with the racehorse and the greyhound, one of 'the three aristocrats of the livestock world'.  Thompson believed that for those 'of us accustomed to the long, lean head and slimness of the racehorse and greyhound … the thoroughbred athletic appearance of the black-red (or to give it its full title, the black-breasted red) Modern Game is irresistible'.
Robert's portrait is framed together with eight prize medals won by Thompson's fowls at shows in Sydney, Melbourne and Goulburn between 1924 and 1948. It is a testament to his success as a poultry breeder and exhibitor. As the journalist 'Red Comb' commented in his account of the 1937 Sydney Royal Show, Thompson's modern bantams were 'equal to anything in the world', and it consequently seems only appropriate that Robert should be depicted standing tall and proud in the landscape.
Do you have any more information about Cecil Thompson and the wonderful Robert? Send us a comment below and let us know, or perhaps tell us if you have a bird worthy of an oil painting?
[Feature Image: Bob Pitt with his award winning bantam at the Longford Show, Longford Tasmania.  Photograph by Lannon Harley National Museum of Australia]