Bird Week 2015, 19-23 October, is an initiative of BirdLife Australia, with the aim of inspiring Australians to take action and get involved in bird conservation efforts. This week, as many people take part in the Aussie Backyard Bird Count, they're likely to ask: 'What bird is that?' Generations of Australians have answered that question with a copy of the book What bird is that? in hand, inspired and guided by the work of Neville W Cayley.
During the early 1900s, several organisations were formed with a concern for the study and conservation of Australia's native birds. The Royal Australasian Ornithologists Union (now BirdLife Australia), was formed in 1901, and the Gould League of Bird Lovers was first established in Victoria in 1909, with branches following in New South Wales, Queensland, South Australia, Tasmania and Western Australia.  28 October was designated 'Bird Day' to begin attracting public support and provide a focus for school education initiatives.
The Gould League of Bird Lovers of New South Wales sponsored the first comprehensive, illustrated field guide to Australian birds during the late 1920s. Titled What bird is that?: a guide to the birds of Australia, the book was completed by ornithologist and artist Neville W Cayley, and published by Angus & Robertson in 1931. Although sales were initially slow, What bird is that? has become the most popular bird book every produced in Australia, and continues in print, numerous editions later, to the present day.
The National Museum of Australia Research Library holds a first edition copy of Neville W Cayley's What bird is that? within the Hindwood collection, compiled by respected ornithologist Keith Hindwood.
Hindwood was a recognised world authority on Australian birds, working as honorary ornithologist at the Australian Museum, Sydney, and was a life member of the Gould League of Bird Lovers of New South Wales. He provided considerable assistance to Cayley in the production of What bird is that?, and this copy contains a number of handwritten notations, probably by Hindwood, for changes that appear in later editions.
Neville W Cayley
Born at Yamba, New South Wales, in 1886, Neville William Cayley followed in his father's footsteps, becoming a talented artist, and making his career in painting birds. Cayley was a council-member the Royal Australasian Ornithologists' Union, serving as president from 1936 to 1937, a member of the Gould League of Bird Lovers and the Wild Life Preservation Society of Australia, and president of the Royal Zoological Society of New South Wales from 1932 to 1933.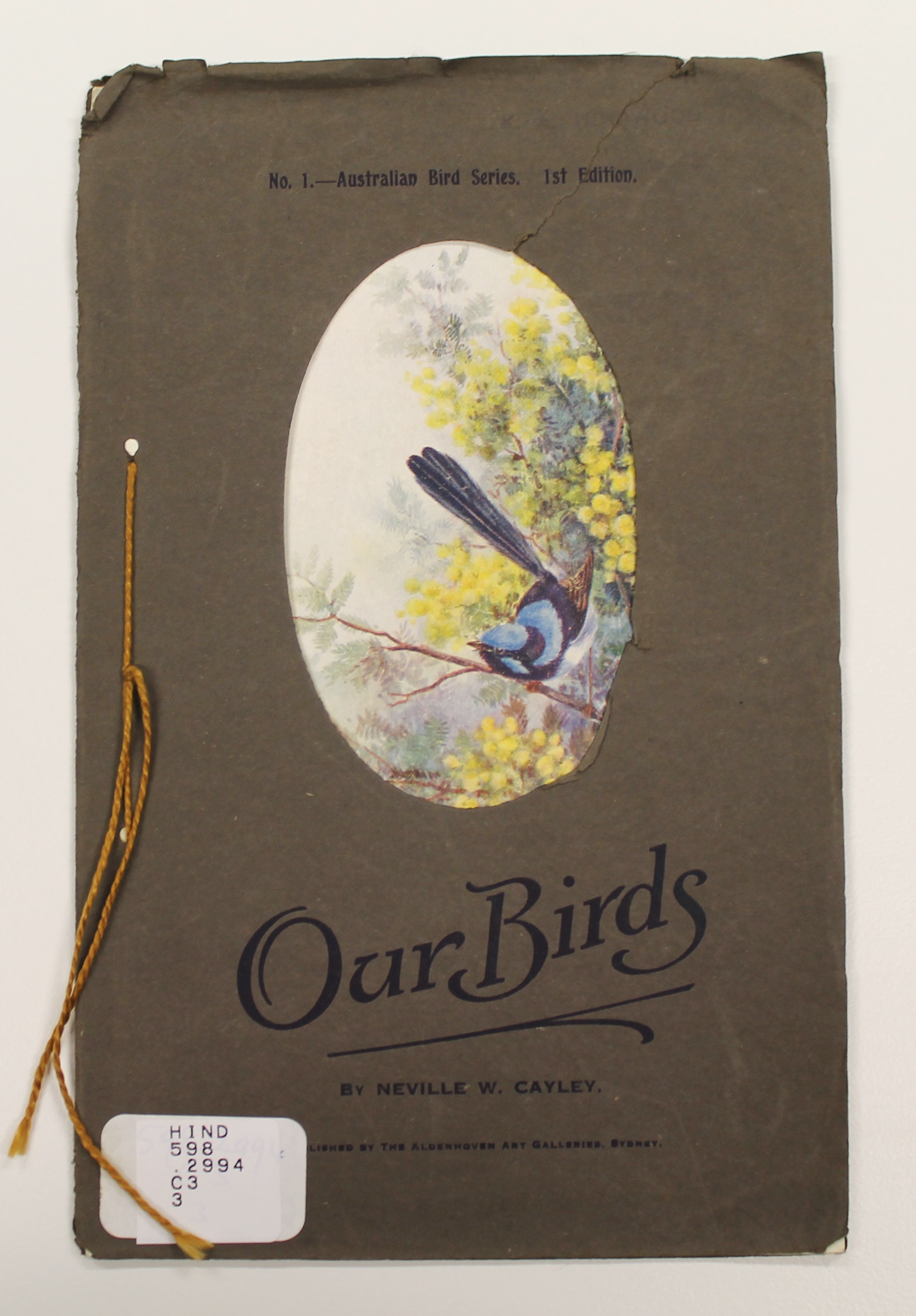 Cayley's first booklet, Our Birds, was published in 1918, with the eight original paintings displayed in the Aldenhoven Art Gallery in Cayley's first exhibition. Showing each bird species in a native plant or habitat, the booklet represents a precursor for Cayley's later detailed and numerous publications.
Cayley started his most ambitious project during the early 1920s, compiling hundreds of drawings and paintings of birds, that would be published along with details of feathers and bills, habitats, maps, scholarly articles, a glossary of terminology, and a checklist, in three volumes, titled Birds of Australia. Disagreements about terminology and inclusions among the ornithologists and parties involved in the publication, and the considerable amount of work undertaken, led to the abandonment of the project in 1924, much to Cayley's disappointment.
In 1927, however, Cayley drew on his compiled works when the Gould League of Bird Lovers of New South Wales sponsored the production of a field guide with a more limited scope than Cayley's previous project. What bird is that? was not the large publication that Cayley had hoped for, with the illustrations of each bird necessarily small as a dozen or more were featured on each printed plate, but as Penny Olsen states, "The book was revolutionary: it was affordable and it allowed anyone to identify the birds they saw – the first publication to do so".
In the preface to What bird is that?, Cayley stated that the "purpose of this volume is to assist and encourage those nature-lovers who desire to gain a more intimate knowledge of our birds". The illustrations and descriptions were arranged and grouped according to habitats rather than by technical classification. According to Cayley, "With the exception of the Eyrean Grass-wren, all the drawings were made from specimens in museums or in private collections". Cayley had, however, spent a great deal of time observing birds in their habitats, studying them in the field and making notes and quick sketches to assist with his final work.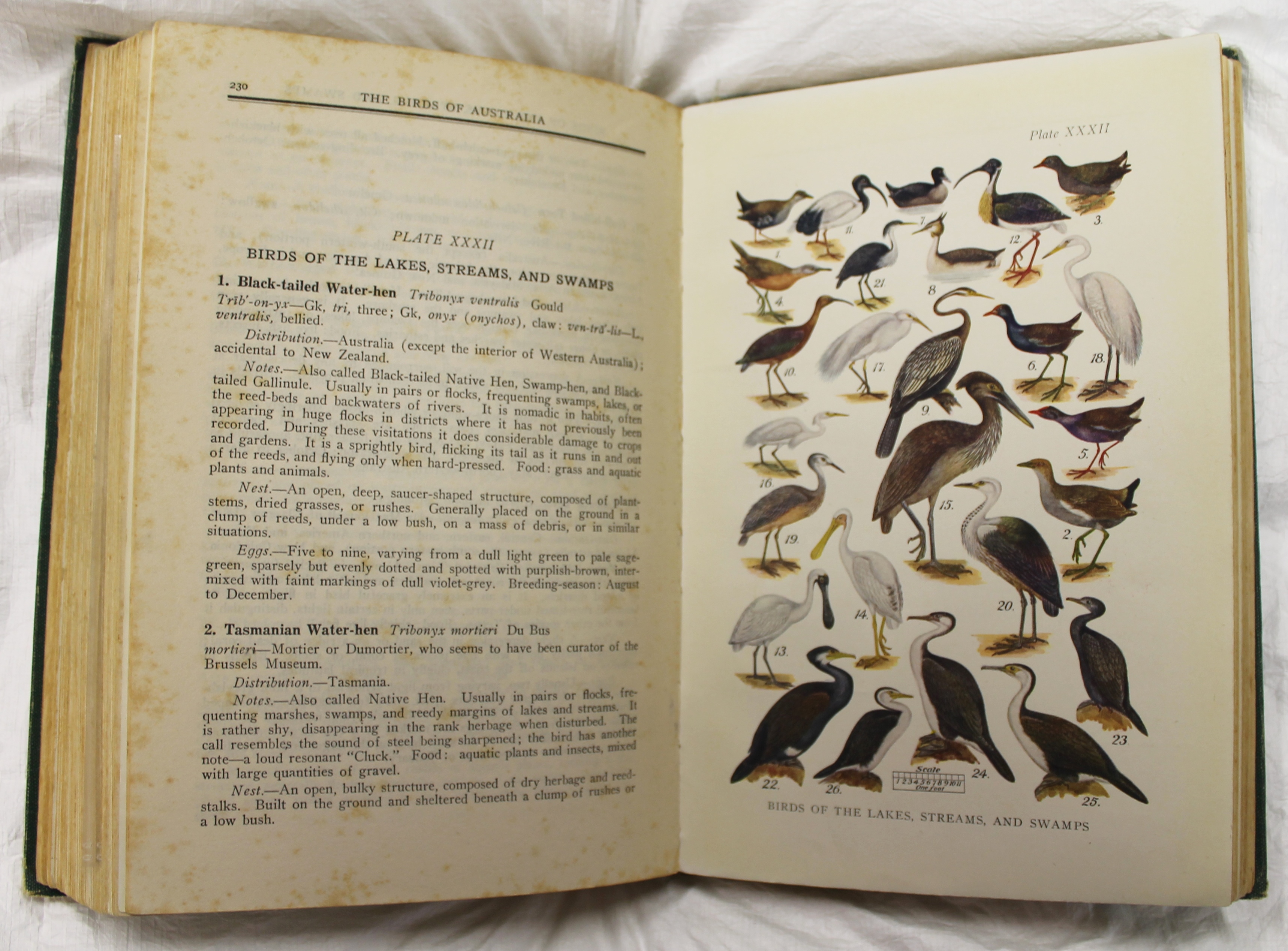 Cayley dedicated the book to his father, acknowledging the important contribution that Neville Cayley senior had made as a bird artist. In choosing to concentrate mainly on painting birds for the art market, and for ornithologists, conservation organisations and collecting institutions, from the late 1880s, Neville senior provided an example for his children. Neville junior and his sister, Alice, both painted in a similar style to their father, and it is likely that Neville senior taught his children to paint. His love of nature and interest in the environment was also passed to the next generation.
Neville H Cayley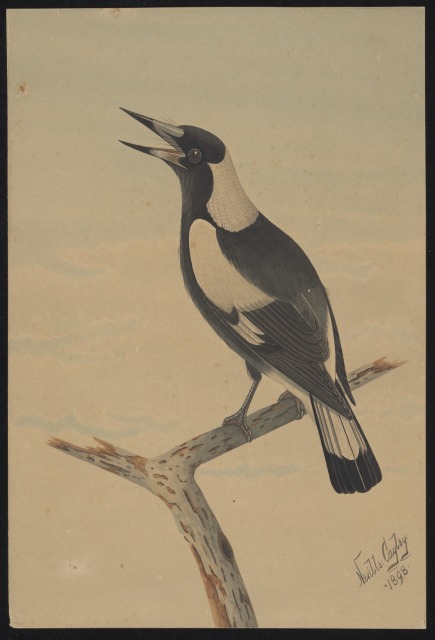 Born in Norwich, county of Norfolk, England, Neville H Cayley arrived in Melbourne with his brother, William Herbert Cayley, in 1877. Neville H Cayley advertised his services as an artist in The Argus in April 1879, and achieved some recognition for his work during the early 1880s.
Cayley lived on the Clarence River, at Grafton, Chatsworth and Yamba from 1881 onwards, marrying Lois Emmeline Gregory in 1885. Cayley established a strong reputation as a bird artist, assisted by the promotional skills of William Aldenhoven, an art dealer operating from his gallery in Hunter Street, Sydney. Despite his success, however, Cayley suffered consistently from financial troubles throughout his career.
This painting of a Magpie in the National Museum's collection is believed to have been gifted to Mr William Scott of Tenterfield, New South Wales, by Neville H Cayley as a gesture of gratitude for 'when he was in trouble' and Mr Scott had offered a 'helping hand'.
Collection of postcards featuring prints of paintings by Neville H Cayley, as featured in his publication 'Australian Birds' (1900). National Museum of Australia.
The works of Neville H Cayley and Neville W Cayley have produced a considerable legacy for bird enthusiasts today.
This morning before work, as I saw Purple Swamp Hens, Australasian Darters, Magpies, Ravens, Wood Ducks, Crimson Rosellas, Magpie-larks, Pacific Black Ducks, Silver Gulls, Sulphur-crested Cockatoos and Superb Fairy-wrens, I thought of Cayley's words in his introduction to What bird is that? (1931):
Birds express all that is beautiful, joyous, and free in nature. They delight our eyes, charm our ears, quicken our imagination, and through association with the bushland inspire us with a profound love of country.
Get involved in Bird Week, and let us know if you're using a copy of What bird is that? for your bird watching.
---
Sources and further reading:
Neville W. Cayley, What bird is that?: a guide to the birds of Australia, Sydney; Angus & Robertson, 1931.
A. H. Chisholm, 'Cayley, Neville William (1886–1950)', Australian Dictionary of Biography, National Centre of Biography, Australian National University, http://adb.anu.edu.au/biography/cayley-neville-william-5540/text9439
Ernest S. Hoskin, 'Hindwood, Keith Alfred (1904–1971)', Australian Dictionary of Biography, National Centre of Biography, Australian National University, http://adb.anu.edu.au/biography/hindwood-keith-alfred-10507/text18645
Penny Olsen, Cayley & son: the life and art of Neville Henry Cayley & Neville William Cayley, Canberra; NLA Publishing, 2013.
---
Feature image: Logo on the cover of Neville W. Cayley's 'What bird is that?', first edition, 1931. Hindwood collection, National Museum of Australia Research Library.