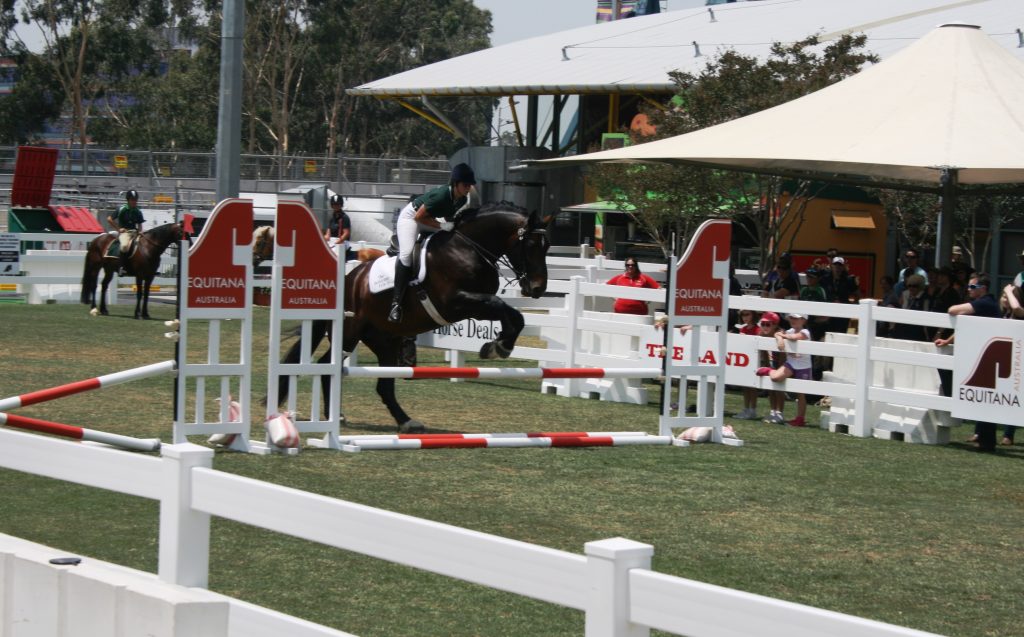 The Horses in Australia project team has just returned from Equitana 2013 – one of the major events on the Australian horse calender. Held every year, alternating between capital city venues, the event combines commercial exhibits, horse-themed entertainment, and a range of competitions, demonstrations, presentations and clinics.
We were keen to make contact with the many riders, trainers, and other equine specialists taking part, and learn more from the groups, societies and associations present about their work – whether it be a representing a particular breed of horses, or recording aspects of Australia's horse heritage.
There was so much to do, we divided up the program between us. Here are some highlights from a busy few days.
Nicole McLennan focused her attention on one of the showcases of Equitana 2013 – the Waler Legacy Project:
For the project, Equitana partnered with the Waler Horse Society, which champions the breed's 'legendary qualities of hardiness, stamina, frugality and good temperament' that historically made them ideally suited for use as remounts by the British Army in the nineteenth century and later by the Australian Light Horse.
Under the project, six wild horses from an outback station in South Australia were matched to a trainer who specialised in a particular equine discipline (such as showing, carriage driving and trick riding) and given less than a year to work together before revealing the story of their journey at Equitana. The horses were selected from a mob as best illustrating the confirmation and behaviour traits that exemplified the Waler breed.
Until that point Gunner, Rupert, Bill, Coronation, Trooper and Digger's life experience did not include humans. The five stallions (gelded soon after) and one mare ranged in age from 3 to 8 years old and their bodies carried scars from their years in the wild. To me the Waler Legacy project revealed very clearly that these horses were very much individuals. In speaking with and listening to the trainers' presentations, a key aspect of training the walers in their charge was about firstly establishing a two-way relationship. For some combinations this has proved more challenging than others.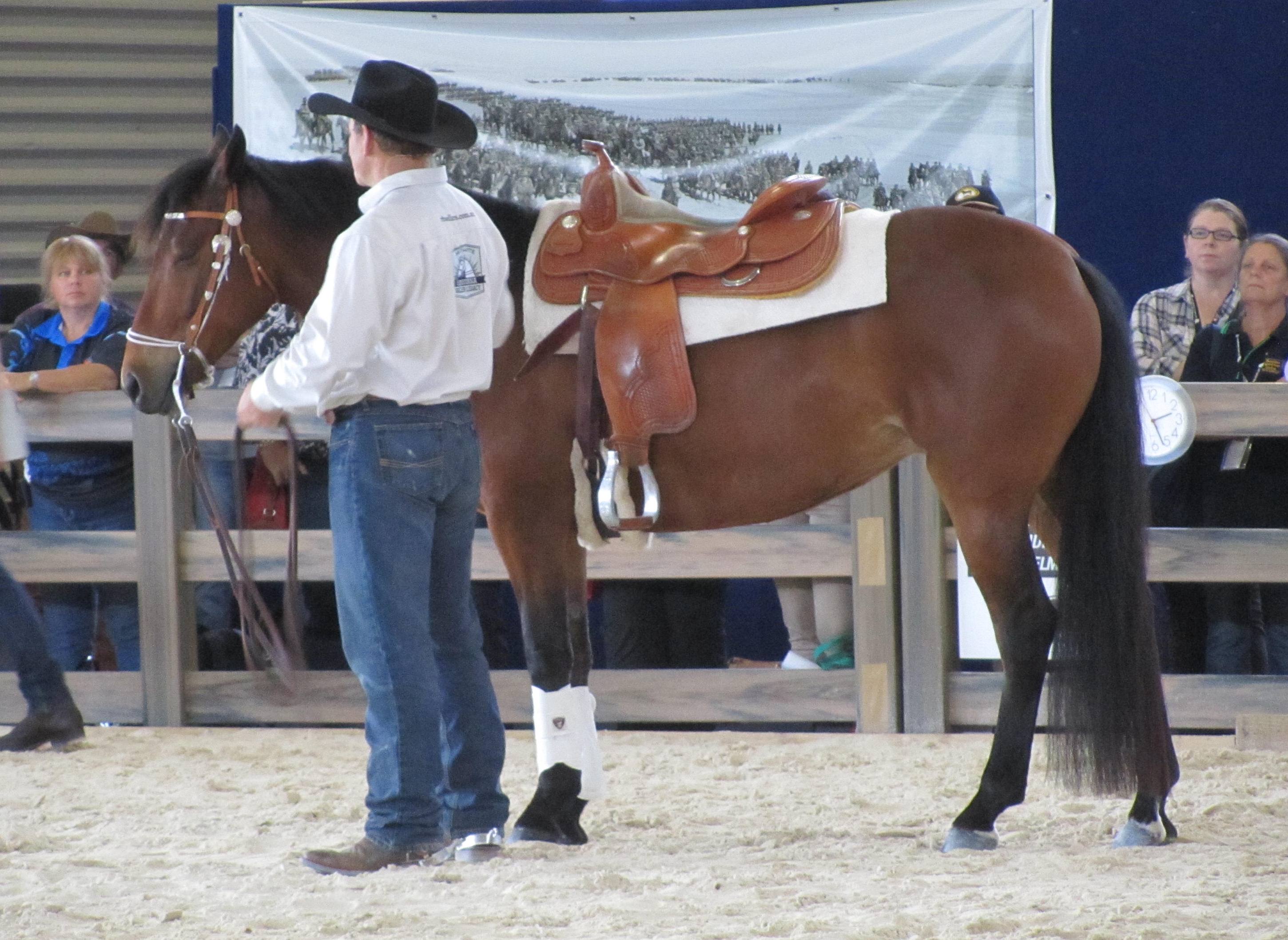 As a museum curator, I am interested in objects that can represent stories and experience. When I asked some of the trainers about what things they valued most when undertaking this project the most common response was intangible qualities of trust and mutual respect. When pressed, a couple of trainers suggested a rope. They were at pains to indicate that the rope was not used as a measure of restraint, but as a way making a connection and eventually forming a relationship. Over time, the rope allowed the gap to be bridged between horse and human. In some cases the bond that has been formed between trainer and waler is remarkably strong, for others it continues to be a work in progress.
Laura Breen gave particular attention to the horse health and welfare parts of the program:
After grabbing a much-needed coffee on arriving at Equitana bright and early on Friday morning, my first port of call was a presentation by Scott Brodie of the New South Wales Thoroughbred Rehabilitation Program.
Of all foals bred for the racing industry, only the tiniest fraction are destined for great things. There is a huge surplus of excess horses who fail to make it for one reason or another. As Scott explained, many of these have potential for riding or other competitive sports, but they need some pretty extensive retraining first. A young ex-racehorse has little in the way of social skills and knows only two speeds – go and whoa. Since 2011, the TRP in Canterbury has functioned as a not-for-profit initiative retraining around 200 horses per year. They work to familiarise the horse with consistent and gentle commands, first from the ground and then from the saddle, developing flexibility on either side, and 'building strength and understanding' between horse and rider. It was especially inspiring to hear Scott talk about the role played by inmates from the nearby St Heliers Correctional Centre in some stages of the program, thereby also fostering future talent in the racing industry.
The highlight of my Friday afternoon at Equitana was a presentation by Mark Burnell, a well-known Australian equine dentist. Mark is mostly based in Victoria but has travelled all over the world to treat a range of horsey clients from celebrity racehorses to beloved riding hacks. A horse's teeth can be something of a barometer for his or her general health, and Mark sees his dentistry skills as critical in 'improving the behaviour, longevity and wellbeing' of every horse he comes across. That cold slice of jointed metal between a horse's teeth is one of the most pivotal points of contact between horse and rider. Sadly, some designs are more humane than others, and it was surprising (and not always in a good way) to learn the extent to which aspects of a horse's performance are shaped by the dual action of the bit and bridle on the various pressure points in the mouth. As Mark explained, often ailments that appear quite unrelated can be traced back to a wonky bit or poorly-adjusted bridle. It was reassuring to hear that some of today's top racehorses perform at their best with a the plainest and kindest bit there is – the humble snaffle as beloved of generations of pony clubbers.
Jennifer Wilson enjoyed the chance to see equines and equestrians in action.
Equitana was a wonderful opportunity to see horses and their riders in a variety of settings, both educational and inspiring.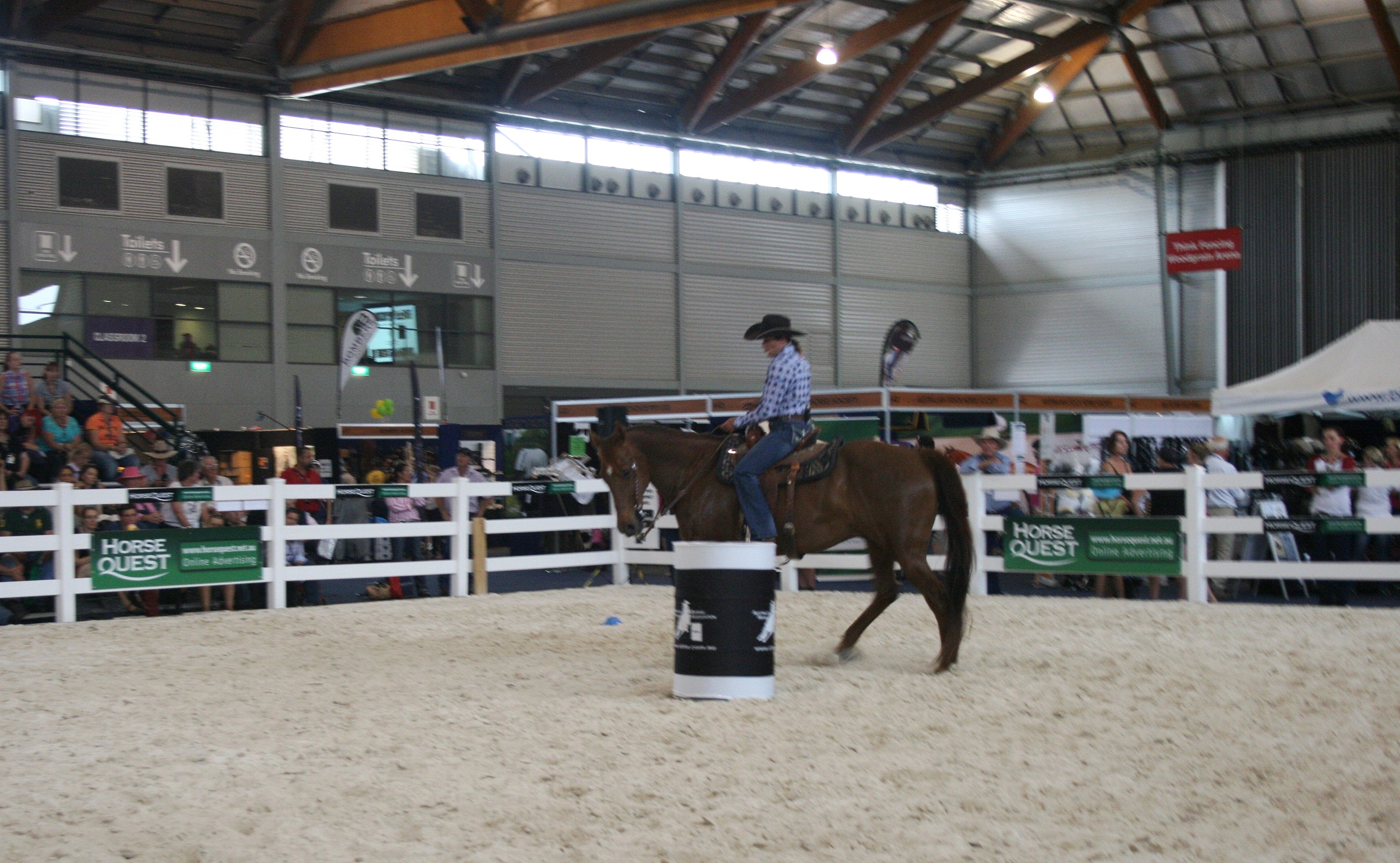 Champion barrel racing combination, Adele Edwards and Rocky (Rocs Rager) offered some new perspectives on training and competition techniques during two sessions in the Riverina Pavilion. As current president of the Australia Barrel Horse Association, Adele was also on hand to answer questions and promote the sport. On Sunday, Adele and 'Mooney' (Moon Roc) were beaten in the fast-paced final of the 2013 Barrel Racing Championship by 1.604 seconds, taking second place to Leslie Moore and 'Tuthaside Golden Gun'.
Friday night's exhibitions featured the season's top jumping riders and horses in Sydney's third annual staging of the Jumping Final, which is also a qualifying round for the Australian league of the Fédération Equestre Internationale (FEI) World Cup series. Competing last in the second round, Tim Clarke and 'Caltango' completed the course with another clear round, beating Jamie Kermond and 'Killeter Park Caracas' by a few hundredths of a second in a close finish that had the large crowd on the edge of their seats.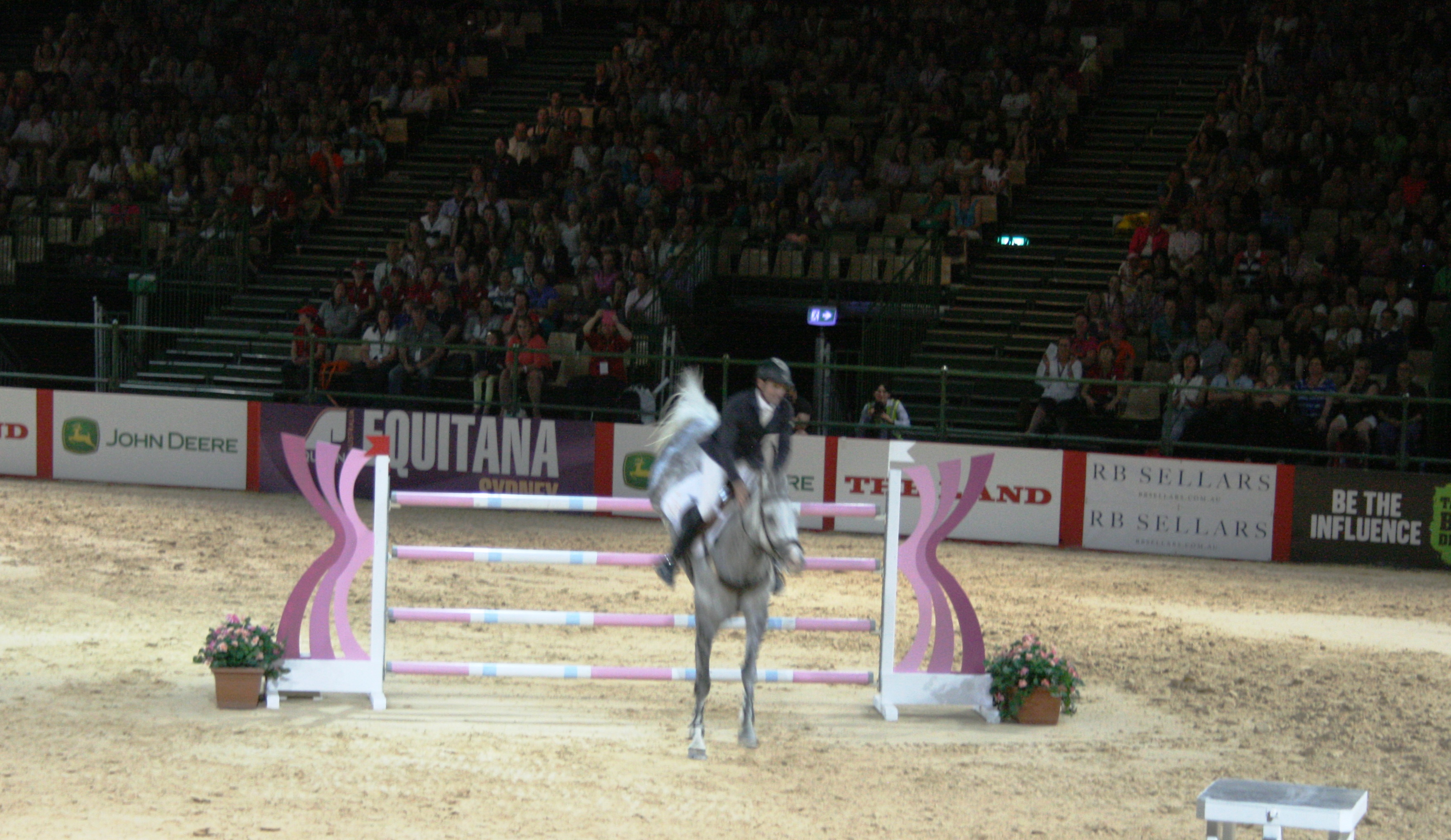 The Breed Village offered close access to, information and displays of the versatility and key aspects of different horses and breeds. Amongst the Stockhorse, Waler, Arabian and Standardbreds Unharnessed displays, I was particularly intrigued by the largest resident, an Irish Draught Stallion named 'Belstone Fox', representing the Irish Draught and Sports Horse breed. At 18 hands high and weighing 1200kg, Fox did stand out from the crowd, but as his rider Hacia Atherton encouraged him over jumps and through a series of dressage movements, Fox displayed more than size.
Martha Sear also spent time in the Breed Village:
I had a great time meeting with members of the different breed groups represented. There was passion and dedication aplenty as people talked to me about what had drawn them to champion their particular type of horse. It was especially illuminating to see many of the breeds line up in the arena nearby, and be able to compare their different qualities at close quarters – with the help of expert commentary.
Of particular interest was the growing popularity of the miniature horse – testament to the increasing number of small-sized rural properties, and interest from people who can no longer ride, but are still looking, as one advocate I spoke to put it, 'for a horse fix'.
There were plenty of people getting their 'horse fix' at Equitana this weekend – around 50,000 according to organisers. We had fun, learnt a lot, and are looking forward to following up on the contacts we made in the weeks to come.
Were you at Equitana too? What were the highlights of your visit?
[Feature image above] 'Belstone Fox' and rider Hacia Atherton of Belstone Park performing a jump during a display of 'jumping and event types' outside the Breeds Pavillion. Photograph by Jennifer Wilson, National Museum of Australia.