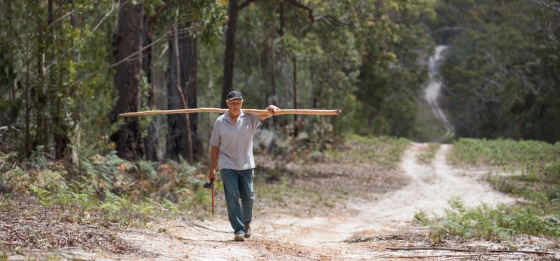 It is hard to believe that it has been a year since the Life in Australia team visited Eden for the annual Eden Whale Festival – now in its 21st year, but our return trip feels decidedly different. Still with the backdrop of the migrating baleen whales slapping their fins and making their presence known in Twofold Bay, and again with the colourful floats and banners in the festival's street parade, our conversations feel like those between old friends – and very different to the hopeful introductions of 2016.
Returns to the Davidson Whaling Station and to Eden's Killer Whale Museum were particularly joyful under the backdrop of some fine weather- and the passing humpbacks seemed to agree. It was wonderful to meet old friends again as well as make new ones, and I can happily remark on the direction of the 'Eden module' in the upcoming Life in Australia gallery as full of life and a luminous legacy of a place which has held unique and rewarding relationships between Indigenous and non-Indigenous whalers and a pod of Killer Whales – their legacy celebrated so visibly in the town.  Descendants bearing those familiar names from the whaling days still shape the town and the new generations are surrounded by opportunities to take on, take in and take up in the achievements of their forebears, and this element alone characterises the tone of this years' experience for me.
Working with Uncle John Cruse to make a wooden handle for our newly acquired blubber spade, was a highlight. The blubber spade came in to the Museum's collection last year alongside various instruments and equipment as part of the South-eastern Australia whaling collection, and up until now the spade has existed as a fragment of its useful self as only the metal end of the spade (pictured). With the arduous work of whaling now thankfully existing only within imaginations for most of us, it is perhaps understandable that the blubber spade's handle became detached either through the arduous work of a whaling station, or through the (sometimes just as arduous) journey through trade, storage and collection. How the spade became detached from its handle is something that we may never know.
Uncle John's production of a wooden handle for the spade from timber locally grown and available, echoes the kind of work which would have been often undertaken as a matter of routine maintenance as well-used tools such as these often saw many cycles of repair. Now, however, the making of this handle is far from a routine practice with the town now celebrating the life of passing baleen whales rather than a livelihood dependant on their death. Even as a collected object, adding handles to things in this way is not something routinely done by museums outside of their role to preserve and conserve. The decision to make and reattach a wooden handle was done with these kinds of details in mind, in addition to a new raft of conservation and handling conditions surrounding the metal end of the spade, as an item in the National Historical Collection.
The making and attaching of something as simple as a wooden handle reminds us of the life of this object as a hand-held tool, and it powerfully celebrates the continuity between Eden's past and its present. It is much easier now to envisage the blubber spade as something held and directed to skilfully slice and peel blankets of blubber from the decaying carcases of baleen whales, during the course of shore-based whaling in Eden as practiced early last century.
The attaching of a new handle is one symbolic and significant way we can recognise the legacy of the whalers of Eden and their descendants- as well as the town's collective capacity to value its unique whaling heritage while successfully renegotiating its relationship with passing baleen whales on one of nature's grand migration pathways.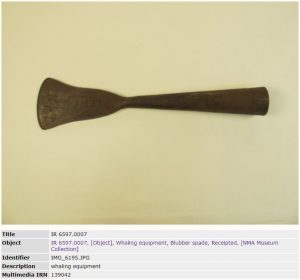 Image gallery