On Sunday 9th August at 3 pm, National Museum curator George Main and I will be giving a free public presentation at Hotel Hotel in Canberra, exploring my role as an artist-in-residence at the Museum and how our common interest in people and place is leading to fascinating collaborations unfolding through 2015.
I have just delivered the second public outcome of my residency, as part of an event called 'Night at the Museum'. For this adults-only event I created an installation, 'Tunnel of Anatomy'. Having explored the Australian Institute of Anatomy collection (which is part of the Museum's National Historical Collection) with curators Kirsten Wehner and Martha Sear, I was fascinated by these unique specimens.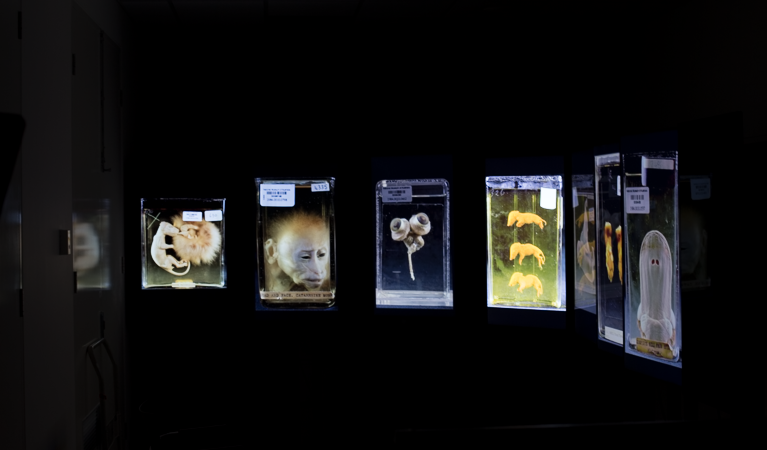 I gave participants an information sheet about the 'Tunnel of Anatomy' installation, which read:
Human and Non Human Connectedness
Viewing the Australian Institute of Anatomy collection–thousands of specimens of Australian fauna, their body parts preserved in fluid, and boxes of bones–is a somewhat ethereal experience, despite its practical scientific origin and purpose.
Items such as dismembered heads, spinal cord, brains, eyeballs, foetuses and more, are easily recognisable. Then there are the more abstract slithers and slices–an echidna's oesophagus, a kangaroo's gall bladder–which look like objects of fantasy, recalling images of opera singers, strange lands and ghost like creatures.
So what does it mean to look upon these specimens? What connection do we feel as humans? Australian environmental philosopher Val Plumwood suggests that our current environmental crises are the result of a western worldview that proclaims human beings as radically different from and separated from nature. So with that in mind, what is our relation to these specimens, preserved for so long in jars of toxic formaldehyde?
Animals equal food source, companionship, sport for hunting, subjects to study in documentaries. As specimens, their purpose was to benefit medical advancement through Comparative Anatomy–the comparison of different tissue, bone, muscular systems of animals–in order to learn and develop new treatments and advances in healing for human bodies.
In the Australian Institute of Anatomy collection, the most renowned of these advancements rose from the study of the koala shoulder specimen. Thought to be stronger than the human shoulder, the structure of the specimen became central to advancing healing techniques for shoulder injuries in humans.
So, how do we relate to animals in an every day sense? How do we connect to dismembered specimens in a jar? Where did the animal sit in the human hierarchy before they became the specimen? Where do they sit now? Identifiable object frozen in time, still able to share a glance, make a connection?
Tunnel of Anatomy, is an installation that will be presented at a National Museum of Australia event, Night at the Museum; mystery that explores these questions and more…
In a quiet, dark part of the museum
You are the animal
You are the spark
You are the pollution
You are the sinking boat
You are the tear
You are the injustice
You are the celebration
You are the observation
You are the reaction
You are the doubt
You are the inaction
You are the fog
You are the specimen
Fog Projections
George Main and I are also exploring a series of landscape and fog projections, out on the Murrumbidgee River near Canberra, on the historic property Lambrigg, where pioneering wheat breeder William Farrer undertook his influential wheat trials. The projection project ties collection items held by the Museum to processes of agricultural settlement downstream, in the Riverina where I live.
This project is quite a major undertaking. So far we have had a 3:45 am start to try to catch the right environmental conditions. It can be tough in winter to commit to such an early morning outdoor project, but once we are out there, there is something very special about being out in the landscape, in the dark, and experimenting with projecting images onto water, land and early morning mist.
There will be several artistic outcomes created as a result of this unique interpretation of Museum collection items. We are uncovering and creating layers of meaning and connection by projecting these images back into the active landscape that they originally arose from.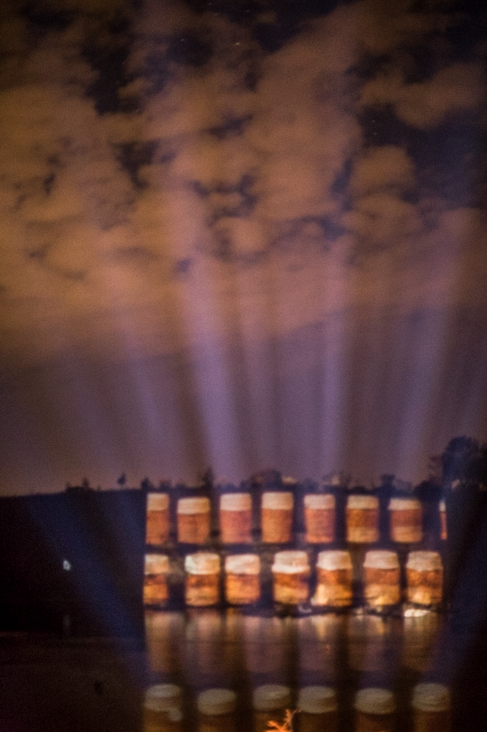 During our talk at Hotel Hotel, George and I will explore these two projects as well as discussing the performance I made on the Paddle Steamer Enterprise in February, and perhaps even touch on some of our other plans for the rest of 2015.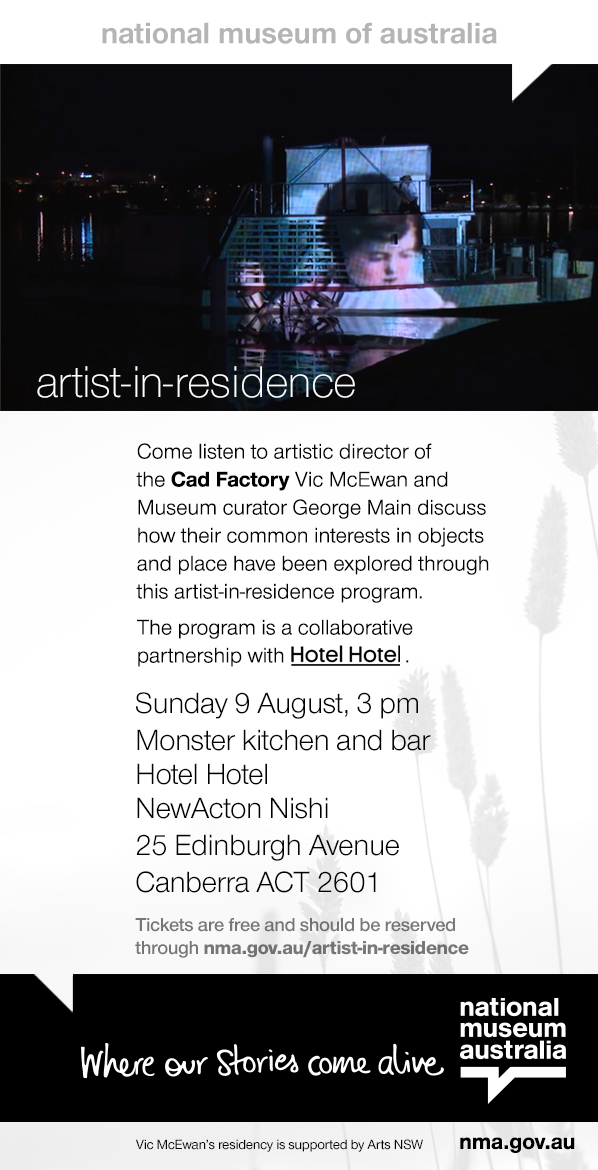 We are holding this talk at Hotel Hotel as they have been sponsors of my residency at the National Museum, providing me with accommodation throughout the year and giving me a home away from home in Canberra. They are true philanthropists and true supporters of the arts.