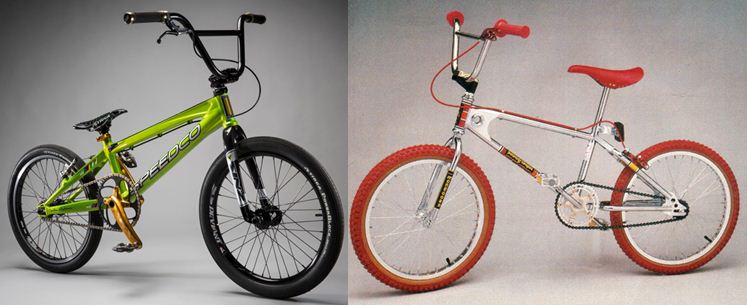 News of the fight spread quickly. A bike had been stolen and the culprit discovered. That was all anyone at my high school needed to know. In 1984 you didn't need social media to create a flash mob. When the bell rang signalling the end of the school day, everyone simply gathered at the bike sheds for the showdown. 
You see, it wasn't just any old bike that had been pinched, it was the very latest Mongoose BMX; a dream machine with a blue frame, chrome handlebars and plastic yellow wheels, known as tuffs. It was hard to miss. Greg, owner of said object of desire, loved that bike. Everyone knew that.
Everyone, that is, except Shane Harris, who, after nicking it from Greg's house rode it to school the next day. (You might have guessed that on the academic front Shane hadn't exactly been setting any creeks on fire). In any case, stealing someone's ride was just about the worst thing you could do. A new Mongoose 'Supergoose 3' cost around $350, a staggeringly large sum. I lusted hopelessly after such a machine. But with five rival siblings, I might as well have asked for a Mazda RX-7 sports car, another key aspirational object for a young bloke growing up in the outer suburbs of Melbourne.
Perhaps, the dispute should have been resolved by mediation, even a 'negotiated settlement', or, Greg could simply punch Shane in the face. The ensuing tussle proved short but decisive. With the thief vanquished and the bike recovered, the crowd soon dispersed.
I watched Greg ride his steed slowly into the distance — a knight on electric blue chromoly.
This little piece of 80s nostalgia popped back into my mind during a recent visit to the National Museum's repositories in Mitchell, Canberra, when I caught a glimpse of a much more modern BMX bike. This one belonged to none other than multiple national and world champion rider, Caroline Buchanan, and will soon star in a new travelling exhibition about cycling developed by the National Museum of Australia.
When you see Buchanan's bike it looks sleek, dynamic and alive — as if it wants to be ridden!  Yet, for me, this bike also speaks to some of the challenges of BMX riding, perhaps even the cruelty of this discipline, where the consequences of the slightest misjudgement can be profound. Buchanan rode this bike at the 2012 London Olympic Games, where she faced her own battle. During her event, Buchanan had qualified fastest and blitzed her three semi-finals races. Then disaster. In the final race, she missed timed the start gate by a fraction of a second and lost crucial momentum on the ramp. She finished fifth. Her disappointment televised to the world.
In the year after London, Buchanan made a spectacular recovery, becoming the first Australian to hold world championships in two cycling disciplines, winning both the BMX and 4X mountain bike champion medals. You can see a great clip of her 2013 world championship victory in New Zealand here.
You can see Caroline's bike and learn about other great Australian bicycle battles in the Freewheeling exhibition, opening at the Queensland Museum in Brisbane on 29 November 2014.
Did you have to fight for your right to BMX? We'd love to hear about it!
Caroline's Olympic helmet and uniform will also be on display as part of Freewheeling.