Riding High: Adventures with 'Black Bess'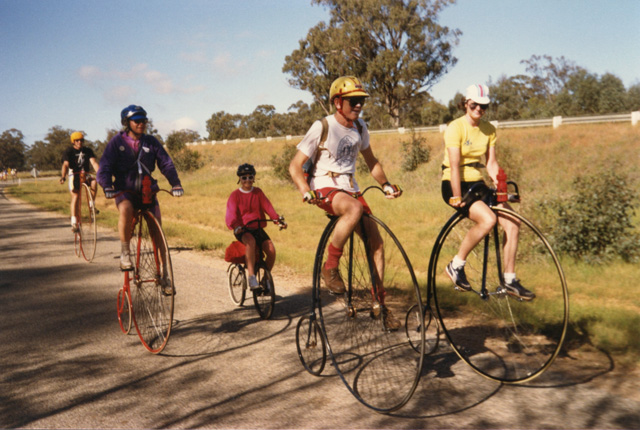 High-wheelers, known later as penny-farthings, arrived in Melbourne in 1875, and soon confirmed the speed, excitement and potential of the bicycle. High-wheelers featured rubber 'cushion' tyres, so were more comfortable than the old 'boneshakers', but they were difficult and dangerous to manage. Riders sat more than two and a half metres off the ground, making it hard to mount and a long way to fall. On a high-wheeler, however, a fit cyclist could sustain speeds of between 16 and 25 kilometres an hour, meaning that, for the first time in history, a person moving under their own power could travel as fast as a trotting horse. Among athletic young men, in particular, the high-wheeler promised an exciting future of transport for work and recreation. The arrival of the low-mount 'safety' bicycle in the 1880s rendered the high-wheeler obsolete, although dedicated riders still flew around on them for a few more years. Then, they all but disappeared.
Australian vintage bicycle collectors have always loved penny-farthings. However, in the 1970s and 1980s a renewed interest in Australian history fostered a fresh interest in these amazing machines. Harry Clarke was one of those caught up in the new wave of enthusiasm for vintage bikes.  Harry raced road bikes as a lad during the 1940s and even had a stint as a pro during the 1950s. In the 1980s, his passion for bikes took an exciting new direction when he impulsively purchased a penny-farthing bicycle, which he dubbed 'Black Bess'. Although he had never ridden such a machine before, Harry's long experience as a bike racer had left him with, in his words, an 'egotistical belief that he could ride anything'. After repeated falls and small injuries, he contacted another rider who he believed might be able to assist. Harry borrowed a smaller penny-farthing on which he could practice his technique. Once he mastered the smaller machine he transferred his technique to the full size bike. Within a few months he was invited to compete in the National Penny-Farthing Championships in Evandale, Tasmania. From then Harry confesses to being 'hooked', attending the annual Evandale festival for the next 20 years.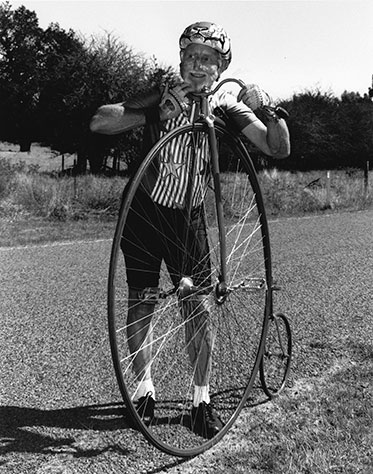 Harry Clarke with 'Black Bess' in Tasmania, 1995. Image courtesy: Evandale Village Fair and National Penny-Farthing Championships
I spent a few hours with Harry last year and while I was leafing through newspaper clippings and photographs of Harry at various events and festivals, I couldn't help notice just how overjoyed he appeared in the photographs. And it occurred to me that Harry's thrill at mastering the high wheeler must have been similar to kind of excitement that spread across Australia when these bikes first appeared on Australian streets over 140 years ago. And, although the high wheelers presence was short-lived, they helped inspired an enthusiasm for riding that is with us still.
Harry's high wheeler will be part of a new travelling exhibition called Freewheeling: Cycling in Australia, due to tour nationally from August 2014. You can learn more about Harry's adventures with Black Bess (including pictures of his journey from Melbourne to Sydney), in this NMA collection highlight.
(Top image: Members of the Vintage Cycle Club of Victoria riding to Sydney, 1988. Photograph courtesy of Paul Farren)