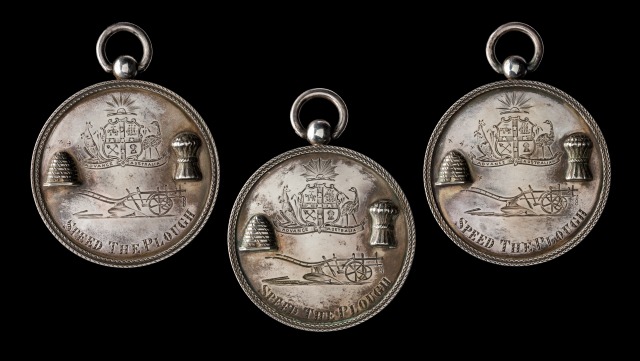 These three medals are some of the earliest agricultural medals in the Museum's collection. They were awarded to Robert Laidlaw, Mr. Bostock and Jas (probably James) Bryden at the Victoria Agricultural Society show on the 21st April 1858. The medals were purchased by the Museum in 2014 and can be traced back to John Pascoe Fawkner who was the President of the society at the time.
During the nineteenth century, agricultural and industrial associations formed across rural and urban Australia to foster the development of modern farming systems by promoting new scientific and technological methods. The Port Phillip Farmers Society was formed in 1848 followed by the Victoria Agricultural Society in 1850. The Port Phillip Farmers Society became the National Agricultural Society of Victoria in 1870, then in 1890 after receiving permission from Queen Victoria it became the Royal Agricultural Society of Victoria.
The annual show emerged as a key arena in which the hard work and skill of primary producers was acknowledged and rewarded. For rural families, shows also served a significant social function, providing a venue and regular occasion to gather and develop and celebrate community ties.
The words, 'Speed the Plough', which appear on the front of the medals are from the last verse of a poem dating back to the fourteenth century – So jolly boys now,
Here's God Speed The Plough, Long life and success to the farmer.
'Speed the Plough' became the motto of the Royal Agricultural Society of Victoria.
By 1858, Victoria had the largest area of cultivated land in the colony surpassing that of New South Wales, Tasmania and South Australia. Wheat and oats were by far the most dominant crops, followed by hay, potatoes, barley and green pasture. Minor crops included maize, rye, peas, beans, turnips, carrots, parsnips, onions, tobacco and vines. The Farmer's Magazine, published in London from 1834-1881, frequently reported on agricultural progress in Australia with particular interest in wheat statistics and the quantity of wool being exported to the United Kingdom.
The day after the show, The Argus listed the prizes and their recipients along with the prices realised on their produce. The variety of grains, farm and garden produce exhibited at the show included wheat, oats, barley, kidney beans and dairy produce, as well as duck and goose eggs and a selection of vegetables.
Robert Laidlaw – First Prize – Early Potatoes
Robert Laidlaw arrived in Melbourne from Scotland in 1839. On arrival he formed a partnership with a Mr. Kerr, and purchased a sheep station at Boroondara on the Kooyong Creek. In 1843 he started farming and over the next twenty years received recognition at numerous agricultural shows for his quality produce and skills in farm management. In 1853, he purchased 'Springbank' at Heidelberg. He was actively involved in the Victoria Agricultural Society.
Laidlaw is pictured (no.244) in Thomas Chuck's compilation of photographs of explorers and early colonists of Victoria, alongside other prominent colonists such as John Pascoe Fawkner and Edward Henty.
These medals are reputed to have hung on the walls of Fawkner's house and were passed down through generations of the his family. We don't know how the medals came to be in Fawkner's possession, however it is reasonable to assume that he was acquainted with Robert Laidlaw. Fawkner was a strong supporter of yeoman farmers, who campaigned over several decades to make more freehold land available for small-scale agricultural enterprises.
Mr Bostock – First Prize – Cape Barley
Mr. Bostock is most probably, Augustus Bostock, who arrived in Victoria from Tasmania in the 1850s. His father, Robert Bostock, was transported to Australia for 14 years after being convicted for trading in slaves. The charges were later declared invalid and he was pardoned in Sydney in 1816. Following his pardon, he established a trading business in Sydney and married Rachael Walker. After a brief return to Lancashire they returned to Hobart in 1821 where Bostock was put in charge of the Government Commissariat Stores. In 1822, Bostock opened his own bond store at Constitution Dock and ventured into shipbuilding. He acquired land at South Esk and became a grazier, establishing a herd of cattle and sheep. By the time of his death in 1847, Bostock had acquired 8000 acres of land.
Robert and Rachael Bostock had eleven children. Robert, frustrated with the land grant program in Tasmania, encouraged his sons to follow the early pioneers across the Tasman to take advantage of the new opportunities in the Port Phillip region. In 1839, George Bostock, aged 14, sailed for Port Fairy followed by his brothers, Thomas, Ernest, Augustus and James in the 1850s. The sons were all active in the Warrnambool community, holding positions on various committees, and enjoying similar leisure pursuits such as cricket and horseracing.
Augustus Bostock managed 'Grasmere', a property near Warrnambool. His diaries provide a comprehensive record of the daily activities on the farm including multiple entries detailing the cultivation of Cape Barley over a number of seasons: ploughing began in March through to April, sowing in June, carting manure in October, cutting in December, mowing in January and thrashing in February.
Cape Barley is an old Australian barley which was grown for animal feed and malting. It was a reliable crop and is an example of a 6-row cultivar of barley with three rows of kernels on either side of the stem. Most of barley grown in Australia today is 2-row barley.
Jas Bryden – Extra Prize – Oats
An 'Extra Prize' for 'Oats' was awarded to Jas. Bryden. We have not been able to discover any information about the recipient of this medal at this stage.
David Allen collection
In late 2011 the Museum purchased 111 medals from the David Allen collection, a large and comprehensive collection of agricultural show medals amassed over 40 years. This collection includes one other medal from the Victoria Agricultural Society show from April 1858. The'Extra Prize – Kidney Beans' was awarded to Mr Arthur Dyson, who received a special mention for his twenty varieties of kidney beans.
If you have any information about Jas Bryden or any of the medals in the David Allen collection we would love to hear from you.
Feature image: Victoria Agricultural Society collection, National Museum of Australia
Photography by Jason McCarthy