A small car with a big story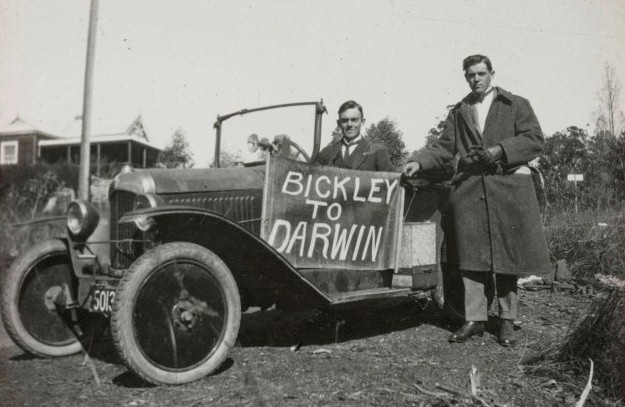 Since the introduction of motor vehicles during the early twentieth century, exploring the Australian landscape by car has become a national pastime for locals and tourists alike. This week, the National Museum has hosted Citroën Australia, as it launches its new C4 model and celebrates the 90th anniversary of the first drive around Australia, completed by Nevill Westwood in a Citroën 5CV. Westwood left Perth on 4 August 1925, returning after 148 days of driving on 30 December. His 1923 Citroën 5CV, affectionately known as 'Bubsie', was acquired by the National Museum in 2005 and is on display in the Hall.
Nevill Westwood was an adventurous Seventh Day Adventist missionary. He acquired the little Citroën and set out from Perth with missionary student Greg Davies as co-driver, hoping to visit numerous isolated communities in Western Australia and the Northern Territory. Buoyed by the journey, and the people and places they encountered, Westwood and Davies continued on to Queensland and New South Wales, with Davies leaving the trip in Albury, while Westwood drove on through South Australia and home.
Manufactured in France from 1921, the Citroën 5CV was often known as 'petit citron' – little lemon – or 'baby Citroën', because it was at first sold only with bright yellow paintwork, and was small and 'cute'. The 5CV is 3.25 metres long, 1.4 metres wide, 1.65 metres high and weighs just 580 kilograms. By 1923, the 5CV was available in other colours, and 'Bubsie' was originally painted reddish-brown. It became a popular model in Australia, being cheap to run and simple to handle.
Westwood kept 'Bubsie' until his death in 1969, when the car passed to his son Ron. In 1975, Ron Westwood began restoring the Citroën, intending to re-enact the 1925 trip for the 75th anniversary in 2000. He decided to repaint 'Bubsie' yellow, reflecting the historic origins of the 5CV.
To celebrate the 90th anniversary of Westwood's journey in 'Bubsie', Citroën Australia brought another restored 1923 5CV to the National Museum for a few drives, acknowledging the company's long association with the Australian road trip.
It was a great opportunity to consider the difficult conditions encountered by Westwood while driving 'Bubsie' more than 17,220 kilometres around the continent at a time when roads were poorly made, scarce or non-existent, and few facilities existed to offer mechanical support. I didn't get out of first gear when driving Bubsie's sister due to a mechanical problem, and so could sympathise with Westwood who wrote to his sister after leaving Hall's Creek in Western Australia: "You can imagine what a drive it was through exceptionally hilly country, and I couldn't use 2nd gear under any consideration whatever." (11 October 1925)
---
Feature image: Nevill Westwood, seated in vehicle, and Greg Davies with the Citroën on their way from Bickley, outside Perth, to Darwin, August 1925. National Museum of Australia.